The Chiefs were one of the worst teams in football in 2012, finishing at the bottom of the NFL with both a 2-14 record and a -214 point differential. The offense in particular struggled, finishing dead last in scoring and next-to-last in Football Outsiders' DVOA. Predictably, this led to a full house-cleaning. General manager Scott Pioli, head coach Romeo Crennel, offensive coordinator Brian Daboll, and quarterback Matt Cassel ‒ all four of whom had served with or under Patriots head coach Bill Belichick ‒ were kicked to the curb.
In rode new head coach Andy Reid, who had been fired after a dismal 4-12 ending to his largely successful 14-year run as head coach of the Eagles. In Philadelphia Reid was known for his walrus-like moustache, clock management issues, and for instituting successful Bill-Walsh-style offenses. Doug Pederson, Reid's quarterbacks coach from Philly, made the trip to Kansas City to take the offensive coordinator post. John Dorsey, who previously worked with Reid in Green Bay, became the new general manager. And the Chiefs traded a second-round pick to the San Francisco 49ers for former #1 overall pick, quarterback Alex Smith.
The moves generated positive results immediately. Kansas City vaulted to 6th in league scoring while improving to 11 wins and earning a playoff appearance. All-Pro running back Jamaal Charles, the team's best offensive player, doubled his 2012 catch total en route to compiling 1,980 yards from scrimmage, second-best in the NFL. Smith threw for a career-high 3,313 yards and 23 touchdown passes with just 7 interceptions and made his first Pro Bowl. Overall, it was a resounding success for a franchise that hadn't reached the AFC Championship game since 1993.
With two losses in their first three games, that success has not thus far carried over to 2014. Despite a 34-point outburst in Miami last Sunday, they rank 23rd in points scored. Charles has missed time due to injury and Smith has already been sacked 11 times, second-most in the league. The Chiefs are averaging just 5.2 yards per passing attempt, 27th in the league. The offensive line has been decimated by players lost to free agency, suspension, and injury. Indeed, some of the warning signs were visible last year: belying the lofty points ranking, the offense ranked 21st in total yards and 24th in net passing yards per attempt.
In short, Kansas City, like fellow 2013 playoff team New England, stands at a crossroads. Will they bounce back and re-discover their success from last year, or revert to the mediocrity that has defined Chiefs football for the past two decades? Monday night will be an important test.
Backfield
The 1983 NFL Draft was famously loaded with great quarterbacks, including Hall of Famers John Elway, Jim Kelly, and Dan Marino. The Chiefs, with the seventh pick, selected Todd Blackledge, a Penn State quarterback who finished his seven-year NFL career with a 48.1% completion percentage, 29 touchdowns, and 38 interceptions. Apparently scarred by the experience, the Chiefs haven't used a first-rounder on a signal-caller since. Nor a second-rounder since Matt Blundin in 1992. Brodie Croyle, Kansas City's third-round pick in 2006, is the only homegrown quarterback to start even a single game for the Chiefs this millennium.
Teams can get into trouble constantly throwing high draft picks at quarterbacks and seeing them bust, but the Chiefs' historical lack of success shows the perils of ignoring the position. It is rare that top passers see the free agent market, and when they do it's usually with injury concerns (such as Peyton Manning two years ago). Chiefs fans have watched a parade of second- and third-tier veterans at the position ‒ Elvis Grbac, Trent Green, Damon Huard, Matt Cassel. Current quarterback Smith is a worthy heir to this line of also-rans.
But credit where it's due: the team has achieved extraordinary success replacing running backs over the past 15 years. Priest Holmes set an NFL record with 27 rushing touchdowns in in 2003, but then when he succumbed to injuries, Larry Johnson stepped in with two 1,700-yard seasons. When Johnson aged into obsolescence, Charles emerged as one of the game's premier rushers.
Through the first six years of his career, it's safe to say that the #1 pick in the 2005 draft looked like a bust. Among the 35 quarterbacks who threw 1,000+ passes for the2005 through 2010 seasons, Smith finished 32nd in both completion percentage and yards per attempt and 34th in quarterback rating. Just 4 of those 35 threw more interceptions than touchdowns, of whom Smith was one, and the 49ers went 19-31 under Smith's direction as he bounced in and out of the lineup amidst injuries and benchings.
Smith's career turned around in 2011 with the arrival of Jim Harbaugh. A convincing explanation for the transformation advanced by Chase Stuart is that the new head coach changed Smith's game to make him more like Harbaugh the player, taking more sacks but making fewer ill-advised throws. Smith was sacked on 7.8% of his dropbacks from 2005-2010 and threw interceptions on 3.5% of his throws. In 26 games under Harbaugh, Smith was sacked on 9.3% of dropbacks, but his passes were picked just 1.5% of the time. Last year, Smith cut his sack rate to 7.1% while retaining his ability to avoid interceptions (1.4% INT rate). Both Smith's sack rate and interception rate have jumped in 2014 ‒ to 9.7% and 2.9%, respectively ‒ but that's well within the error bars over a three-game sample. The Patriots shouldn't expect to pick off the 30-year-old, but may be able to get to him with the pass rush.
Smith has just average arm strength but is athletic, rushing for 431 yards in 2013, more than double his previous career high. Smith completed just 60.6% of passes last year and is at just 59.6% for his career, both below-average figures. Smith has had a fascinating career but he's kind of a boring player: a safe, adequate game manager lacking any elite skills.
Even fairly casual football fans will be familiar with Charles, especially if they've played any fantasy football. The 27-year-old led the NFL in touchdowns scored in 2013 and has finished in the top four in rushing yards in three of the past four seasons. Last year he added a new dimension to his game, leading the Chiefs in both catches and receiving yards. Charles occasionally splits out in the slot or wide, but the former Texas Longhorn mostly does his work on typical running back routes ‒ screens and dump-offs. His speed and vision make him a threat to take it to the house on any play, as evidenced by his 14 career touchdowns of 25 yards or more, and the passing game is just another way to put the ball in his hands.
Despite his talent Charles has not been immune to Kansas City's general struggles on offense. He's averaged 5.0 yards per carry or better in every season of his career, but has just 23 yards on 9 rushes (2.6 YPC) so far in 2014. He missed much of Week 2 and all of Week 3 with a high ankle sprain. According to Inside The Pylon's Dr. Christopher Geary:
"The fact that Charles has been practicing with the team would seem to be a good indicator that he will be playing and will likely be at full speed. Generally speaking, high ankle sprains are not an injury that is "managed" in terms of game-time participation; players are usually good to go, or they aren't. There are occasional exceptions in extraordinary circumstances (Patriots tight end Rob Gronkowski in Super Bowl XLVI is a notable example.), but usually a player is either recovered enough to go full speed with no limitations in terms of participation, or they are just not ready to go. The latter would seem to have been the case with Charles last week, while the former seems likely this week. Between now and game time Charles could certainly re-injure himself to a degree that renders him unable to go, but if he's in the starting lineup on Monday night I'd anticipate that he'd be at full strength with no limits."
If Charles can go, he's easily Kansas City's most dynamic threat. Belichick is famous for putting a "bullseye" on an opposing team's most dangerous weapon and dedicating resources to shutting it down, most famously with Marshall Faulk in Super Bowl XXXVI. As such, Charles is likely to see linebackers and safeties hitting him every time he leaves the backfield Monday night.
With Charles out, Davis got 32 carries in Week 3 and it stands to reason that he'll get the bulk of the work if Charles is unavailable Monday night. The second-year man was one of the most divisive prospects in the 2013 draft. Proponents cited his 1,322 rushing yards and 13 touchdowns as a University of Arkansas sophomore in 2010, and his combination of size (227 pounds) and speed (a 4.37-second 40-yard dash) that Football Outsiders described as "off-the-charts good." Detractors pointed to his shaky final college season (just 3.4 yards per carry), his injury history (which may have contributed to his poor 2012 showing), and pad-level issues that reminded some of disappointing veteran Shonn Greene.
This early in Davis's NFL career, it's not clear which side has the better argument. Davis has carried a starter's workload in four games, totaling 423 yards and 7 touchdowns; extrapolated over a 16-game schedule, those numbers would yield 1,692 yards and 28 touchdowns. That productivity hasn't been very efficient, however, as Davis is averaging just 3.6 yards per carry for his career. He's also struggled with fumbles, putting the ball on the ground a whopping 6 times in just 155 career touches. By comparison, Charles fumbled just 4 times in 329 touches in 2013. In the screenshot below, you can see Davis failing to secure the ball with his left arm as he runs into the line, eventually leading to a fumble.
(Courtesy NFL Game Rewind)
With the news late this week that fellow running back Joe McKnight had torn his Achilles tendon, the "Black Mamba" could make his NFL debut. McKnight had 6 catches for 64 yards and 2 touchdowns last week after seeing limited use in the Chiefs' first two games. Thomas, a fourth-round pick in this year's draft, was a track star at the University of Oregon in addition to establishing his football prowess ‒ 7.8 yards per carry and 113 receptions in three years with the Ducks. He could be a factor as a gadget player and kick-return option.
According to Pro Football Focus (subscription required), Sherman was far and away the best blocking fullback in the NFL last season, racking up an astounding +17.9 score. That figure ranked 7.7 points higher than Carolina's Mike Tolbert and more than ten points above similarly-regarded blocking backs John Kuhn, John Conner, and Bruce Miller.
The stout native of North Attleboro, Massachusetts brings 242 pounds to the point of impact, where his technique and leverage make him an excellent lead blocker for the Chiefs' ball carriers. He has rushed with the ball just five times in his four-year NFL career but is a solid, if under-used, option in the passing game (18 catches in 24 targets in 2013; one catch on his only target this season). Sherman is likely to spend much of Monday's contest introducing himself to Jerod Mayo and their matchup will go a long way toward determining who wins the ground battle.
Receivers and Tight Ends
As noted above, Charles led the team in receptions and receiving yards. That says something about his usage and talents, but also speaks to an uninspiring receiving corps. The Chiefs' drafting of wideout Jon Baldwin looms large here; the 2010 first-rounder should be in his prime at age 25, but is now out of the league after failed stints in Kansas City and San Francisco.
The Chiefs have a good set of tight ends, with young talent Travis Kelce supplementing veteran Anthony Fasano. They used a lot of two- and three-tight end sets against Miami, creating walls of blockers in the run game and giving Smith safety-valve options when passing.
This thirty-year-old journeyman is on pace for over 100 targets this season after catching 40 passes on just 71 targets last year. The smallest of the Chiefs' receivers at 5'11", Avery is probably their best technical route runner. He once had 4.28-second speed and can still get deep quickly as he did on this 79-yard touchdown reception (video link) in Kansas City's stunning 45-44 playoff loss to the Colts last season. That makes him a dangerous weapon in offensive coordinator Pederson's arsenal, but while those wheels must be respected, he generated just 37.3 receiving yards per game last year and is on a 36.7 YPG pace for 2014 despite seeing increased usage.
Bowe is a tantalizing yet frustrating player. An August poll of readers on a Chiefs fan site found 37% wanting the team to cut ties with the receiver. After struggling in the preseason with hamstring and finger injuries, Bowe missed this season's opener while serving a suspension. In recent years, his production has declined and his once-potent combination of size and speed has become more just… size. Never a great technician, Bowe's declining athleticism now leaves him missing balls he used to corral with ease.
A third-year player from the University of Michigan where he led the Big Ten in yards per reception in 2010 and 2011, this 6'1", 225-pounder was a seventh-round draftee in 2012. Hemingway possesses adequate speed (4.53-second 40 at the Combine), but his outstanding 3-cone drill time of 6.59-seconds would have placed him second among wideouts among 2014 draft prospects at his position. After 13 receptions on just 20 targets last season, he has 4 catches on 6 targets so far this year.
Undrafted in 2013 out of the University of Florida, Hammond made the Chiefs' practice squad last season. After earning a spot on the 53-man roster this year, he made his NFL debut Week 1 against Tennessee with a 22-yard reception on just two targets (in Bowe's absence), and the Chiefs haven't thrown to him since. A lanky 6'1" and 185 pounds, Hammond had 4.44-second speed coming out of college. Hammond also returns punts for the Chiefs, ranking third in the NFL this season with a 13.5-yard average per return.
Not to be confused with the immortal Sal Fasano, the former Miami Dolphin is now in his second season with the Chiefs. An excellent blocker and average receiver, Fasano is a key element in the Kansas City rushing attack and, when not providing pass blocking assistance, is a checkdown outlet for his quarterback.
Though Fasano gets most of the playing time, Kelce leads the Chiefs in receiving yards with 166 despite playing fewer than half the team's snaps. The 24-year-old is explosive for a 6'5", 255-pound specimen. After missing all of 2013 with a knee injury, Kelce played sparingly in this season's first two games before tallying his first NFL touchdown in Week 3 against the Dolphins ‒ bursting to the corner off a simple 5-yard drag route for a 20-yard score.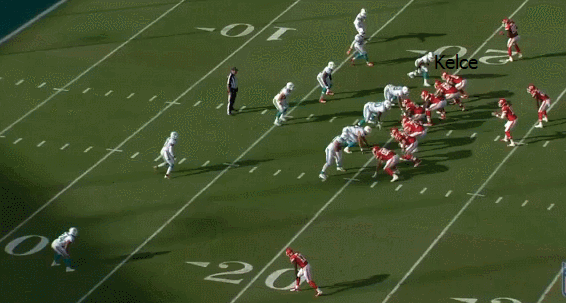 (Courtesy NFL Game Rewind)
Kelce drew raves coming out of the University of Cincinnati for his punch, balance, angles, and hand position in the blocking game, and he possesses the size to be an asset there. He's a mismatch for safeties in the running game, but the highlight above shows what a handful he is for linebackers in coverage. It will be interesting to see how the Patriots match up with the tight end. Dont'a Hightower can counter his physicality but not his quickness, while Jamie Collins will be stronger in coverage but might struggle to hold up versus Kelce against the run.
Offensive Line
New England isn't the only team in this game with offensive line concerns. As noted above, Smith has already been sacked 11 times. Some of that might be on Smith but, per Pro Football Focus, the Chiefs' line has also allowed 41 pressures, third-worst in the league. Their run blocking hasn't fared much better, as the team's rushing average has dropped from an excellent 4.7 yards per carry to a more pedestrian 4.2.
It's not the same players underperforming, either ‒ the unit is almost unrecognizable from 2013. In their playoff loss last year, the Chiefs started Branden Albert (left tackle), Jeff Allen (left guard), Rodney Hudson (center), Geoff Schwartz (right guard), and Donald Stephenson (right tackle), with Jon Asamoah rotating in at times. Of those linemen, only Hudson will play Monday night. Albert, Schwartz, and Asamoah departed via free agency. Stephenson is serving a four-game suspension for PEDs. Allen is out for the season after elbow surgery. The replacements have struggled but, like their opponents the Patriots, upheaval on the offensive line can look ugly.
NFL teams chose three tackles in the first four picks of the 2013 draft, and it was a mild surprise that Kansas City, picking first overall, tapped Central Michigan's Fisher over Luke Joeckel and Lane Johnson, players from more traditional football powers Texas A&M and Oklahoma respectively. Fisher excelled in pre-draft activities, standing out at the Senior Bowl and finishing among the Combine leaders in the broad jump and shuttle drills. The Chiefs cut veteran right tackle Eric Winston and installed Fisher with the idea he'd move to the left side in 2014 to replace free agent Albert.
Things haven't really gone according to plan. Bleacher Report rated him 32nd among NFL right tackles in 2013, citing his "balance and recognition" issues. Pro Football Focus currently ranks the 23-year-old 66th of 67 tackles with a -9.7 rating, and charts him with 7 hits and 11 total pressures allowed, most and third-most among tackles, respectively. He'll flash his athletic gifts and times, but too often finds himself getting out-leveraged.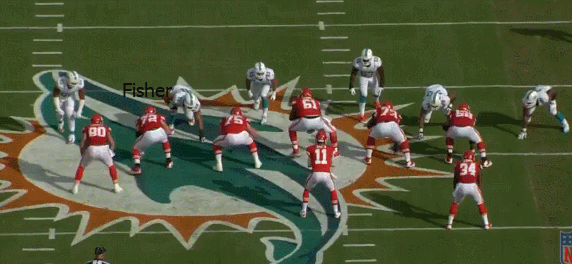 (Courtesy NFL Game Rewind)
Here we see he gets a decent initial block on Olivier Vernon, but then gets too high and Vernon just throws him aside like a rag doll. Fisher is young and talented enough to improve, but this can't be what the Chiefs were hoping for when they drafted him.
McGlynn is athletic and does a nice job lead blocking on pulls when he gets a full head of steam. The problem is that without momentum, he isn't strong enough to hold up at the point of attack. This is especially evident on his pass blocking.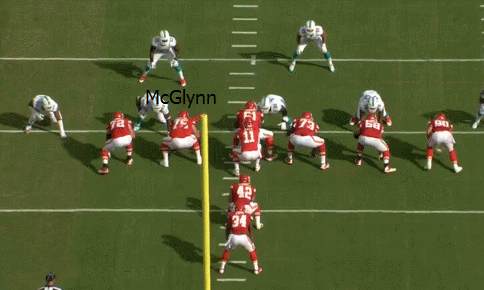 (Courtesy NFL Game Rewind)
Here, McGlynn gets put on skates and driven all the way back into Smith, literally collapsing the pocket. McGlynn has long been a favorite whipping boy of Pro Football Focus, which currently ranks him 67th out of 69 guards with a -9.1 rating. In 2013 with Indianapolis he placed 74th out of 81 guards at -20.6, a marginal improvement over 2012 when he finished at dead last among 81 guards with a -21.2 rating.
Hudson is an undersized but athletic center. Like McGlynn, he lacks ideal strength to hold off bull rushes at the point of attack, but he doesn't struggle to the same degree. He keeps his head on a swivel in pass protection looking to help the guards. Hudson is at his best in space while run blocking where he can use his quickness to great effect. At just 25, he should be a solid pivot for many years.
It's not often a sixth-round pick starts on day one, but Fulton has played every snap for the Chiefs this season. Like everyone else on the offensive line, he's better at run blocking than pass blocking. He often gets help from Hudson. One-on-one, he has trouble squaring his feet against A-gap penetration.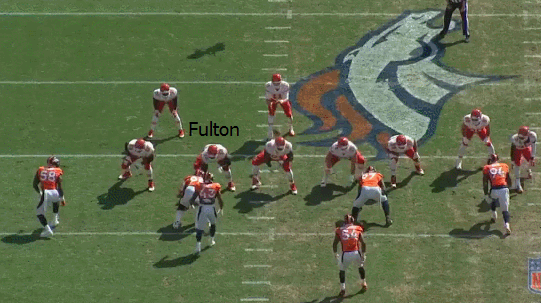 (Courtesy NFL Game Rewind)
Denver's Derek Wolfe beats Fulton to the inside and puts heat on Smith. While Fulton recovers enough to wall him off before he can get the sack, Wolfe drives seven yards into the backfield and disrupts the pocket. A similar breakdown against Miami resulted in a safety. Belichick and defensive coordinator Matt Patricia may try to use quicker tackles Dominique Easley and Chris Jones to get similar penetration in passing situations.
In the clip above where McGlynn gets bull-rushed, it's actually Harris's man who gets the sack. The 29-year-old struggled often with pass protection in Week 3; that's not surprising, as he frequently dueled with Cameron Wake. He's better in the run game, having cut his teeth with the Texans and their zone blocking scheme.
Contributions from Dr. Christopher Geary, Jeff Johnson and John Limberakis made this piece possible.
Follow Dave on Twitter @davearchie.