Cornerback Darrelle Revis has played for two of the game's great defensive minds. He spent the first six years of his career under Rex Ryan, the head coach of the New York Jets, and now finds himself with the Patriots under the tutelage of longtime head coach Bill Belichick. On Thursday, Revis talked a little about the differences between the two defenses: "[New England is] a totally different system. Rex is more aggressive. We switch it up here. We plan man sometimes, and sometimes, we switch it up and do different things. It's just two different things." That's not a very informative answer, but by looking at film from New England's first three games, we can get an idea as to how Belichick and defensive coordinator Matt Patricia have been deploying Revis and the other Patriots' defensive backs.
Week 1 – at Miami Dolphins
Revis literally trademarked the phrase "Revis Island," a nickname reflecting his ability to shut down opposing receivers without help (i.e., "put 'em on an island"). Rex Ryan would often move him around the field so he would always cover an offense's most dangerous receiver. But in week 1, Revis did not follow around speedy deep threat Mike Wallace or Brian Hartline, who led the Dolphins in catches and yards in 2013. Instead, he stayed glued to the left sideline and covered whoever was there. Revis played 62 of 74 snaps, sitting for a series late in the game when fatigue and the Floridian heat and humidity might have played factors, whereupon second-year man Logan Ryan took his place. The Patriots played quite a few zone looks during this game, but, true to his "Revis Island" nickname, he often didn't have safety help even if the rest of the defense was playing zone, such as in the play below:
Safeties Devin McCourty (#32) and Patrick Chung (#23) are providing help for the underneath coverage, including Revis' opposite number Malcolm Butler (#21), but Revis (#24) is by himself at the top of the frame with no assistance.
Third-year corner Alfonzo Dennard took most of the duty on the right side, playing 51 of 74 snaps; he was spelled at times by undrafted rookie Butler (27 snaps).
Unlike the corners, free safety McCourty (recently featured on Inside The Pylon) played all but one snap, almost exclusively in deep zone, whether in one-deep-safety or two-deep-safety looks.
The most interesting use of personnel was at the strong safety spot. The most common look was a base defense with Chung (46 snaps) or Tavon Wilson (22), the prototypical strong safeties on the roster, deployed alongside McCourty in a deep zone or underneath in zone or man look. In the nickel, the Patriots would sometimes keep Chung or Wilson in an underneath zone but bring in a third corner to play deep, either Kyle Arrington (featured recently on Inside The Pylon) or Ryan. Doug Kyed wrote about Arrington and Ryan getting work at safety in the preseason. Below is an example of this look: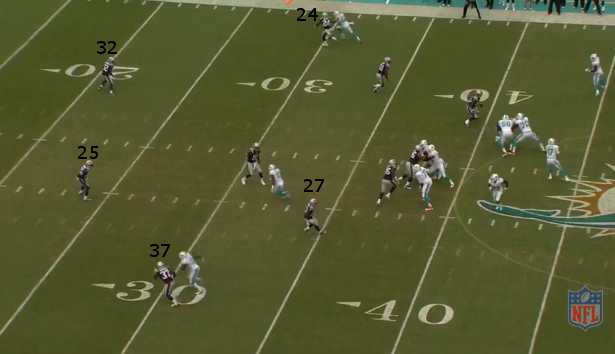 Courtesy of NFL Game Rewind
In this screenshot, Arrington (#25) is playing deep safety next to McCourty (#32), while safety Wilson (#27) is an shallow zone. Corners Revis (#24) and Dennard (#37) appear to be in man coverage.
In 3rd-and-long situations, second-year man Duron Harmon played as a second safety, which involved only five snaps in Week 1.
In addition to their safety work, Arrington and Ryan, were the primary slot corners. Arrington hardly played outside at all and, as noted above, Ryan only saw action when Revis left the game. Arrington played 31 snaps, Ryan 18, and their usage seemed to be matchup-based: Arrington assigned to rookie Jarvis Landry, while Ryan tended to draw veteran Brandon Gibson.
Special teams ace Nate Ebner played only one snap with the defense, as a dime back on a 3rd-and-12 play in the fourth quarter.
Summary: The Patriots threw a lot of different looks Miami's way. It's unclear how much of that was trying to confuse Dolphins quarterback Ryan Tannehill, how much was trying to rotate to keep players fresh in the challenging south Florida conditions, and how much was trying to figure out and go with what worked. Although they gave up 33 points, the defense held Tannehill to just 176 yards on 18-of-32 passing.
Week 2 – at Minnesota Vikings
This was the defense Patriots fans expected to see when they signed Revis in the offseason. Revis played 58 of 66 snaps and shadowed veteran receiver Greg Jennings all game, holding the veteran to just one catch and four yards. While Revis spent the Miami game glued to the left sideline, he followed Jennings everywhere here, including to the slot. With the game well in hand, Butler subbed for Revis, playing just eight snaps.
A late scratch of Dennard pushed Ryan into a starting role and the former Scarlet Knight was a workhorse, playing all 66 snaps. Ryan matched up on second-year player Cordarelle Patterson, a dynamic physical talent though lacking the nuances of the position that Jennings possesses. Arrington matched up on Jarius Wright, Minnesota's #3 receiver, and played 41 snaps. Since Jennings plays in the slot frequently, Arrington often found himself on the outside.
McCourty played his typical free safety role (58 snaps), though, like Revis, he sat some late. The Patriots used a lot of Cover 1 against the Vikings with just McCourty deep:

Courtesy of NFL Game Rewind
There's very little deception here; everyone is covering the man in front of him, with corners Revis (#24), Arrington (#25), and Ryan (#26) taking the wide receivers and Wilson (#27) on the tight end in the slot. Only McCourty (#32) lurks deep. This play also shows Revis following Jennings into the slot where he tallied an interception on this pass.
The Vikings trailed much of this game and ended up throwing a lot, so the Patriots deployed more dime defense with Harmon (27 snaps) and Ebner (14) seeing an uptick in playing time. Chung and Wilson split early-down safety work as in Week 1, though this time with a heavier split for Chung (35 snaps vs. 11 for Wilson).
Summary: A lot more man defense, a lot more vanilla looks than against Miami. The Patriots used a lot of Cover 1 and dared Minnesota to throw deep as Vikings quarterback Matt Cassel went 0-for-8 in targets longer than 15 yards including three interceptions. It was a dominant performance against an untalented offense in disarray.
Week 3 – Oakland Raiders
In Week 1, the Patriots kept their corners on the sides, rarely moving them. In Week 2, they matched up their corners, moving them to preserve the matchups they liked. In Week 3 against the Raiders, they did a little from column A and a little from column B. Revis played wire-to-wire for the first time (58 snaps), sometimes following a receiver ‒ James Jones in particular ‒ around the field, and sometimes staying on one side in a zone look. Oakland uses a fair amount of two-receiver sets, and the Patriots would often combat these with fairly conventional zone looks such as this one: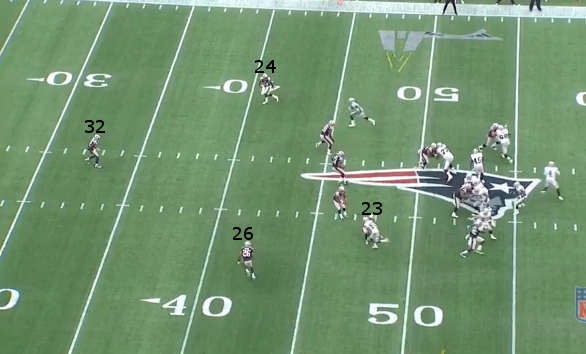 Courtesy of NFL Game Rewind
This is a pretty standard, conservative Cover 3. McCourty (#32) is the deep man in the middle, and Revis (#24) and Ryan (#26) man the deep sidelines. Chung (#23) is underneath.
Ryan and Arrington reprised their roles from Week 2 as the second and third corners respectively. Ryan played all 58 snaps, while Arrington played 21. Dennard was again inactive with a shoulder injury, and while Butler was active, he didn't get into the game on defense.
McCourty yet again served in essentially the same role as in the previous two games and played all 58 snaps. Chung (40 snaps) and Wilson (15) again split time opposite McCourty. Chung played a key role in defending versatile fullback Marcel Reece, as highlighted by Belichick in his "Belichick Breakdown" segment (video link). He often keyed in on Reece in man coverage.
On 3rd-and-4 or farther, the Patriots used a dime defense with Harmon (12 snaps) and Ebner (10) coming on. Here's a screenshot from a 3rd-and-4 on Oakland's first series: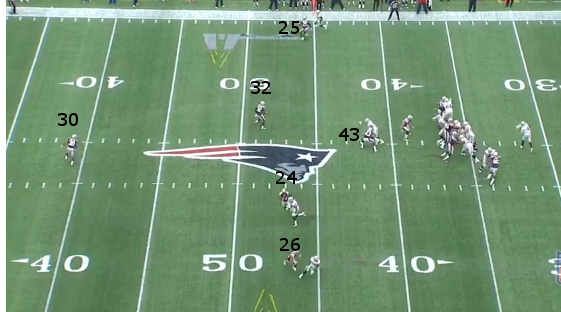 Courtesy of NFL Game Rewind.
In this dime look, it is Harmon (#30) and not McCourty (#32) playing the deep centerfield role, as they like to have McCourty roaming underneath. Ebner (#43) lines up like a linebacker and usually covers the tight end in man coverage, as he's doing here. Revis (#24), Arrington (#25), and Ryan (#26) are in man coverage, again with Revis in the slot here.
Summary thoughts: Revis drew some criticism for his performance, but at the end of the day the Patriots held the Raiders' offense to just three field goals and 174 passing yards.
Looking Ahead
No defense has allowed fewer than the Patriots' 506 passing yards (4.6 yards per attempt) to begin the season, and they've got reinforcements coming in Dennard and Brandon Browner (currently suspended). It's fair to say that they haven't really been tested, however – Miami, Oakland, and Minnesota all rank in the bottom four offenses in passing yards so far in 2014. Will the defense hold up against tougher pass offenses? Will they continue to change game plans each week or settle into one style? Will someone win the strong safety job outright? How will they integrate Browner and Dennard when they return? We will keep an eye on these issues as the answers emerge over the course of the season.
Follow Dave on Twitter @davearchie.