Thousands of young men will play their final games over the Thanksgiving rivalry weekend. Our own Mark Schofield reflects on his own experiences playing the game he loves for over a decade and the lessons in a football life.
---
People often ask me if playing football was worth it, and I can see why they ask. I have a torn labrum in one shoulder and a torn rotator cuff in the other. I have bulging discs at three levels in my spine. I have two knees that give me fits and need cortisone shots from time to time. I needed to have that left thumb reconstructed before I graduated college. When I read about CTE I cannot help but wonder about my concussions, diagnosed and undiagnosed, and worry.
On paper, I'm a text-book example of the guy who says that he loved it every day he played and now regrets it everyday as he tries to get out of bed.
Falling in Love
I was 9-years old for my first season of Pop Warner football, yet I remember so much from that first year. I played running back and, in our opening game, I was tapped for the first rushing attempt of our season. The play was "T 20 Quick." We lined up in a T-formation with me as the left halfback, and I got the ball for pretty much a straight-dive through the B-Gap. I hit the hole, spun off the charging linebacker and burst ahead for a nice 6-yard gain. I was hooked. Endorsements would clearly soon follow.
That team finished 3-6, but I knew that I wanted to come back the next season and play for a winning team. I also knew that I wanted to play quarterback. I was a pitcher in little league and thought I had a pretty good arm, so it seemed a nice fit. So when I returned the next summer I made sure to show the coaches how I could throw a football, earning the starting quarterback position. And yes, our team went on to win the league title. Our triumph was not, however, due to my prowess in the pocket. No, our success this year, and in later years, was due in large part to two guys I would spend the next eight years of my life handing the ball to: Shawn Feeney and Royston English.
These two players were the featured running backs for our offense, and for nearly a decade I got to watch each play football every single day. They remain two of the best players I have ever seen up close.
Shawn had this "hesitation move" he would put on a defender in the open field, where he would arch himself backwards and slow down, like a horse coming to a stop. The defender would decelerate their path to him, and then Shawn would accelerate to another gear and blow right by the defensive player. It was amazing to witness from just a few yards away.
Royston was a rocket in cleats, one of the fastest athletes I have ever seen in person. His jog was faster than the average sprint. He was such a determined runner, and in all the years I played with him I don't think I ever saw him brought down by a single defender. Royston starred at the University of Maine as a running back, and had a bright future ahead of him. Sadly, the only battle he ever lost was his struggle with cancer, and he passed away far too young at age 33.
Learning the Game
Pop Warner was also when I first began to watch football film and try and break it down myself. My parents attended every game, often with my grandfather in tow. And while my mom would spend most games with her eyes buried in her father's shoulder worried I was getting hurt, my dad channeled his nervous energy into videotaping each game.
Once home, I would pester my dad to plug the camcorder into the TV and let me watch the tape. I knew nothing about coverages or advanced football schemes. But I started to notice larger concepts like defensive fronts, blitzes, and blocking assignments. My younger brother also played and those Sunday afternoons watching film formed the foundation of a life breaking down game tape. We would bask in good plays we made, and tease each other over some less spectacular moments. One such play occurred when my brother was playing center. His quarterback lined up in the shotgun, but he forgot to tell my brother. We must have watched the footage of Steve snapping the ball straight to the sky hundreds of times. My brother was always good-natured about his mistakes. Me? Not so much.
While the film demonstrated how plays worked, or didn't work, I also began to see some of the deeper meanings of the game. My last year in Pop Warner I was stuffed on a QB sneak on the goal line. Watching the film later, I noticed that one of the defensive linemen was getting some shots on me in the pile. Out of nowhere Shawn came flying into view, shoving the lineman off of me, screaming "get off my quarterback." Shawn probably doesn't remember coming to my aid that day. I've never forgotten it.
Our core group rose through the ranks of Pop Warner football together and every season we either won, or challenged, for league and district titles. Our final season in Pop Warner we qualified for National Championship selection, but sadly the names drawn out of the qualification hat did not include our team. So it was on to high school for us – together as teammates.
Putting in the Work
While some of my Pop Warner pals found themselves playing on the varsity squad quickly (including Shawn, who became the team's long-snapper as a freshman), I had to remain patient and wait my turn. I found this extremely frustrating, but I hung in there and looked for different ways to prepare myself for the day the job could be mine.
So I watched film. A lot of film. And I read books on playing quarterback. One I turned to was a title I first read as a youngster: The Art of Quarterbacking by former Cincinnati Bengals signal caller Ken Anderson. I poured through it, absorbing every idea and drill Anderson wrote about.
I also found myself doodling plays, something I continued to do until I graduated law school. Open up any of my old notebooks and mixed in among history notes, constitutional law notes, homework assignments and what-have-you lie different ways to throw against Cover 1 or Cover 0 defenses.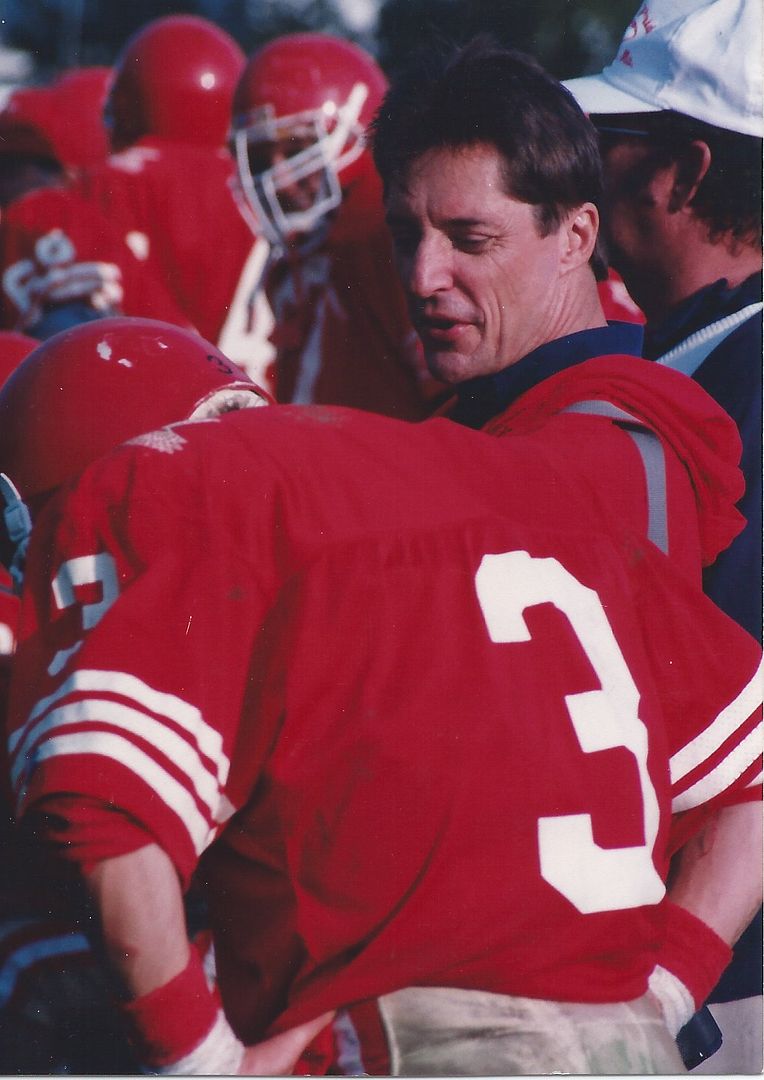 My senior year we were picked to finish second in the Greater Boston League by the Boston Globe. The GBL was loaded with football talent during this time: Peabody was the defending champion with future Red Sox prospect Steve Lomasney under center, while Everett was becoming the football powerhouse they are today. Still, our core group of players had been together for nearly a decade and had been working toward this common goal.
Expectations are funny; a 7-3 season where we suffered two last-second losses to Peabody and Everett may sound successful to you, dear reader. But twenty years later, I still think about throwing an interception on a corner route against Peabody or being sacked on 4th down by Everett, just moments before I was going to hit Shawn on a deep corner route. He was breaking wide open and the play was going to go for six. Just one second more is all I needed… all we needed. But on neither occasion did I make the play our team required.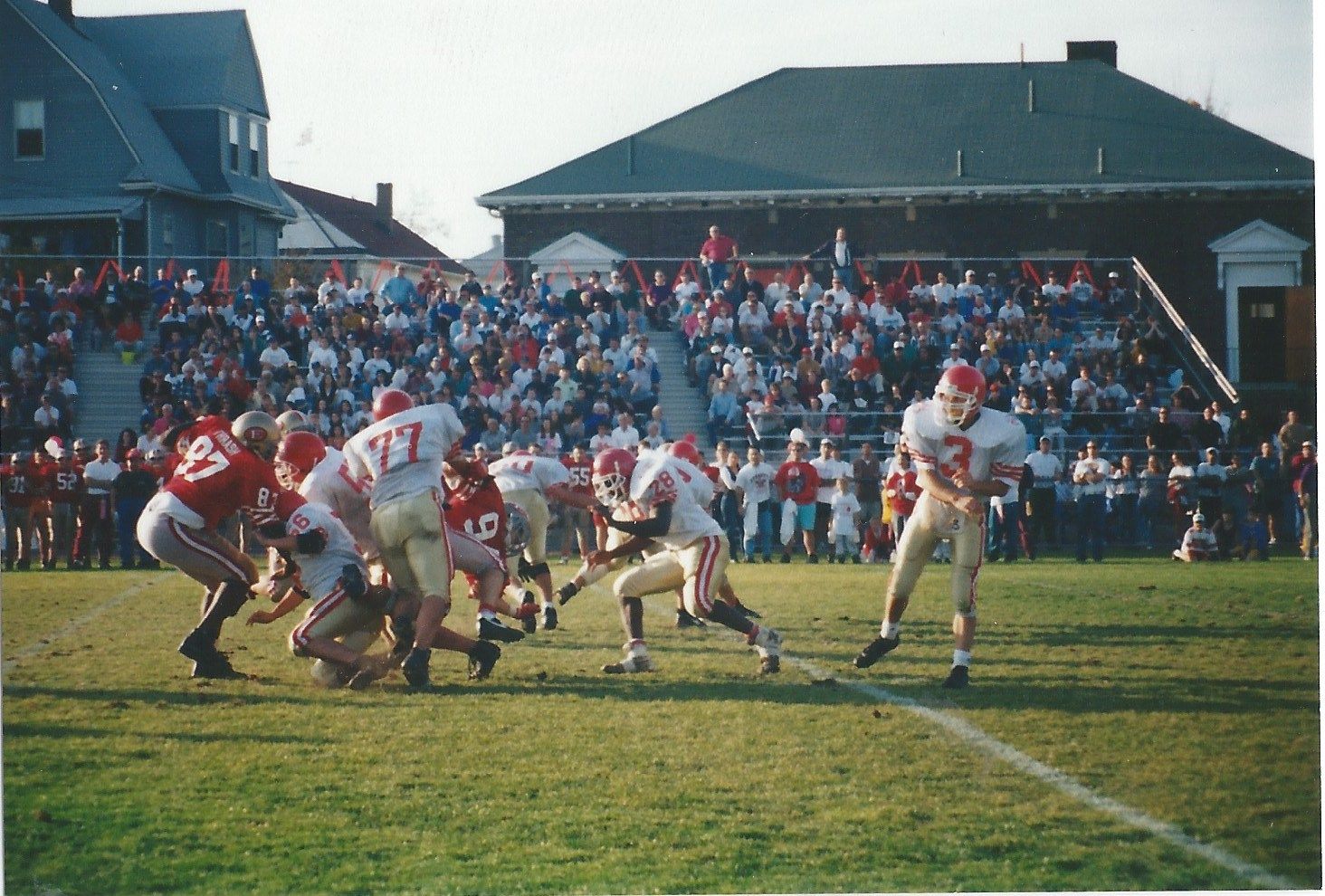 On Thanksgiving Day we traveled to Walpole and, again, we lost a close contest 21-16. I'll let The Boston Globe and Boston Herald sum up that contest:
The Globe's reporting of the play before the second half was based on the officials' ruling that the receiver had been out of bounds. However, I knew the officials' ruling was complete crap. Following the crushing defeat I raced home to watch the local access cable replay. Sure enough, Wilder got both feet down.
For most of my teammates, this was their final football game. I was fortunate enough to know that I still had some football left.
It Feels Good To Be Wanted
A number of college programs reached out to me expressing interest in my playing for them. The biggest school to come calling was the University of Southern California. That's when I realized just how much money a school like USC had to spend. If they were sending me an initial prospect package, I knew they must have money to burn. It was signed by their athletic director, two-time All-American Mike Garrett, who was part of the Kansas City Chiefs when they won Super Bowl IV. I framed the letter and hung it on my wall.
Five schools truly were interested in me: Georgetown, Bates, Trinity, Tufts, and Wesleyan. I made a number of informal visits to each, but my first official visit was to Wesleyan. I spent a Saturday night with two juniors, a tight end, and an offensive lineman and their group of friends. While not on par with "He Got Game," they showed me a really good time. The next morning, my mind was made up.
Later that spring, I received my acceptance letter in the mail. It had a nice little football sticker on it. When I showed up on campus the next fall, one of the guys I hung out with during my visit told me, "Yeah, we knew you'd be coming here."
Pay Attention To The Current Situation
I came in as a freshman and hoping to see mop-up duty in a game or two. I had an impressive enough training camp, though, and won the back-up job behind junior Scott Hevesy. After we won our opener against Middlebury the the wheels came off. We were blown out by Hamilton, where I saw my first college football action. The following week against Colby I came on in relief again and had no success whatsoever.
The next week we hosted Bates and, again, I took over to start the third quarter. I led a few scoring drives, completing my first collegiate pass and everything. But I was pulled for sophomore backup QB Chris Rosachi at the start of the fourth quarter, a pattern that would continue the rest of the season.
We hosted Williams that year and on their defensive line stood Ethan Brooks. He would go on to start at offensive tackle for a few pro teams, including the Ravens and Cowboys. On our second offensive play of the game he sacked Scott and it was clear our starting quarterback was woozy. Our offensive coordinator calmly turned to me and asked me to grab my helmet. It was 3rd and 14.
The call was a simple play-action rollout. I would take an off-tackle handoff to the left and circle back to the right, with a corner route and an out route to choose from for a pass. Our left guard would pull across the line and provide a lead block for me to the right. But as I took that first snap and executed the fake, my feet got tangled up with the guard's. I stumbled but maintained my balance, then looked downfield. Or tried to. Just a few feet away was Brooks. I did what came naturally: I secured the ball and tried to run him over. I think I heard him laugh right before the collision. When I got back to the sidelines our captain and fullback grabbed me by the face mask and screamed "don't you ever [bleeping] do that again."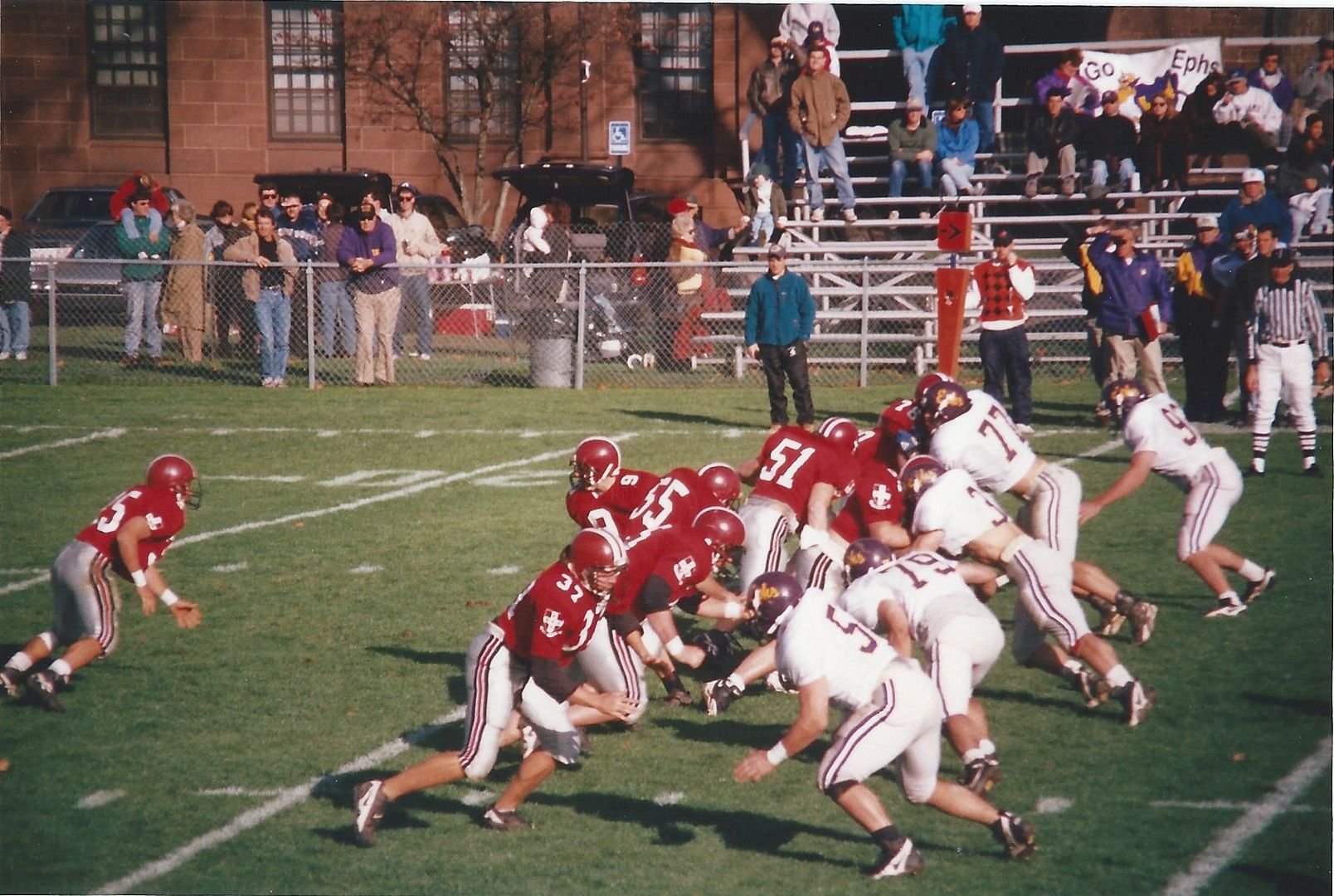 The final week of the season featured an open competition for the starting QB job. I felt I had a great week of practice and was so excited each night to call home and update my parents on how things were going. On Thursday we got the word: It was Chris. The coaches were opting for his "experience" over my "ability," according to them. It stung.
Unfortunately, for us, the game was played in a driving rainstorm and the entire offense struggled to get anything going. We finished the year 3-5, the first losing season I had experienced since I was nine years old.
Before school ended for the summer, our coaches brought me in for a quick meeting and handed me a playbook. For wide receivers. To stay on the team, I was going to learn a new position.
Adjusting On The Fly
I entered training camp as a sophomore determined to earn a starting wideout role and reward my coaches for their faith in me. We were installing a new, pro-style offense that relied on reading coverages on the fly and adjusting routes accordingly. It was during this year and the next that I truly learned more about the sport than I had ever thought possible. For me, simply seeing the game from a different perspective taught quite a lesson. Now I found myself viewing coverages from a different vantage point and learning the nuances of route-running. And for the first time in a long time, practices were hard because, "Hey, why are you tackling me?"
Oh, right. No fancy red "Do Not Touch – Important Quarterback Inside" shirt for me…
For both our intrasquad scrimmage and our practice game against Middlebury, I was one of the two starting WRs. On our first drive against Middlebury I made a diving catch on a comeback route on 3rd and long to keep the drive alive. As we entered our first full week of practice before our opener against Tufts, I was thrilled. I had accomplished the goal of earning a place at the table. At our Friday walk-through I entered the huddle with the rest of the first team offense.
I then felt a tap on the shoulder. The job wasn't mine.
We had a WR transfer who had been nursing a groin injury and the coaches had kept him on the shelf until this day. The job had been his all along, but nobody thought to tell me.
I had earned other roles on the team like holding for field goals and extra points, and as the wide receiver in our goal line package. The coaches used me mainly as a decoy in order to simply run the cornerback off during each play. But there would be one other situation where I would be needed: If we ran the option, it was my job to crash inside and take out the middle linebacker. I earned that role by executing one great block in my life, on the option play against our starting middle linebacker during our intrasquad scrimmage. We called the option one time that season.
Once.
Locked in a tight contest with Colby in Waterville, Maine, our offense had a 1st-and-goal situation in the 4th quarter and needed a TD. We put in our goal-line package and called the option. Finally, my moment had arrived. I almost felt bad for that middle linebacker. It wasn't his fault, but now I had a chance to erase the frustration of how my move to WR had been handled I was going to hit that MLB so hard that, in the words of Alvin Mack, "his girlfriend died."
Our left tackle jumped offsides and the officials blew the play dead.
Pretty much sums up my sophomore season.
With my grandfather after our season opener my sophomore year against Tufts. He came to every game of mine that he could.
Making The Right Decisions
We finished 3-5 yet again. Our quarterback suffered a concussion a week later, knocking him out for the year, and the quarterback position was turned over to a freshman, Jake Fay. It was clear from his first action that Jake was going to be a pretty good QB. Perhaps there was hope for this team yet.
As for me, for the first time in my life I was questioning whether to "hang up the cleats." The season had left a bitter taste in my mouth, with how I was (in my mind) passed over for a position. I had some thinking to do.
As spring turned to summer, my mind was close to made up. I was done with football. Then I got a phone call from our head coach. Scott Hevesy would not be returning to the team because of his concussion history and the other rising sophomore quarterback had decided to transfer. Jake Fay was the only current QB on our roster. Well, the only current QB listed as such.
I was starting over, learning our offense anew from the quarterback position. I immersed myself in it, spending hours watching film either with coaches or on my own. Coach Hauser expected a great deal from his quarterbacks. He could tolerate physical mistakes – to a point – but he had no patience for mental errors. During our intrasquad scrimmage my junior year, I turned the wrong way on a fullback dive (we had two varieties of the play in our playbook, one where the QB opened up playside and one where the QB opened up to the opposite side of the formation before pivoting playside). When I couldn't complete the handoff he bellowed out at the top of the lungs: "Schofield, I wish this was live so someone could kick the [bleep] out of you."
Never made that mistake again.
Be Ready To Contribute At All Times
We opened the season hosting Tufts, and their starting free safety was an old high school teammate of mine, Mike Fratto. On the final play of the second quarter, Fay rolled his ankle and couldn't continue. I was again under center during a college game to start the second half. I led us on a few scoring drives, including one late in the fourth quarter where (with Coach Hauser's blessing) I threw the playbook out the window and just ran the ball on every snap.
On one such play we were to execute a toss to the right side of the field, but I was told to fake the pitch and keep the ball around left end. I broke into the secondary and found myself face-to-face with Fratto. He dove for my legs. I lunged the ball out with my left hand and came crashing down with the football on the one foot yard-line. I scored my only collegiate touchdown on a quarterback sneak the following play. My left thumb felt numb from the landing on the previous play, but I had a drive and a moment I will never forget.
I made my first collegiate start in upstate New York against Hamilton. My parents, as they always did, made the trip to see me play. Unfortunately for them, they drove eight hours to see their son pulled after he threw his second interception with Wesleyan trailing 14-3 late in the 3rd quarter. Fay entered the game and, on one good ankle, threw two 4th quarter touchdown passes to lead us to victory.
I saw a lot of action that season, due in part to injuries and also to the coaches installing a few package plays for me as either a WR or a running QB. We lost to Amherst (my fifth straight "Little Three" loss) but entered our game against Williams with a 5-1 record. It was homecoming, the sky pouring buckets, and we eked out the win. One of my proudest moments as an athlete was taking the field for the final kick-off as a member of the "hands team." I was 99% terrified that the ball would be kicked in my direction, and 1% excited. Or maybe 1% terrified and 99% excited. But that's what made it so intense.
It wasn't kicked to me, but it didn't matter. I was finally able to experience a Little Three win.
We finished the season 7-1 – the best record for Wesleyan in years – and earned a share of the "Little Three" title. It was a great season for the team and, despite the setback against Hamilton, it was a great season for me personally. I learned so much about playing quarterback that year. I began to understand coverages, rolling coverages, play design – and learned how quarterbacks could influence a secondary with their eyes. So much of what I write now is based upon lessons I learned in the film room that season.
For The Good Of The Team
Going into my senior year I hoped to retain the backup quarterback job, but we brought in an extremely talented freshman (Kevin Cornish) with a rocket for a right arm. The night before double sessions started, he and I played a little catch and my hands still stung the next morning. I fought like hell to keep my job during camp, but the writing was on the wall. The freshman was listed second on the depth chart when double sessions ended.
Despite the setback, I remained the holder for field goals and extra points, and found other ways to try and help the squad each week. I spent each practice emulating the opposing quarterback, running unfamiliar plays against our starting defense. That stung the ego a bit but I needed to contribute in some way, and the coaching staff acknowledged my efforts the week we played Bowdoin, selecting me as the "Practice Player of the Week."
Additionally, 13 years of football were finally catching up with me. During our third game of the season Fay suffered a shoulder injury, and I was hopeful that the coaching staff would give me the the start against Bates. That was rendered moot in practice when, while trying to execute a throw while rolling left, I felt something pop in my lower back. It was just a muscle tear, but I was on the shelf the rest of the practice week and only made the trip north as insurance. Kevin started and turned in a heck of a performance, throwing for over 270 yards and 3 TDs.
At the last Friday walkthrough of my college career, the underclassmen and coaches formed the traditional long receiving line starting at the end zone, with every senior walking through and greeting each other one last time. Then, players huddled at midfield and each senior had the opportunity to address the team. I told the guys what an honor it was to play with each and every one of them. I also spoke to guys who "might be thinking of hanging the cleats up" after the season, and urged them not to. I talked of my own thoughts after my sophomore year, and how much I would have missed out on had I quit.
I implored every teammate to stick with the game, to end their career as a senior saying goodbye. There is no better measure of a person, I said, than the dedication to see a commitment through, and the memories created and relationships formed through this team and this game will last a lifetime. As I told them, even though my senior year saw me relegated to the third string, I was thankful for every moment.
It's How You Play The Game
On the last PAT attempt of the season, the snap was a little low. We executed the fire call but when our tight end was covered, I bolted for the front corner of the end zone, just getting myself and the ball inside the pylon before the defenders caught up to me. I held onto that ball as I left the field, keeping it away from the equipment manager. I had a plan for that ball. I got one last series as a QB, air mailing a throw to a classmate on a curl route, but it didn't matter. We won, and I had one final moment to tell the kids about someday.
As the seconds ticked away I grabbed that ball, shoo-ing the equipment manager away. My parents made their way down the stands to find me, and I put that ball in my mom's arms. And I broke down. For 13 years my parents had been coming down from the stands to find me after every game, with a hug and a high five after the wins, or a shoulder to cry on after the losses. And my four years at Wesleyan, my last four years to play this sport, were due to their love and their sacrifices. As I handed that football to my mom I simply said thank you. It was all I could get out. The ball still rests on a bookshelf in her bedroom.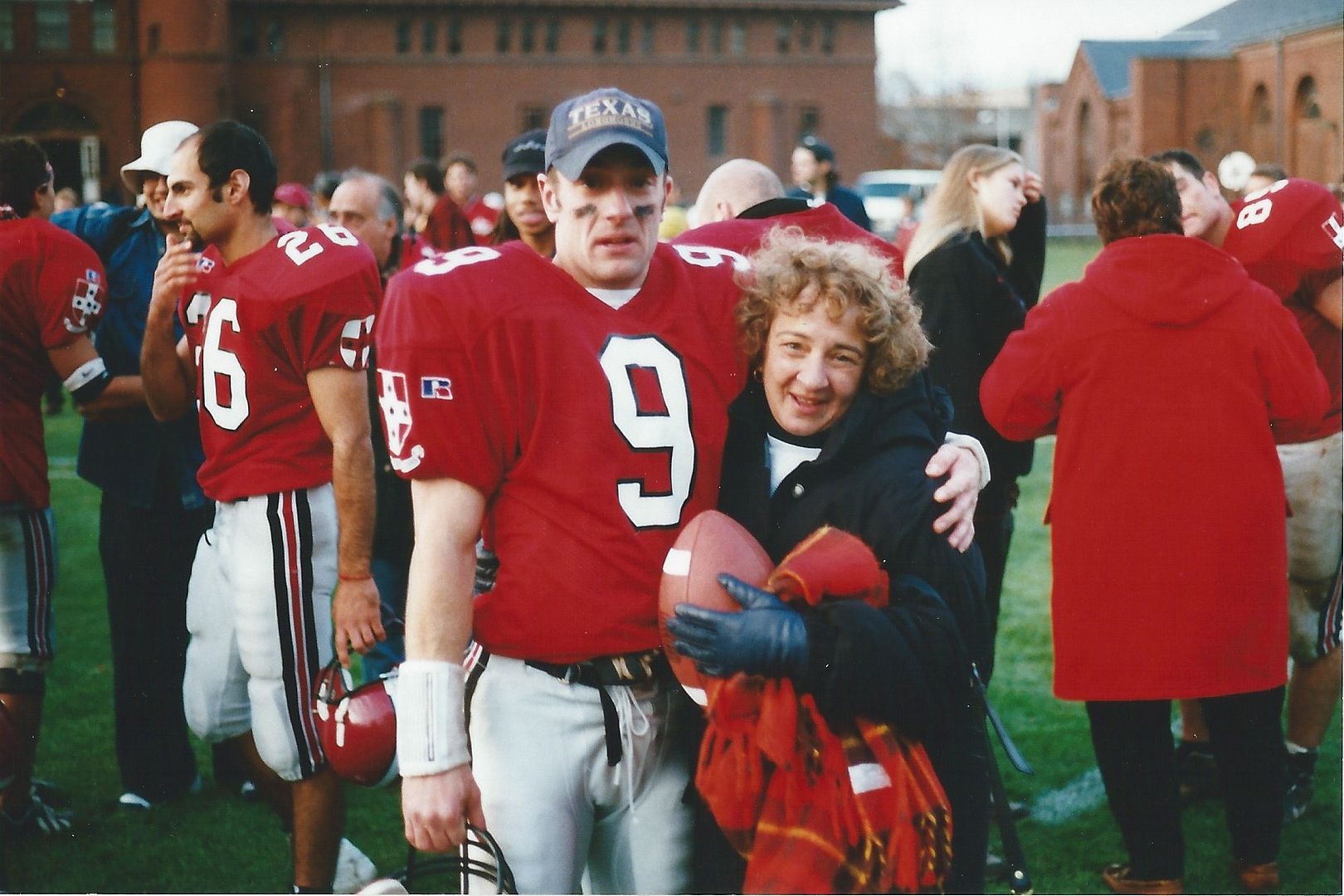 Another tradition at Wesleyan during the final week of the season is that each senior is asked to put into words what playing football at Wesleyan meant to them. I always knew there was a reason to hold onto that program:
The wisdom of the young.
No Life Without Lessons
After Wesleyan I entered law school at William and Mary, where I continued to play football, albeit in a much less organized fashion. I found my way onto our class' flag football team, but was more of a weapon at WR and FS than at QB. I also met someone, an incredible woman, and as I write this she is on the couch next to me as our two youngsters sleep in their bedrooms.
Football taught me discipline. It taught me the value of teamwork, and the importance of buying into a collective goal and working with others to meet that goal. It introduced me to men I never would have met if not for the football field. It gave me incredible highs, and forced me to encounter difficult lows. And it taught me how to learn from each such failure and pick myself back up, to fight on.
I still miss the game, and my passion for the sport lives on in every piece I write. Even with the bumps, aches, and pains I deal with each day, I never for a second wish I had done it differently. Without football, I likely do not get into Wesleyan. Remember, my acceptance packet had that little football sticker on it. Without Wesleyan, William and Mary might never have happened. And then I wouldn't be sitting next to my wife, with our two beautiful and healthy children upstairs.
Follow Mark on Twitter @MarkSchofield.