Pylon University's Optimum Offense play of the week usually involves a quarterback: Jameis Winston, Trevone Boykin and Travis Wilson have all taken home the award this season. However, what Wisconsin's Melvin Gordon did against Nebraska might have been the performance of the year.
---
It started as a battle for sole possession of first place in the Big Ten West, and the inside track on a berth in the Big Ten Championship Game, as the Nebraska Cornhuskers squared off with the Wisconsin Badgers Saturday in Madison. It ended with a new FBS single-game record and some classic coach crankiness.
The Huskers raced out to an early 14-point lead thanks in part to two Badger fumbles, the second of which was lost by running back Melvin Gordon. But with Wisconsin facing 1st and 10 at their own 38-yard line with 12:32 remaining in the 2nd quarter, he atoned:
[wpvideo Us2xoNe9]
Gordon's 62-yard touchdown run cut the Nebraska lead to 7, and was the impetus for another entry in the Bo Pelini Reaction GIF Hall of Fame:
Not a great day to be a defensive coordinator.
The most impressive aspect of this carry from the running back is the body control he displays along the sideline. Safety Corey Cooper has the angle on Gordon, but the RB executes a tremendous hurdle and keeps both feet inbounds on the landing: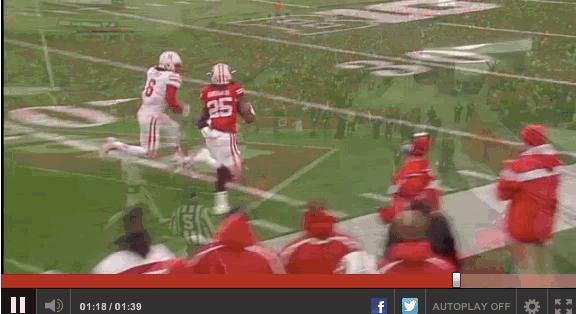 He finished the day with 408 yards rushing, besting the mark set of 406 notched by LaDainian Tomlinson in 1999 at TCU ‒ the Melvin Gordon record has been set. With games at Iowa and home versus Minnesota left on their schedule, the Badgers are on the brink of getting a shot at Ohio State in the Big Ten Championship Game.
Huskers fans ‒ like the author ‒ are left to treat their televisions like Pelini treated his defensive coordinator.
All video and images courtesy ESPN.
Follow Mark on Twitter @MarkSchofield.