The College Bowl Season is upon us, and Pylon University is bringing the breakdowns on offense, defense, and special teams, along with the sport's traditions and great moments. In this edition, it's the Fiesta Bowl preview.
The Matchup
WHO: Arizona Wildcats (10-3) vs. Boise State Broncos (11-2)
WHAT: Vizio Fiesta Bowl
WHEN: Wednesday, December 31 – 4:00 p.m. EST (ESPN)
WHERE: University of Phoenix Stadium – Glendale, AZ
Two prodigious offenses meet out west for a desert shootout. The Wildcats scored a number of impressive victories en route to winning the Pac-12 South and a berth in the conference title game. Arizona upset then-No. 2 Oregon by a touchdown in early October, and toppled Utah and Arizona State down the stretch to secure the division crown. They failed to defeat Oregon a second time, settling for a berth in the Fiesta Bowl.
The Broncos returned to form under new head coach Bryan Harsin. The former BSU quarterback notched 10 victories in his inaugural season, including a 14-point victory against Fresno State in the Mountain West championship game. The only two blemishes on their schedule are an opening-week loss to Ole Miss (played in Georgia) and a late-September loss at Air Force.
When Arizona Has the Football
Anu Solomon triggers the Wildcats offense. The redshirt freshman completed 285 of 491 passes for 3,458 yards and 27 touchdowns, with only seven interceptions. He threw five TD passes in a game twice this season, and four TDs in two others. His 36-yard touchdown against California ‒ his fifth of the day ‒ came on the final play of the contest, capping a 36-point comeback in Arizona's 49-45 victory.
On his first touchdown toss in that game, Solomon connected with Cayleb Jones on this perfectly thrown go route for a 41-yard scoring strike:
[wpvideo sLIz45wV]
Jones leads Arizona in receiving, catching 65 balls for 902 yards and nine touchdowns. Other targets for Solomon include Samajie Grant, Austin Hill, Trey Griffey and Nate Phillips, though he won't play because of injury. Each of those receivers caught 25+ passes and at least one touchdown. Hill brought in a 92-yard scoring toss in the Wildcats' season-opening win against UNLV.
Nick Wilson quietly turned in a very solid performance from the running back slot. The freshman ran the football 217 times for 1,289 yards and 15 touchdowns, including an 85-yard sprint in the blowout against UNLV. His 20-carry, 218-yard explosion against Utah keyed Arizona's big victory and included three scoring runs, the second of which was this 75-yard jaunt:
[wpvideo 0HIMmJT6]
Utah blitzes on this play, sending a linebacker and a safety. Wilson keeps his feet as he works through the line of scrimmage, and then outraces the defense to the end zone.
The Boise State defense is led by a group of talented linebackers. Sophomore Tanner Vallejo topped the Broncos with 86 tackles, 53 of them solo. Fellow LBs Ben Weaver and Corey Bell each added 50+ stops on the season. Defensive lineman Kamalei Correa is crucial to their pressure game. The sophomore notched 10 sacks on the season, with three coming in the Wyoming tilt:
[wpvideo 9RVCaNY2]
Correa aligns in a two-point stance over the tackle, and bursts through the line using a rip move for the sack.
The secondary features a pair of junior ballhawks: Darian Thompson led the team with seven interceptions ‒ two of which came against Nevada ‒ and he took one to the end zone against Wyoming. Classmate Donte Deayon added five INTs, returning one for a touchdown against Connecticut.
When Boise State Has the Football
The "J-Train" leads the Broncos offense out of the station. Jay Ajayi, the junior running back with the locomotive-themed nickname, gained 1,689 yards on 325 carries this season while scoring 25 touchdowns on the ground. The RB also caught four passes for scores, giving him 29 total TDs and tying him with Melvin Gordon for the most in FBS this year. He had two 200+ yard rushing games on the year: a 33-carry, 219-yard effort against Colorado State, and a 27-carry, 229-yard outing in the regular season finale against Utah State's tough run defense. Ajayi also scored five rushing TDs against the Aggies, including this 62-yard burst on a simple halfback dive:
[wpvideo j4M5dMb5]
He takes the handoff and makes multiple defenders miss at or near the line of scrimmage. Once in the open, Ajayi outpaces the secondary to the goal line.
Senior Grant Hedrick is the man in the pocket for the Broncos. The quarterback completed more than 70 percent of his passes on the year for 3,387 yards and 22 touchdowns, while throwing 13 interceptions. Hedrick struggled in Boise State's two losses, throwing four picks against both Ole Miss and Air Force. But his last interception came more than a month ago, in the mid-November win over San Diego State.
He threw four TD passes against BYU, including this 78-yard strike to Thomas Sperbeck:
[wpvideo 3N1jDcyO]
Hedrick hangs tough in the pocket against the blitz and gets the football out, knowing he will take a heavy shot from the defense.
Sperbeck led the Broncos with 678 receiving yards on 39 receptions. Other weapons in the passing game for Boise State are Shane Williams-Rhodes, Matt Miller and Jake Roh. Williams-Rhodes led the squad with 68 receptions for 585 yards and a team-high seven touchdowns. Miller brought in 28 footballs for 461 yards and three TDs, while Roh, a freshman, hauled in 33 passes for 399 yards and two TDs from the tight end position. The "J-Train" can also operate in the sky, catching 45 passes for 536 yards and five TDs.
Sophomore Scooby Wright is the heart and soul of the Arizona football team. The linebacker led the Wildcats defense with 153 tackles, ranking third in the nation in that category behind only Utah State's Zach Vigil and Texas State's David Mayo (both with 154).. Wright proved crucial in the Wildcats' early-season upset over Oregon, forcing a fumble by eventual Heisman Trophy winner Marcus Mariota late in the game to preserve the victory:
[wpvideo EhGGv4GK]
That's a Daniel Bateman, All-Madden type of effort: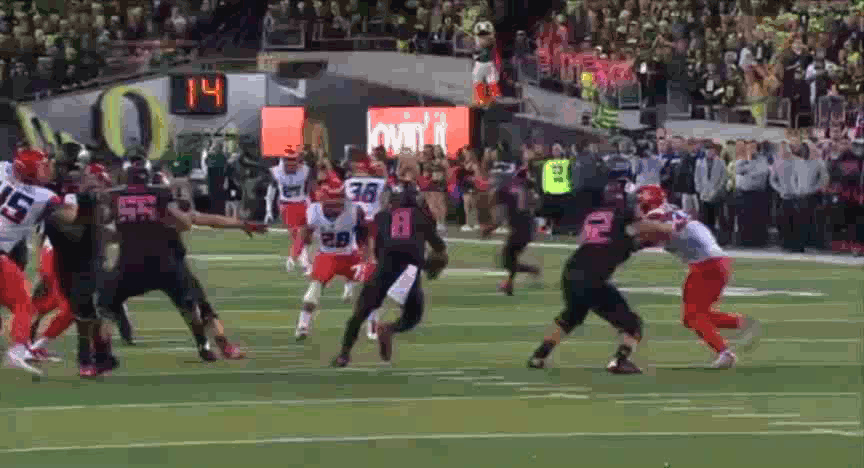 The linebacker made plays like this all season long, which led to him finishing ninth in the Heisman balloting.
A talented secondary patrols the field behind Wright. Safety Jared Tevis finished second on the team with 119 tackles, while free safety Jourdon Grandon placed third with 82 stops. Grandon led Arizona with three interceptions, while Tra'Mayne Bondurant, William Parks and Tevis each notched two picks.
Wright also led the team with 14 sacks, while defensive linemen Dan Pettinato (4) and Reggie Gilbert (3) also contributed multiple QB takedowns during the season.
Pro Prospects
Ajayi is a likely second day selection should he declare himself eligible for the 2015 NFL draft. Other potential pro selections from Boise State include Miller, Hedrick and safety Jeremy Ioane. The Arizona roster contains a number of projected draftees, including Hill, Jones-Grigsby, Bondurant, and offensive tackle Mickey Baucus.
Prediction
In a game with two high-powered offenses, a defense comes through late. Arizona wins a tight battle behind their tenacious linebacker.
Arizona 35, Boise State 28
All video and images courtesy ESPN.com.
Follow Mark on Twitter @MarkSchofield.