The College Bowl Season is upon us, and Pylon University is bringing the breakdowns on offense, defense, and special teams, along with the sport's traditions and great moments. In this edition, it's the Texas Bowl preview.
The Matchup
WHO: Arkansas Razorbacks (6-6) vs. Texas Longhorns (6-6)
WHAT: AdvoCare V100 Texas Bowl
WHEN: Monday, December 29 – 9:00 p.m. EST (ESPN)
WHERE: NRG Stadium – Houston, TX
It took Arkansas until Week 10 to notch its first SEC victory of the year with a November win over traditional rival LSU to secure the Golden Boot. The Razorbacks followed with a stunning 30-0 toppling of Ole Miss to clinch bowl eligibility. Their season included some quality losses as well, losing by one point to Alabama and by a touchdown to each of Texas A&M, Mississippi State, and Missouri. Given these results it seems the Razorbacks are heading in the right direction under second-year coach Bret Bielema.
Texas journeyed through a season of rebuilding and regrouping under first-year coach Charlie Strong. The Longhorns were battered by injuries all season long, but their top-notch defense secured wins over Texas Tech, West Virginia, and Oklahoma State in November to ensure a bowl appearance. With a talented recruiting class lined up, the Stronghorns look to continue their late momentum as they head into the offseason program.
This marks the 78th matchup between the former Southwest Conference rivals, with Texas holding a 56-21 margin in the series. The Longhorns dominated Arkansas in their last meeting with a 52-10 home victory in 2008.
When Arkansas Has the Football
Bielema built a strong running game while head coach at Wisconsin, and the same transformation is taking place in Fayetteville. The Razorbacks averaged less than 200 yards per game through the air, but ranked 28th in the nation with 220 ground yards per contest. The tandem of junior Jonathan Williams and sophomore Alex Collins lead the rushing attack. Williams topped the Razorbacks with 1,085 yards over 188 carries with 11 touchdowns, while Collins racked up 1,024 yards and 12 TDs. A strong offensive line that includes left tackle Dan Skipper paves the way for this duo. Watch big #76 pancake the Northern Illinois defensive end on this touchdown run by Williams:
[wpvideo 1DW2kRPH]
Skipper puts the DE on ice skates, and Williams does the rest.
In another example showing what this offensive line can do, Collins gets the football on a lead counter against Mississippi State: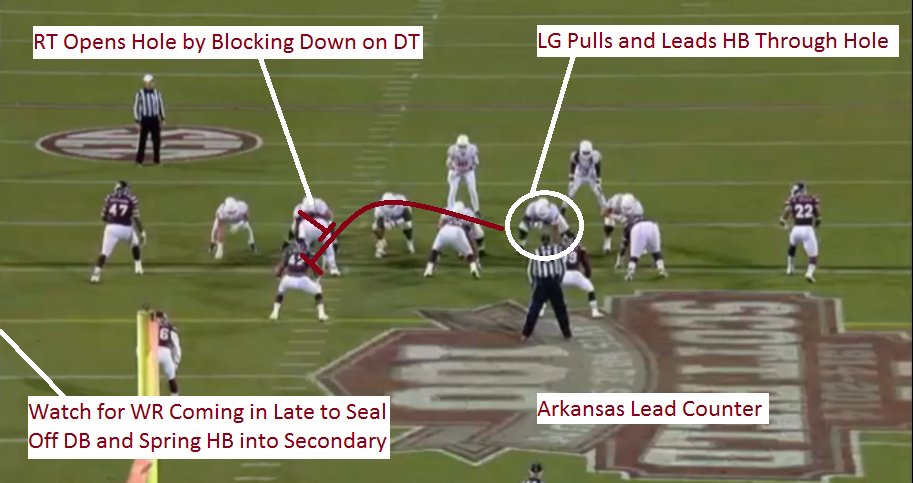 Watch as right tackle Brey Cook (#74) blocks his defensive lineman down inside. Left guard Sebastian Tretola (#73) pulls through the hole to stone the incoming linebacker:
[wpvideo fZpY3CsZ]
Collins bursts through the seam created by Cook and Tretola, and races to a big gain.
Quarterback Brandon Allen completed only 56% of his throws for 2,215 yards and 18 touchdowns, but, with just five interceptions and 11 sacks, he and his huge offensive line kept mistakes to a minimum. Allen spread the ball around to a number of different receivers, including Keon Hatcher, Hunter Henry, and AJ Derby, each of whom pulled in multiple touchdown receptions for the Razorbacks. But Arkansas relies on the running game, with Collins and Williams finding lots of maneuvering room cleared by those massive bodies up front.
This Razorbacks offense faces a stern test in the Texas defense. The Longhorns finished the regular season 25th in the nation in total defense, keeping opposing offenses under 350 total yards per game. Texas proved especially stingy against the pass, ranking 12th while allowing just 186 yards per game through the air. Where the Horns do struggle a bit is against the run; Texas gave up 162 yards per game on the ground, ranking 62nd nationally. Linebacker Jordan Hicks led the unit with 138 tackles, including 74 solo stops and 13 tackles for losses. Fellow linebacker Steve Edmond placed second on the team with 122 stops (12 for losses) and 4.5 sacks. A beast on the inside, junior defensive tackle Malcom Brown led Texas with 14 tackles for losses and 6.5 sacks.
When Texas Has the Football
In the wake of starting quarterback David Ash's retirement due to multiple concussions, the Texas offense struggled to maintain consistency. Tyrone Swoopes took over under center and completed 59% of his throws for 2,352 yards and 13 touchdowns. But the sophomore threw 10 interceptions, including four in the season-ending loss to TCU. The Longhorns also could not cultivate a solid running attack. Their offense ranked 83rd in the nation in passing yards per game (212) and 88th in rushing yards per game (149). Senior Malcolm Brown (not to be confused with the defensive tackle) paced Texas with 683 yards on the ground, while junior Jonathan Gray rushed for 628 yards with seven scores.
One bright spot for the offense was the play of wide receiver John Harris. The senior led Texas with 64 receptions for 1,051 yards and seven touchdowns. Harris notched four games of 100 or more yards, including a five-catch, 165-yard day in the win over Texas Tech. Harris is a tough, physical receiver reminiscent of Anquan Boldin, and very comfortable fighting for the football. He displays this trait on a pair of catches against Iowa State. On this first play, Harris hangs in along the sideline as he waits for the football to arrive, knowing the big hit is coming:
[wpvideo Oywi9rms]
In the second play, the WR runs a simple go route on a play-action pass:
[wpvideo RbXtnHfc]
Harris, for lack of a better phrase, just "wanted the ball more:"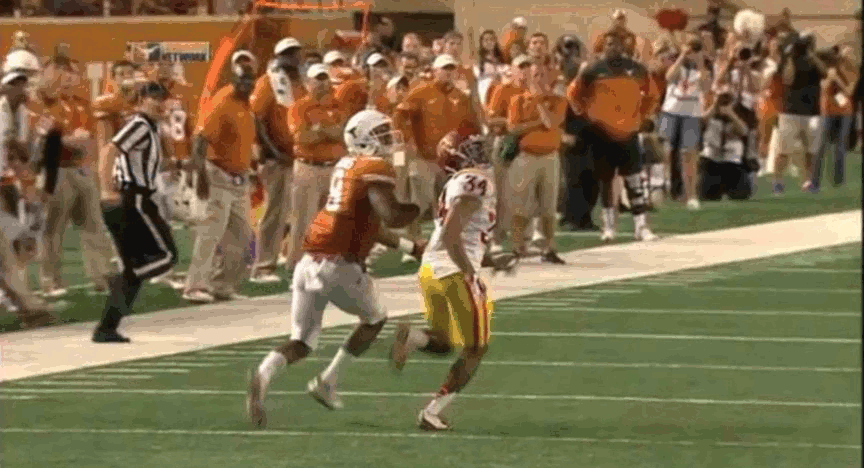 Two seniors, linebacker Martrell Spaight and defensive end Trey Flowers, lead the Arkansas defense. Spaight topped the team with 123 tackles, including 8.5 for losses, and notched one interception. Flowers closed out a strong career with 63 tackles, including 13.5 for losses, to go with his team-high five sacks. His 13.5 tackles for losses give him 45.5 over the course of his four-year career. Another standout, sophomore linebacker Brooks Ellis, ranked second on the team in tackles with 68. However the Razorbacks will be without perhaps their best defensive back in junior safety Rohan Gaines, who recorded 59 tackles and iced their win over Ole Miss with a 100-yard TD return of an interception. The school suspended Gaines and backup cornerback Carroll Washington earlier this month for an unspecified violation of team policy.
Pro Prospects
For Arkansas, Flowers is one of a handful of 2015 NFL hopefuls, with Spaight and Cook also potential draftees. Texas has a number of players garnering interest, including both Browns (Malcom and Malcolm), Hicks, defensive end Cedric Reed, and cornerback Quandre Diggs. Also, keep an eye on Harris. While sites such as CBS do not even list him on their draft boards, his skill set is valuable to NFL rosters.
Prediction
The big Arkansas offensive line wears down the Texas defense, and late in the game the 1-2 punch of Williams and Collins seals the victory.
Arkansas 34, Texas 22
All video and images courtesy ESPN.
Follow Mark on Twitter @MarkSchofield.