The College Bowl Season is upon us, and Pylon University is bringing the breakdowns on offense, defense, and special teams, along with the sport's traditions and great moments. In this edition, it's the Russell Athletic Bowl preview.
The Matchup
WHO: Oklahoma Sooners (8-4) vs. Clemson Tigers (9-3)
WHAT: Russell Athletic Bowl
WHEN: Monday, December 29 – 5:30 p.m. EST (ESPN)
WHERE: Florida Citrus Bowl – Orlando, FL
Two teams looking to the future meet in this Russell Athletic Bowl preview. For Oklahoma, a rash of miscues led to a down year, exemplified by their season-ending loss to archrival Oklahoma State where Bob Stoops's team blew a two-touchdown lead in the final minutes before losing in overtime. Prior setbacks to TCU and Kansas State along with a blowout loss to Baylor made for dismal times in Norman. Along the way, however, the Sooners discovered a number of young and talented skill players, and look to build some momentum heading into their off-season program.
Clemson managed to overcome their 1-2 start (after losses to Georgia and Florida State) by winning eight of their final nine games. However, all three defeats came to the only ranked teams they faced. The Tigers developed several blossoming contributors on the offensive side of the football, led by freshman quarterback Deshaun Watson. With a dominant defense already in place, Clemson looks to reach the 10-win mark for the fourth consecutive year.
When Oklahoma Has the Football
The contest pits the prowess of the Oklahoma rushing attack against a Tigers defense that topped the nation in fewest yards allowed per game (260). Clemson smothers the run very well, giving up only 97 YPG on the ground. A pair of seniors, Vic Beasley and Grady Jarrett, head up the unit. Beasley, a defensive end, tallied 11 sacks and 29 tackles including a whopping 18.5 for losses (totaling 104 negative yards for the opposition). Jarrett, a defensive tackle, added 41 tackles, 6.5 of them for losses. Another senior, linebacker Stephone Anthony, led the Tigers with 73 total tackles.
Beasley drives the engine for this defense, especially with his ability to terrorize the opposing pocket. The defensive end had two sacks in Clemson's near-upset of the Seminoles, including this big play on a 3rd-and-7:
[wpvideo xVrkFlCk]
This angle shows his awesome speed off the edge, as well as the technique in his arm chop (which he doesn't even need, but now scouts know he has that club in the bag):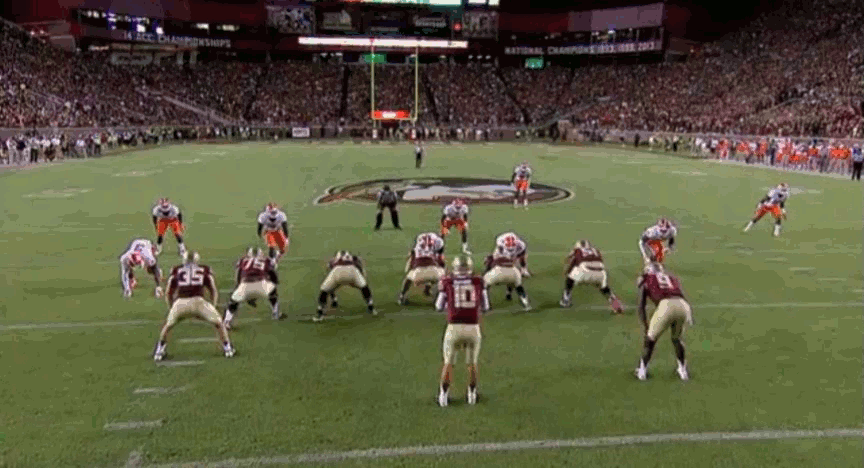 Clemson faces an Oklahoma offense that struggles to throw the football, but which runs it very well. Sophomore quarterback Trevor Knight completed 58% of his passes for 2,197 yards and 14 touchdowns, with nine interceptions. He suffered a freak injury against Baylor (diagnosed as transient quadriplegia, a form of temporary paralysis), but he could be cleared for the game. Should he remain sidelined, redshirt freshman Cody Thomas will take the snaps. The backup QB completed 30 of 66 passes on the season with two TDs against four INTs. Whoever calls the signals will look for Sterling Shepard in the passing game. The junior receiver led the Sooners with 50 catches for 957 yards and five TDs.
But Oklahoma is a running team first and foremost, with their ground game led by freshman Samaje Perine. The running back led the Sooners with 1,579 yards on 240 carries, an average of over six yards per attempt. He also scored an amazing 21 touchdowns. The week after Wisconsin's Melvin Gordon set the FBS single-game rushing record with 408 yards against Nebraska, Perine topped it with his 427-yard outburst against Kansas. He gained 213 yards on 25 carries against Texas Tech while scoring two touchdowns, the second of which was this beautiful 64-yard scamper:
[wpvideo bw4OhEaB]
The freshman takes a simple off-tackle handoff, breaks through the line, and is off to the races.
When Clemson Has the Football
Senior Cole Stoudt began the season as the starting quarterback, but ineffectiveness and a failure to take care of the football forced the team to turn to Watson. The freshman played very well in wins over North Carolina and North Carolina State, throwing for six touchdowns against the Tar Heels and two against the Wolfpack. But a knee injury hobbled him down the stretch, and he missed a number of games. Stoudt returned to action and led the Tigers to wins over Louisville, BC, Syracuse and Wake Forest. Watson did play in the season finale, throwing two touchdown passes to classmate Artavis Scott to close out their win against South Carolina.
Another star of the victory over the Gamecocks was tailback Wayne Gallman. The first-year running back from Loganville, Georgia earned more carries down the stretch, and rewarded his coaches handsomely for their trust. Gallman notched his first 100-yard game in a win over Syracuse, and tallied two more against Wake Forest and South Carolina. The victory over the Demon Deacons included this 30-yard touchdown burst:
[wpvideo rVk19VUe]
Gallman shows great footwork and vision on this run as he cuts through the hole and identifies the open cutback lane in the secondary. From there it is simply a footrace … and he wins.
Oklahoma's defense features a host of young sophomores up front. Linebacker Dominique Alexander paced the Sooners with 98 tackles, 41 of them unassisted. Jordan Phillips, a defensive tackle, contributed 31 tackles and two sacks to the effort. Another linebacker, Jordan Evans, tallied 87 tackles with six for losses. But the standout defender for Oklahoma is junior Eric Striker. The linebacker led the unit with 14 tackles for a loss and 7.5 sacks including this explosive takedown of Texas Tech's Patrick Mahomes:
[wpvideo ZaGgwMqi]
Striker beats the tackle on the edge with speed, and then launches himself onto the quarterback for the sack.
Pro Prospects
NFL scouts are salivating over the matchup between Beasley and Oklahoma left tackle Tyrus Thompson, another in a long line of talented Sooner offensive linemen. Other Oklahoma prospects include wide receiver Dorial Green-Beckham, linebackers Striker and Geneo Grissom, kicker Michael Hunnicutt, guard Adam Shead, fullback Aaron Ripkowski, and offensive tackle Daryl Williams. All rank in the top 15 at their positions according to CBS Sportsline. For the Tigers, Beasley is a likely first-round selection. Jarrett and Anthony are also expected to be drafted, as are defensive end Corey Crawford and cornerback Garry Peters.
Prediction
Expect Beasley to enjoy a post-Christmas feast.
Clemson 24, Oklahoma 14
All video and images courtesy ESPN.
Follow Mark on Twitter @MarkSchofield.