The College Bowl Season is upon us, and Pylon University is bringing the breakdowns on offense, defense, and special teams, along with the sport's traditions and great moments. In this edition, it's the Military Bowl preview.
The Matchup
WHO: Cincinnati Bearcats (9-3) vs. Virginia Tech Hokies (6-6)
WHAT: Military Bowl presented by Northrop Grumman
WHEN: Saturday, December 27 – 1:00 p.m. EST (ESPN)
WHERE: Navy-Marine Corps Memorial Stadium – Annapolis, MD
A program with an uncertain future takes on the model of consistency Saturday in Maryland. For Virginia Tech, the season began with so much promise after a 14-point win over eventual playoff semi-finalist Ohio State in Columbus. But the Hokies staggered to the finish line, losing six of their remaining ten games. This stretch included consecutive losses to East Carolina and Georgia Tech, and then three straight losses to Pittsburgh, Miami, and Boston College. After their 6-3 double overtime loss to Wake Forest, the fightin' Frank Beamers needed a win on the final Saturday over Virginia just to become bowl eligible.
The Bearcats won nine games to continue their near-decade run of high level performance. Cincinnati, American Athletic Conference co-champions, has racked at least eight victories in eight of the last nine seasons. The team stumbled a bit early in the season, with three straight losses to Ohio State, Memphis, and Miami (all bowl-eligible teams). But they closed out the season with seven consecutive victories, including a 41-0 pasting of Connecticut on the road. Cincinnati sports one of the nation's top passing offenses, led by Notre Dame transfer Gunner Kiel.
When Virginia Tech Has the Football
The Hokies' offense rated average at best, ranking 70th nationally with 225 passing yards per game, and 96th in the nation with 143 rushing yards per game. Michael Brewer completed 60% of his passes for 2,598 yards and 17 touchdowns, but also threw 14 interceptions. The junior struggled particularly during Virginia Tech's losses to East Carolina and Georgia tech, throwing five interceptions over that two-week stretch.
Injuries played a role in the offensive ineptitude, with the top three Hokies running backs all sidelined by injuries. Junior J.C. Coleman will handle the bulk of the load in the Military Bowl, after his 18-carry, 118-yard outing against Virginia in the regular season finale.
The receiving corps also caught the injury bug when Tech lost valuable target Kalvin Cline in September with a knee injury. The tight end managed only one catch in 2014. Isaiah Ford and Bucky Hodges tried to pick up the slack. Ford, a true freshman receiver, led Virginia Tech with 53 receptions for 665 yards and six touchdowns. Hodges, another freshman, caught 42 passes for 517 yards and seven touchdown in place of Cline.
A pair of senior linebackers lead Cincinnati's defensive contingent. Jeff Luc topped the team with 121 tackles, including 9.5 for a loss, and 6.5 sacks. Fellow linebacker Nick Temple notched 108 tackles to go with his three sacks, with 10.5 of those stops coming for a loss. When the Bearcats need pressure in the pocket, they look to Terrell Hartsfield. The senior defensive end led the team with eight sacks off the edge, including this sack in the season opener:
[wpvideo yguwtiGc]
In this play, Hartsfield effectively uses his off (right) arm to chop the tackle's hands away, giving him the separation to get to the QB: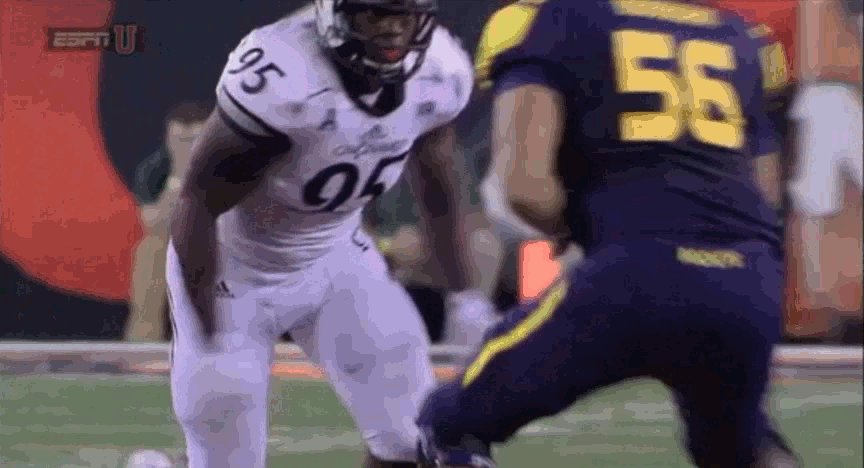 When Cincinnati Has the Football
The story of this game is the matchup between Kiel and the Virginia Tech defense. The sophomore transfer from Notre Dame completed 219 of 364 passes for 3,010 yards and 30 touchdowns, placing him in the top ten in the nation for scoring passes. The quarterback with a fitting name for the position had seven games with two or more touchdown passes, including six in the opener against Toledo. He displays his very impressive arm on this deep post against East Carolina:
[wpvideo wOsshxKt]
Kiel delivers a laser on this deep pattern for the long score.
On the other end of that play was Chris Moore, among a very talented group of pass-catchers for Kiel. Moore is the speedster, with 26 catches for 570 yards on the season – a 22-yard average per reception – and six touchdowns. Mekale McKay paced the Bearcats in receiving yards, with 690, on his 42 receptions with eight touchdowns. Shaq Washington led the team with 61 catches, contributing 661 yards as well as four touchdowns. The fourth member of this talented WR group is Max Morrison, who brought in 43 passes for 445 yards and four touchdowns.
Rodriguez Moore and Mike Boone share the load running the football. Moore, a senior, led Cincinnati with 134 rushing attempts, gaining 596 yards and scoring five touchdowns. Boone, a freshman, gained 601 yards over 91 carries, an average of 6.6 yards per attempt and topped the team with nine rushing touchdowns.
Virginia Tech relies on their defense to keep them in games. The unit is one of the better groups in the nation, ranked 17th in total defense, allowing 332 yards per game to opposing offenses. Senior Kyshoen Jarrett led the team with 86 tackles and three interceptions. The rover also notched three tackles for a loss. Ken Ekanem and Dadi Nicolas key their pressure game. Ekanem, a sophomore defensive end, contributed 8.5 sacks as well as 13.5 tackles for a loss. Nicolas, a junior defensive end, led the way with 17.5 tackles for a loss and nine sacks.
Finally, defensive back Kendall Fuller locks down receivers in the secondary while proudly representing the family name. The sophomore looks to be the next Fuller brother to play on Sundays, following in the footsteps of Vincent, Corey, and Kyle. Vincent was a safety in the NFL, while Corey (WR) and Kyle (CB) currently play for the Lions and Bears. Kendall's one interception this season was this pick-six to break the game open against UNC:
[wpvideo Y8g31QwD]
Fuller does a good job of baiting the quarterback into the throw, and then breaking to the football. Also, in a nice instance of graphical timing, notice whose name is scrolling on the crawl prior to this play.
Pro Prospects
Luc and offensive tackle Eric Lefeld are considered Cincinnati's top NFL prospects. For Virginia Tech, Jarrett and free safety Detrick Bonner are late-round projections.
Prediction
Virginia Tech's talented defense keeps this game close, and the Hokies pull out a late win thanks to a special teams or defensive score.
Virginia Tech 24, Cincinnati 20
All video and images courtesy ESPN.
Follow Mark on Twitter @MarkSchofield.