The College Bowl Season is upon us, and Pylon University is bringing the breakdowns on offense, defense, and special teams, along with the sport's traditions and great moments. In this edition, it's the Holiday Bowl preview, one of five games to take in on Saturday.
The Matchup
WHO: Nebraska Cornhuskers (9-3) vs. Southern California Trojans (8-4)
WHAT: National University Holiday Bowl
WHEN: Saturday, December 27 – 8:00 p.m. EST (ESPN)
WHERE: Qualcomm Stadium – San Diego, CA
Nebraska bumped against its "nine win ceiling" for the seventh consecutive season under Bo Pelini. After starting 5-0 for the first time in four years, the Cornhuskers dropped a close contest to Michigan State when a late comeback attempt failed. Weeks later Nebraska was torn apart by Wisconsin when Melvin Gordon ran for a then-FBS record 408 yards in a 59-24 Badgers win. Although the Huskers finished their season with a comeback victory over Iowa, Pelini found himself fired two days later … and left town burning every bridge in his path.
The Trojans turned in a similarly mixed performance this season. They began 2-0 with wins over Fresno State and Stanford, but then traveled East and suffered an upset loss at Boston College. Their other quality wins came in early October at Arizona and in the season finale against Notre Dame. But losses to Utah, Arizona State and rival UCLA doomed their conference championship hopes.
When Nebraska Has the Football
Fear. Ameer. The senior running back ‒ Ameer Abdullah ‒ went over 1,100 yards for the third consecutive year, carrying the football 237 times for 1,523 yards and 18 touchdowns. While a knee sprain suffered against Purdue slowed him down the stretch, the running back ranks second on Nebraska's career rushing list with 4,501 career yards on the ground, 279 yards behind Mike Rozier. Abdullah topped 200 yards four times this season, including a stellar 35-carry, 229-yard effort against Miami.
The senior has top-level footwork and speed, as he displays on this 53-yard touchdown against Rutgers on a sweep:
[wpvideo G4oeGEVS]
Here is another look at the juke he puts on a defender in the open field: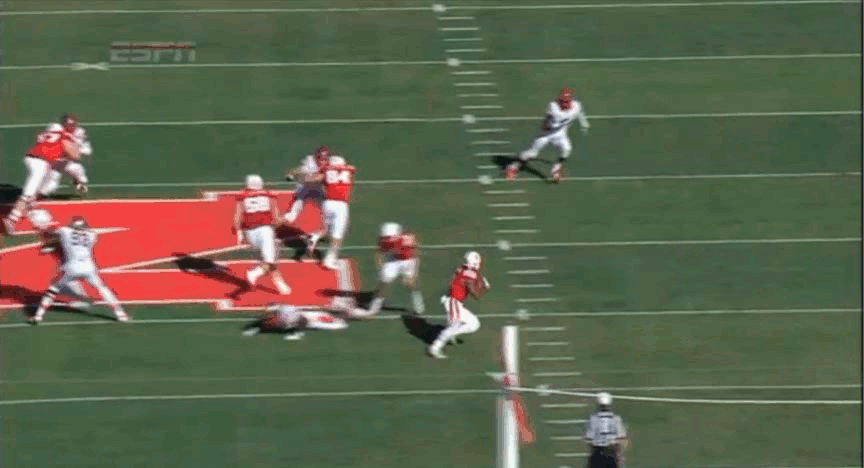 What sets Abdullah apart is his strength as a runner. Rarely is he brought down by initial contact, and on many runs he evades the grasps of multiple defenders as evidenced by this run against Iowa:
[wpvideo KyRfHEvb]
He breaks a few arm tackles before running over the safety in the secondary. Then, close to 50 yards downfield, he is still running over opponents at the end of the play.
Sophomore Tommy Armstrong Jr. runs the Cornhuskers offense from under center. More of a threat with his feet than with his arm, Armstrong was second on Nebraska with 664 rushing yards to go with five touchdowns. When called on to throw, the QB completed 152 of 294 passes for 2,314 yards and 19 touchdowns, with 11 interceptions. His most trusted targets are Jordan Westerkamp and Kenny Bell. Westerkamp, a sophomore, caught 41 passes for 666 yards and four touchdowns. Bell, a senior, hauled in 40 throws for 717 yards and five touchdowns, including the game-winner in overtime in the regular-season finale.
The Trojan defense begins with big Leonard Williams up front. The 6' 5", 300 pound junior notched 71 tackles (8.5 for a loss) to go with his six sacks on the season. Williams is a tremendous talent. Watch here as he splits a double-team against Arizona:
[wpvideo wyBYuKsn]
He uses a swim move on the tackle, and then uses a combination of strength and speed to beat the guard into the backfield.
Other defensive stars for USC include linebackers Hayes Pullard, who led the team with 87 tackles, and Anthony Sarao, who recorded 36 tackles and two interceptions on the season.
When USC Has the Football
Cody Kessler spearheads a dangerous aerial attack for USC. The junior from Bakersfield completed more than 70% of his passes in 2014 for 3,505 yards and 36 touchdowns against only four interceptions on the season. The QB put up video game numbers in more than a few contests, throwing for four touchdowns against Fresno State, Boston College and California, five touchdowns against Washington State, six against Notre Dame and a school-record seven against Colorado. He has good footwork in the pocket, and is deadly accurate with his strong right arm. All three traits were displayed on this throw against Colorado:
[wpvideo 5888drGf]
Kessler buys a bit of time moving to his right, then steps into a throw and delivers a rope to JuJu Smith on the post route.
Smith, who is one of many targets for Kessler, pulled in 51 passes for 658 yards and five touchdowns. But Kessler's favorite receiver is Nelson Agholor. The junior built on a strong sophomore season by grabbing 97 balls for 1,223 yards and 11 touchdowns. Javorius Allen and George Farmer also pulled in a number of throws this season from Kessler, with Allen securing 40 receptions and Farmer pulling in 24.
Allen is the main weapon in the USC running game. The junior from Tallahassee gained 1,337 yards on the ground and nine touchdowns. While he might be overshadowed by Abdullah in this game, he is a big talent in his own right. In the win over Arizona, he carried the ball 26 times for 205 yards and three touchdowns, including this score:
[wpvideo GdhNblmN]
Allen gets into the secondary and then leaves a safety flat-footed and grasping at air.
The running back might find room to operate against this Nebraska defense. The Cornhuskers have struggled against the run, yielding 177 yards per game on the ground (a number inflated a bit by Gordon's 408-yard outburst) but Nebraska has a number of talented defenders that will take the field Saturday night. Linebacker Zaire Anderson led the team with 95 tackles, 12 of which went for a loss. Safety Corey Cooper added 65 tackles (39 solo) to the effort. But their best defender is defensive end Randy Gregory. At 6' 6" and 240 pounds, Gregory is a very big and athletic player who causes havoc in the pocket. He recorded 10 tackles for a loss and a team-high seven sacks.
Pro Prospects
Williams and Gregory are the two leading prospects in this game, should they declare themselves eligible for the 2015 draft. Other potential Trojans draftees include Agholor, Allen, cornerback Josh Shaw, Pullard and offensive guard J.R. Tavai. For Nebraska, Abdullah, Bell, Cooper and Anderson are all choice candidates.
Prediction
This game depends on how well the Huskers respond after the firing of Pelini. We think they come out a bit flat, and the Trojans pull away.
USC 35, Nebraska 17
All video and images courtesy ESPN.
Follow Mark on Twitter @MarkSchofield.