The College Bowl Season is upon us, and Pylon University is bringing the breakdowns on offense, defense, and special teams, along with the sport's traditions and great moments. In this edition, it's the Quick Lane Bowl preview.
The Matchup
WHO: Rutgers Scarlet Knights (7-5) vs. North Carolina Tar Heels (6-6)
WHAT: Quick Lane Bowl
WHEN: Friday, December 26 – 4:300 p.m. EST (ESPN)
WHERE: Ford Field – Detroit, MI
The Rutgers Scarlet Knights surprised many pundits in their inaugural Big Ten season, earning their first conference victory with a 26-24 win over Michigan and also defeating fellow conference members Indiana and Maryland to earn bowl eligibility. Their win over the Terps came in the regular season finale after being down 25 points. Despite being blown out in three straight Big Ten contests (56-17 to Ohio State, 42-24 to Nebraska and 37-0 to Wisconsin), coach Kyle Flood's squad turned in a better season than most experts anticipated and looks to end the year with a bowl win.
The North Carolina Tar Heels endured four losses early in the season, giving up 70 points to East Carolina in a 70-41 loss and then losing to Clemson by 15 and Virginia Tech by 17. A trip to South Bend saw North Carolina lose by a touchdown go Notre Dame, as the Heels fell to 2-4 in mid-October. They responded with an upset win over Georgia Tech and prevailed over Virginia to get back to .500. However, after a dominating 45-20 win over Duke to recapture the Victory Bell, the Heels ended their regular season on a down note with a loss to North Carolina State.
When Rutgers Has the Football
Departing senior quarterback Gary Nova triggers the Rutgers offense. He gained extensive playing time as a freshman before winning the job as a sophomore and has completed 58% of his passes for 2,667 yards and 20 touchdowns with 12 interceptions in his final season. His favorite target? Leonte Caroo. The junior hauled in 53 passes for 1,043 yards and 10 touchdowns, including this 71-yard catch and run against Nebraska that demonstrates his and Nova's athleticism:
[wpvideo IYZKgLGy]
The quarterback uses his feet to keep the play alive, buying time for Caroo. The WR mirrors his quarterback and finds a soft spot in the coverage:
[wpvideo V3oXsqpx]
Once he pulls in the throw, Caroo outruns the entire Nebraska defense.
In the running game, Rutgers features a number of running backs. Five different players logged 50 or more carries: Desmon Peoples (115); Paul James (63); Robert Martin (68); Justin Goodwin (82), and Josh Hicks (50) have all carried the football for this offense. James and Martin have each scored five touchdowns. James began the year as the featured back, but a torn ACL in Week 4 against Navy ended his season. Peoples carried the load thereafter until he also suffered an injury (Week 12 against Indiana), which will sideline him for the bowl game.
Defensively, the Tar Heels rely on a trio of players to generate pressure on opposing passers and rushers. Junior Gnonkonde, one of their defensive ends, recorded 41 tackles (5 for a loss) and one sack. At the other defensive end spot is redshirt freshman Dajaun Drennon, who notched 36 tackles (5.5 for losses) and two sacks. Senior Norkeithus Otis plays North Carolina's "Bandit" linebacker position, and led the Tar Heels with 4 sacks, including this effort against Duke:
[wpvideo uUmOCxWZ]
Otis uses a speed rush to the outside against the left tackle, then spins to the inside to force the QB out of the pocket. The linebacker stays with the play and tracks down the quarterback for the sack.
When North Carolina Has the Football
Marquise Williams won the starting quarterback position in preseason and turned in an impressive year that earned him a second-team All-ACC selection. The junior completed 245 of 391 passes (62.7%) for 2,870 yards and 20 touchdowns with only nine interceptions. He also accounted for 737 yards on the ground, scoring 12 touchdowns with his legs. In the loss to Notre Dame, Williams completed 24 of 41 passes for 303 yards and two touchdowns and ran for another 132 yards on the ground to add another score. He has a strong and accurate arm from the pocket, as he shows on this 68-yard scoring strike to Ryan Switzer against Georgia Tech:
[wpvideo bkb5KerE]
On this 23-yard touchdown run against Pittsburgh, Williams displays the footwork of a young Baryshnikov:
[wpvideo oavNBBDa]
He takes the shotgun snap and nimbly dances through the backfield and line: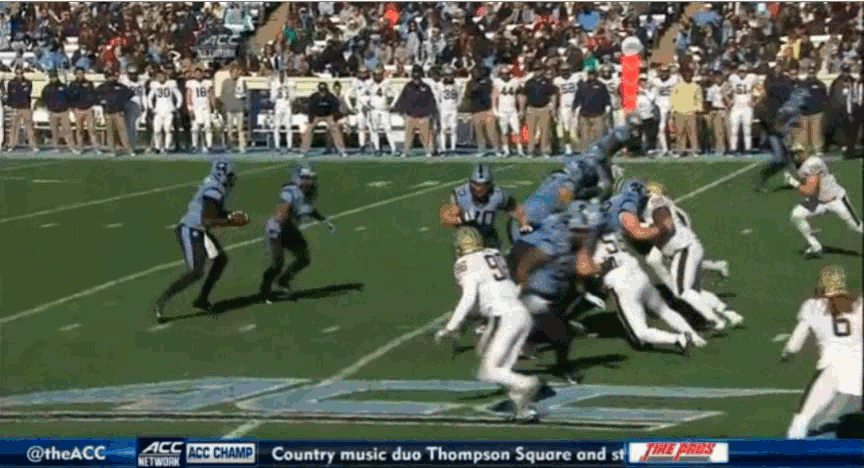 Then the QB bursts into the secondary and in for the score.
Williams led the team in rushing, but T.J. Logan (472 yards and three touchdowns) and Romar Morris (278 yards and four touchdowns) also handle the ball-carrying duties for the Tar Heels. North Carolina also boasts a number of receiving threats. In addition to Switzer, who led the team with 55 catches for 703 yards, Mack Hollins, Quinshad Davis and Bug Howard also play big roles in the passing game. Hollins led North Carolina with eight touchdown receptions while Davis was second with six.
Defensively, the Scarlet Knights are led by Steve Longa. The sophomore started all 12 games at weak-side linebacker and recorded a team-best 93 tackles. In the comeback over Maryland he notched eight tackles, all of them solo. Defensive end Kemoko Turay provides the pressure. The redshirt freshman led the team with 7.5 sacks, on his way to earning Big Ten All-Freshman selection. Turay also excels on special teams, with three blocked field goals on the season including a blocked field goal attempt late against Michigan to preserve the victory.
Pro Prospects
Otis leads the list of prospects from North Carolina, which also includes free safety Tim Scott and defensive tackle Ethan Farmer. For Rutgers, tight end Tyler Kroft is considered by CBSSports to be a third to fourth round selection. Center Betim Bujari, fullback Michael Burton, and Nova are also potential draftees.
Prediction
This is a tough game to call, but look for North Carolina's Williams to shine with his legs and his arm.
North Carolina 24, Rutgers 17
All video and images courtesy ESPN.
Follow Mark on Twitter @MarkSchofield.