The College Bowl Season is upon us, and Pylon University is bringing the breakdowns on offense, defense, and special teams, along with the sport's traditions and great moments. In this edition, it's the Miami Beach Bowl preview, one of five games this week that take us through Christmas Eve.
The Matchup
WHO: Brigham Young Cougars (8-4) vs. Memphis Tigers (9-3)
WHAT: Miami Beach Bowl
WHEN: Monday, December 22 – 2:00 p.m. EST (ESPN)
WHERE: Marlins Park – Miami, FL
BYU's season was a play in three acts, each four games long. The Cougars stood at 4-0 after Act 1 with victories over two Power Five conference teams (Virginia and Texas). Entering their fifth game against Utah State in Provo, with the nation wondering what the playoff committee might do if an independent finished undefeated, the Cougars lost their starting quarterback — and then their unbeaten streak. BYU would drop four straight before finishing the season with four consecutive victories.
Memphis finished as co-champion of the American Athletic Conference with a 7-1 league record, and makes its first bowl appearance since 2008. Back in September the Tigers stood toe-to-toe with then-No. 11 UCLA before falling to the Bruins by a touchdown.
When BYU Has the Football
When starting quarterback Taysom Hill went down with a broken left leg, Cougars head coach Bronco Mendenhall turned to Christian Stewart. The senior came off the bench and struggled, throwing three interceptions in the relief appearance loss to Utah State. Stewart has shined since that night, passing for 22 touchdowns against three interceptions in seven games. Against California in the season finale, he threw four TDs including this beautiful 82-yard score to Jordan Leslie:
[wpvideo TVJRdagA]
The WR uses a swim move to beat press coverage and Stewart lays in a perfectly thrown spiral.
Leslie is just one member of a talented Cougars receiving corps. Mitchell Juergens and Colby Pearson have also shined for BYU this season, with each receiver hauling in three touchdown passes. But the most talented ball-catcher on the team might be junior Mitch Mathews, who leads the Cougars with 64 receptions for 840 yards and eight touchdowns. He turned in a tremendous performance in BYU's loss to Nevada with 16 catches for 182 yards and two scores, including this tough 11-yard catch and run: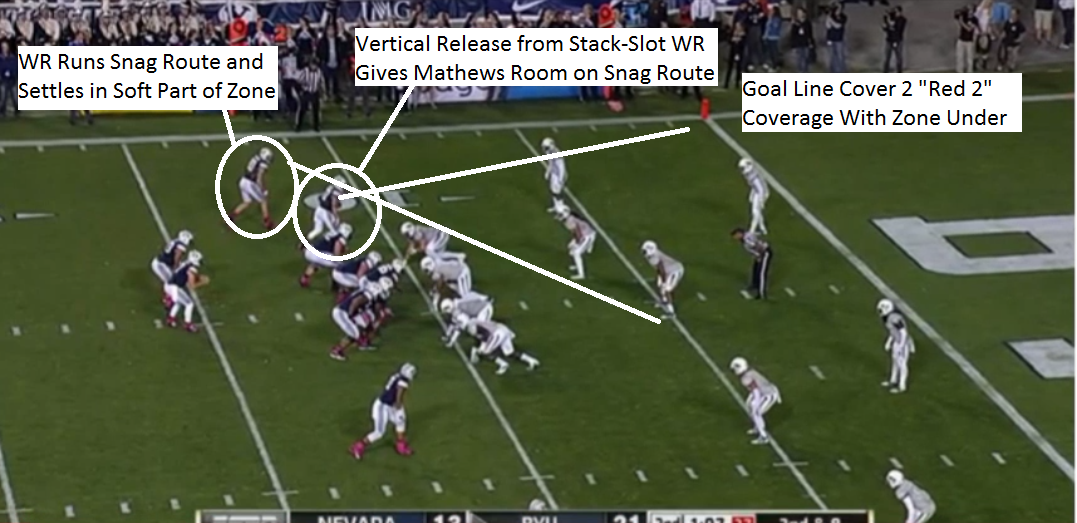 Here, the wideout does a good job of settling down in the zone and presenting a big target for his QB. Stewart delivers the football and Mathews does the rest:
[wpvideo I5JuzZqR]
The story of this game might be the Tigers defense. Memphis sports a top-five unit in FBS, allowing 17 points per game. The group features a pair of talented senior linebackers: Tank Jakes topped the squad with 83 tackles, including 65 unassisted stops, while low senior Charles Harris notched 45 tackles this season. Harris is a leader for Memphis on and off the field, receiving the "True Tiger" award at the team's post-season banquet in recognition of his stature within the program, and serving on the team's Leadership Council the past three seasons.
When Memphis Has the Football
The trigger man for the Memphis offense is QB Paxton Lynch, who completed 64 percent of his throws for 2,725 yards and 18 touchdowns with six interceptions. The sophomore finished the season strong with nine TDs and zero INTs over the Tigers' last six games. In their season finale against Connecticut, Lynch passed for four touchdowns including this pretty throw off of option play-action: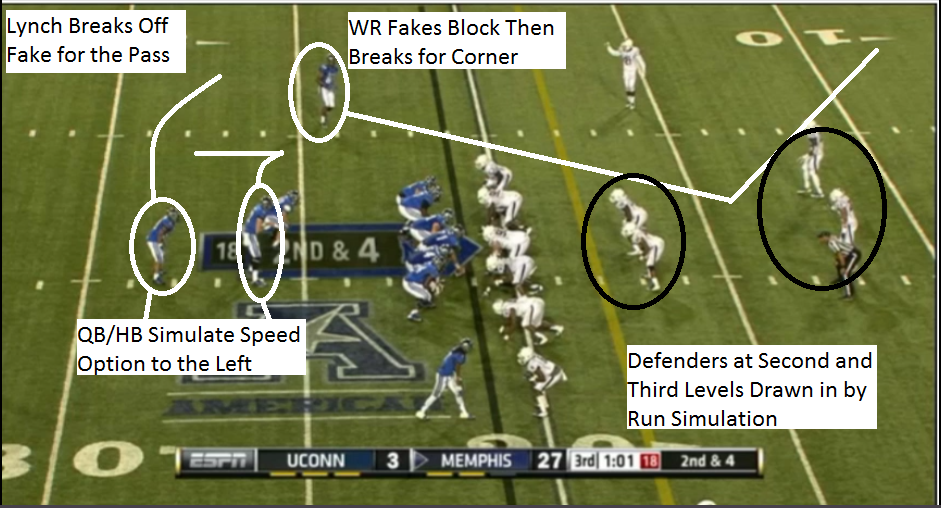 The option simulation draws in the secondary; motion wide receiver Phil Mayhue simulates a block on the middle linebacker and breaks for the end zone on a corner route. The run fakes enable Mayhue to get behind the coverage, and Lynch gets him the ball for the touchdown:
[wpvideo EjEEPhiL]
Lynch does a good job spreading the football to his receivers, as five Tigers have 25 or more receptions. Mose Frazier leads the team with 43 receptions, but look for Keiwone Malone (39), Tevin Jones (33), Alan Cross (25) and Roderick Proctor (25) to augment their air attack.
Brandon Hayes is the team's leading rusher, with 174 carries for 900 yards and five touchdowns. Lynch leads the team in rushing touchdowns with 10.
BYU has a number of solid players on its defense, including defensive back Skye PoVey , linebacker Bronson Kaufusi and cornerback Robertson Daniel. The unit surrendered just over 25 points per game in 2014.
Pro Prospects
Memphis's Bobby McCain (DB), Fritz Etienne (SS) and Martin Ifedi (DE) were all invited to the East-West Shrine Game. BYU's Paul Lasike (FB) and Devin Mahina are Top 25 prospects at their position according to CBS's draft rankings.
Prediction
Memphis completes their strong 2014 campaign with a bowl win behind Lynch and its stout defense.
Memphis 24, BYU 17
All video and images courtesy PAC-12 Network and ESPN.
Follow Mark on Twitter @MarkSchofield.