The College Bowl Season is upon us, and Pylon University is bringing the breakdowns on offense, defense, and special teams, along with the sport's traditions and great moments. In this edition, it's the Las Vegas Bowl preview, one of five bowl games that get things started Saturday.
The Matchup
WHO: Utah Utes (8-4) vs. Colorado State Rams (10-2)
WHAT: Royal Purple Las Vegas Bowl
WHEN: Saturday, December 20 – 3:20 p.m. EST (ABC)
WHERE: Sam Boyd Stadium – Las Vegas, NV
These two squads both arrive in The City of Second Chances on down notes – and for very different reasons. Utah stood in contention for the PAC-12 South Division title following their win over USC, but losses to Arizona State, Oregon and Arizona erased any hopes of a berth in the conference championship game. For the Rams, the recent departure of Head Coach Jim McElwain for the University of Florida marred the success of their 10-2 season. Dave Baldwin, CSU's offensive coordinator the past three years, will guide the Rams as interim coach this weekend.
When Utah Has the Football
The Utes might run Spring Right Option in the red zone. Quarterback Travis Wilson's flair for the dramatic extends beyond their victory over the Trojans. In their double-overtime win against Stanford, the signal caller threw two touchdown passes in extra time, including this beautiful 25-yard strike to senior receiver Kaelin Clay:
[wpvideo 0TWMc06J]
Stanford starts this play using Cover 1 in the secondary, with the safety very deep at the snap. The slot corner utilizes "catch-man" technique for this play against Clay. In this scheme the defensive back aligns 8 yards off the receiver and tries to interrupt his opponent's route midway through the play: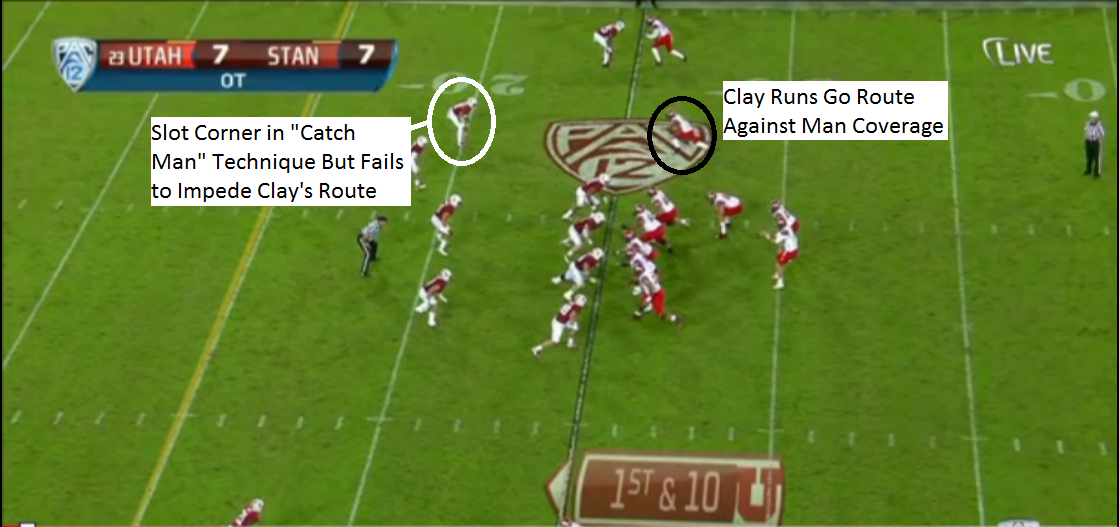 The DB fails to slow Clay and the WR is wide open for the touch pass from Wilson.
Colorado State's defense is no pushover, giving up only 23.4 points per game (good for 31st in the nation). The Rams are led defensively by two seniors: linebacker Max Morgan and defensive back Aaron Davis. The cornerback was a second team All-Mountain West Selection, whereas Morgan has been a fixture for the Rams defense since his freshman year.
When CSU Has the Football
The Rams have quietly assembled one of the top offenses in all of FBS. A trio of talented skill players ‒ quarterback Garrett Grayson, running back Dee Hart, and wide receiver Rashard Higgins ‒ leads the attack. Grayson has completed 250 of 386 passes on the season for 3,779 yards and 32 touchdowns against only six interceptions. Higgins found himself on the other end of 89 of those throws, gaining a gaudy 1,640 yards and 17 touchdowns. A first-team All-American selection, Higgins often electrifies after making receptions, including these two catch-and-run scores against Wyoming. On this first play, he snags the ball on a simple hitch route:
[wpvideo EXoB2aNo]
On the second, he catches another short-route pass and explodes down the sideline for his season-long 73-yard touchdown:
[wpvideo Ln2JFrwe]
While Grayson and Higgins exploit defenses through the air, Hart looks to gash them on the ground. The senior RB has amassed over 1,200 rushing yards this season with 16 TDs while gaining an impressive 6.7 yards per carry.
Linebacker Jared Norris and defensive end Nate Orchard are just two of the defenders tasked with slowing this offense. Norris, a two-year starter at LB, led the Utes with 108 tackles on the season. Orchard, one of the nation's best defensive ends, ranks second in the nation with 17.5 sacks in 2014, and has so far tallied 20 tackles for a loss during his senior campaign.
Pro Prospects
In addition to Grayson and Hart, Colorado State has a number of potential draft choices on their roster including offensive tackle Ty Sambrailo and tight end Kivon Cartwright. NFL teams will need to wait one more season for the explosive Higgins to become draft-eligible. For Utah, Orchard is the sixth-rated DE according to CBS Sportsline, and other highly-regarded prospects include wide receiver Dres Anderson, cornerback Eric Rowe, offensive guard Junior Salt and safety Brian Blechen. This is a game worth watching if you're a draft aficionado.
Prediction
Expect a high-scoring affair turning on whichever defense forces the crucial turnover. We think Orchard will be the player to do just that.
Colorado State 41, Utah 38
All video and images courtesy ESPN and csurams.com.
Follow Mark on Twitter @MarkSchofield.