New England Patriots safety Devin McCourty is one of the best players at his position in the NFL. A prototypical centerfielder FS, he is adept at breaking up big plays deep in the secondary. Should the Patriots re-sign this free-agent-to-be?
---
Patriots safety Devin McCourty is a free agent after the season. He began his Patriots career with a terrific debut season in 2010 during which the first-round pick (27th overall) made the Pro Bowl as a cornerback, hauling in seven interceptions along the way. He bounced between corner and safety in 2011 and 2012 amidst his own struggles and those of the pass defense as a whole. Then in 2013 he posted the worst raw statistical performance of his career, with lows in tackles, interceptions and passes defended. But McCourty is far from another busted high pick in the secondary in the vein of Ras-I Dowling and Terrence Wheatley ‒ he is one of the best safeties in football and a player the Patriots should prioritize signing to a contract extension.
McCourty's heady play on Sunday displayed his ability to impact a game. The Patriots were trailing 7-0 and went three-and-out on their first possession. Vikings quarterback Matt Cassel dropped back and launched a pass towards Jarius Wright, who had a step on Kyle Arrington on a deep post route.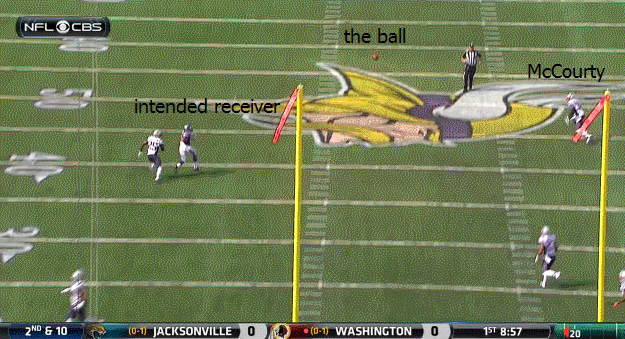 McCourty was shaded to the other side of the field but had enough range to close and make the interception, which he returned 60 yards to set up the game-tying score. The Patriots seemed energized by the play and outscored the Vikings 30-0 over the rest of the game.
Any player can make one play, but Sunday's interception was no fluke. McCourty might have been the best free safety in the NFL in 2013, the first season where he played almost exclusively at safety. Proprietary stats provider Pro Football Focus named him a unanimous selection to their All-Pro team, adding, "McCourty wound up with our highest grade of the year, with his work in coverage the real standout element of his game." McCourty's raw numbers suffered in large part because teams just didn't throw in his direction; per PFF, he was targeted at the sixth-lowest rate among the 70 safeties that played the most.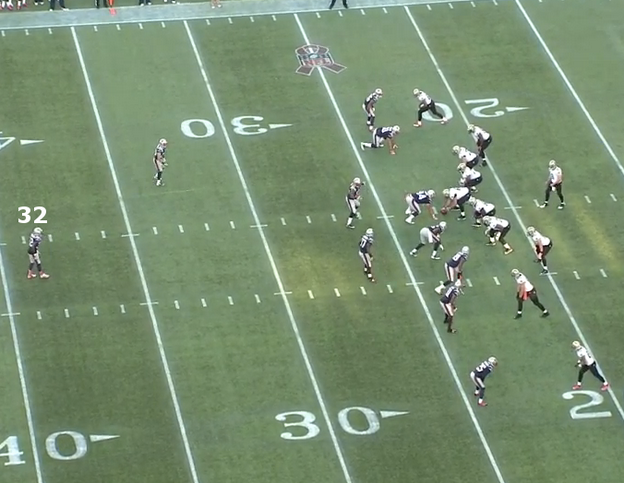 Numbers are fine, but where McCourty shines is his impact on the rest of the secondary. Below is a still-shot from the Patriots' tilt with the Saints in week six of 2013. New England held the Saints to just 230 yards in the air, their second-lowest output on the season. Aqib Talib justifiably got recognized for the job he did defending star tight end Jimmy Graham, but in the picture you can see the role McCourty (#32 in the picture) played, taking away the deep middle of the field. This allowed the other pass defenders to play up and disrupt their men ‒ seven Patriots are within a yard or two of the line of scrimmage. The Saints completed just 2 of 10 passes classified as "deep" and didn't even attempt a throw in the deep middle. Nine of quarterback Drew Brees' 17 completed passes (out of 36 attempted) were to running backs. It was a terrific performance against a strong passing attack and McCourty played a key role. Historically, the Patriots have eschewed traditional "strong" and "free" designations, but McCourty possesses the range and instincts of a prototypical Cover 1 FS, skills the Patriots used against New Orleans and throughout the 2013 campaign.
Moreover, McCourty checks all the boxes in terms of doing things "The Patriot Way." He was just named a Team Captain for 2014, an honor he's been awarded by his teammates each year since 2011 when he was a second-year player. Even before the end of his rookie season, Head Coach Bill Belichick had already placed McCourty in the class of Ray Lewis and Lawyer Milloy as one of the most impressive players at breaking down film he's ever worked with. And while McCourty played almost exclusively at safety in 2013, his versatility to move between safety and corner has come in handy in the past, as recently as late 2012 when starting corners Talib and Alfonzo Dennard were both injured.
And here is where things get complicated. McCourty made the Pro Bowl as a cornerback in 2010 and it was only after some adversity in 2011 and 2012 ‒ as well as struggles on the part of the defensive backfield ‒ that McCourty was shifted to safety. In similar fashion to Saints hybrid TE/WR Jimmy Graham, McCourty is technically a safety but has experience and the ability to play at cornerback, too. What is a fair market price for a player with his resumé?
Fellow 2010 first round pick and another player mentioned in the conversation of best safety in the NFL, Earl Thomas of Seattle, signed a contract extension in the offseason. The deal, a new league record for the position, will pay him $40 million (M) over four seasons, with $27.75M of that guaranteed. Other peers have also signed lucrative new contracts: Jairus Byrd inked a six-year deal with New Orleans worth $56M ($28M guaranteed), and T.J. Ward signed with the Denver Broncos, earning $22.5M over four seasons ($14M guaranteed).
Cornerback is where the real money is, however. Per overthecap.com, there are 14 corners with contracts that average at least $8M annually, and just five safeties. McCourty's new teammate Darrelle Revis set the high-watermark for corners last season at $16M for the year. And McCourty's twin brother Jason, a cornerback with the Tennessee Titans, signed a five-year contract extension worth $43M, $20M of it guaranteed. If McCourty and his agents see him as a corner rather than a safety, they may be looking for a deal that pays him in the neighborhood of where Earl Thomas ($10M per year) has set the bar.
However, it would be surprising to see the Patriots agreeing to that valuation. McCourty is due $3.97M in this final year of his rookie contract. They can lock up McCourty with the franchise tag for safeties, which was $6.9M in 2013 and $8.4M in 2014. Next year's figure for McCourty's position projects to be well below the 2015 franchise tag for cornerbacks given their 2013 and 2014 values of $10.8M and $11.8M respectively. Of course, by applying the tag to McCourty the Patriots would risk making him unhappy; fans may recall the situations that sent Asante Samuel and Deion Branch out of town.
Devin McCourty is a quality player among the best at his position in the NFL. He has great physical and mental abilities, little in the way of injury flags, and is regarded as a leader and a hard worker. At 27, he should have many more productive years. He was integral to what the Patriots did as a defense in 2013 and we can expect to see more of the same this year. Unfortunately, it's hard to know what his contract demands will be given his unique background. The franchise tag seems most likely. Patriots fans should hope things play out like they did for Vince Wilfork (who signed a big extension just weeks after getting tagged) rather than going the route Samuel and Branch went down. The Patriots' secondary would suffer without #32 roaming the deep middle.
Jae Barclay also contributed to this article. Video courtesy of NFL Game Rewind.
Follow Dave on Twitter @davearchie.