It's divisional round playoff week in the NFL. Pats fans are gearing up for the big tilt with the Baltimore Ravens, so be sure to check out our developing coverage as we update it.
Note: This piece is part of a special divisional round collaborative Inside The Pylon is doing with SB Nation's Baltimore Beatdown where we will be sharing notes on the match-up as well as answering questions for these rival fan bases.
Three Keys to Beating New England
The New England Patriots host the Baltimore Ravens Saturday evening in a matchup between two AFC stalwarts, marking the third time these two teams have met in the postseason in the past four years. The Patriots emerged victorious from the 2011 AFC Championship game, while the Ravens exacted revenge the following season en route to their Super Bowl victory. These squads also clashed in Week 16 last year, with New England rolling to a 41-7 win. With plenty of familiarity between these rivals and playoff advancement on the line, we have another potential grudge match in the making.
Here are three elements that Baltimore needs to address in order to leave Foxboro victorious:
1. Establish Interior Pressure
It is no secret that the Ravens defense excels at generating pressure on an opposing passer. Baltimore ranked second in the NFL this season with 49 sacks, tied with Philadelphia and trailing only Buffalo. But while Terrell Suggs and Elvis Dumervil apply pressure on the edges, what the Ravens defense must establish is pressure up the middle. Tom Brady is very adept at sliding forward in the pocket and neutralizing exterior pressure:
[wpvideo ASeADZpL]
Or, barring that, simply getting rid of the football quickly to avoid a sack off the edge:
[wpvideo 3H8dnONl]
But pressure from the A gaps is a different beast. No quarterback likes pressure up the middle and, as our Brian Filipiak illustrated in this article, even a future Hall of Famer looks like a Division III quarterback when confronting an effective interior rush:
[wpvideo JjlRLOdH]
Say hello to Haloti Ngata, DeAngelo Tyson and Brandon Williams. These three players can play a huge role against New England by splitting the A gaps, feasting on the guards, and pressuring Brady from the inside. Here is an example of Baltimore generating interior pressure from Week 16 against Cleveland:
[wpvideo XwajAC0o]
The Ravens have their nickel personnel on the field and utilize a radar concept, with only one defender (Tyson) in a three-point stance pre-snap. At the snap Tyson splits the A gap between the center and the guard, and Browns' quarterback Connor Shaw has nowhere to hide.
While Brady has means of evading Suggs and Dumervil off the edges, he – like most quarterbacks – struggles when facing pressure. Look for Baltimore to try and get Ngata, Tyson, and Williams free on the inside this Saturday.
2. Take What Belichick Gives You… and Beat Him With It
Bill Belichick is widely regarded as a genius. The game plan he devised to slow down Jim Kelly and Buffalo's K-Gun offense during Super Bowl XXV – crafted on the flight back east after beating Joe Montana and the 49ers' talented offense – now resides in the Hall of Fame. What Belichick loves is scheming to take away what an offense does best and forcing opponents to beat his defense with third or fourth options.
During their regular season meeting last year with the Broncos, Belichick dared Peyton Manning to run the football by employing various sub packages. Knowshon Moreno dominated in the running game, carrying the football 37 times for a whopping 224 yards and a touchdown… and New England won the game.
A more recent example can be found in this season's meeting with the Green Bay Packers. Faced with the prospect of covering the dangerous Randall Cobb, Jordy Nelson and the Packers dangerous receiving corps, Belichick utilized his secondary in a way to limit the damage from those receivers while also working towards max contain on Aaron Rodgers. He assigned Darrelle Revis to cover the shifty Cobb man-to-man. Meanwhile, Brandon Browner matched up with Jordy Nelson with free safety Devin McCourty providing help over the top: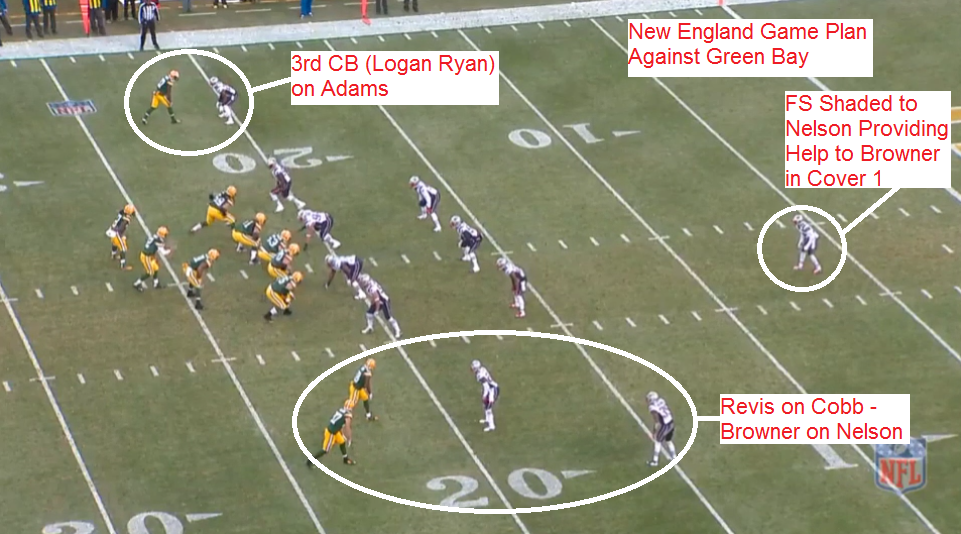 Here is how the play develops:
[wpvideo EnNirS3b]
Cobb and Nelson align in an inverted slot to the right, with Davonte Adams split wide left. Revis and Browner line up across from the slot receivers, with McCourty shaded to that side of the field. The slot wide receivers cross at the snap, with Revis sticking on Cobb's wheel route as Browner hangs with Nelson's curl route. Meanwhile McCourty continues to move in Nelson's direction forcing Rodgers to go to Option Three: Adams.
This pass falls incomplete, but it was one of the rare misses that afternoon. Adams caught six passes on 11 targets for a team-high 121 yards that day after having previously eclipsed the 50-yard mark just three times in his career.
Expect New England to implement something similar this Saturday, perhaps with Steve Smith, Sr. spending some time on Revis Island while Browner and McCourty try to mitigate Torrey Smith's presence downfield. Obviously Owen Daniels poses a threat for Baltimore, but watch for Kyle Juszczyk, Kamar Aiken, or Marlon Brown to have a few chances for plays in the passing game when matched up against a linebacker underneath.
3. The Gronkowski Dilemma
Covering tight ends is difficult, and Rob Gronkowski creates more matchup problems than most. Baltimore has utilized Cover 2 on a high percentage of snaps down the stretch, perhaps due to injuries in the secondary, or perhaps due to the talent in their front seven while Ngata was serving a suspension. By dropping a second safety deep, the defense can keep big plays in the passing game to a minimum:
[wpvideo i0WYZ2hz]
The main weakness in Cover 2 – and the reason teams moved away from the scheme with the rise of three-WR sets – is the deep middle between the two safeties. A defense can try and limit the danger posed from an interior WR by using Tampa 2 coverage, but that also has its limitations:
[wpvideo lusnmz0o]
Trying to cover Antonio Brown deep is a tough assignment for any linebacker.
Enter Gronkowski. The tight end returned from last season's ACL injury and turned in a stellar campaign, catching 82 passes for 1,124 yards and 12 touchdowns while earning a unanimous All-Pro selection. Gronkowski serves as a dangerous weapon over the middle on seam routes, which places Baltimore in a precarious position with respect to their Cover 2 scheme. If they stay with Cover 2, they will need exceptional play and discipline from their linebackers:
[wpvideo IR1IuZwt]
In a poor showing of discipline by Denver, the linebackers both fall for on the play-action fake, giving Gronkowski and Brady a big throwing window.
Or, things like this can happen:
[wpvideo BvOTDCDt]
The issue for the Ravens is whether to stay in Cover 2 and risk plays like this, or roll to Cover 1 and try to cover Gronkowski with a linebacker or safety one-on-one. Cover 2 might limit damage deep, but it exposes the soft middle of the field to New England's most dominant receiving threat.
A final word on the Gronkowski Dilemma: To Chip or Not to Chip. Teams have largely allowed the TE a free release off the line of scrimmage this season, sacrificing a jam on the TE for pass rush effectiveness. Given how well Baltimore generates pressure, they may also choose to give Gronkowski a free ride off the line. But buyer beware.
Follow Mark on Twitter @MarkSchofield.
All video and images courtesy the NFL and NFL Game Rewind.