Based on each team's performance to date, the Bengals should be bigger favorites than the current line (-1.5) when they meet the Patriots Sunday night in Foxboro. Cincinnati leads the NFL in DVOA at 41.7%, putting them 9.0% ahead of Seattle for the top spot, while New England ranks just 23rd at -5.8%. However, the line is what it is for a reason. The Patriots have been near-unbeatable at home over the years: Tom Brady has won his last 38 regular season games at Gillette Stadium against conference opponents dating back to 2006. Meanwhile, the Bengals struggled on the road last season (3-5) and are also just 2-4 in prime time since their current playoff run started in 2011; one of those wins came late in 2012 against an Eagles team that finished the year on a 1-11 run.
Fourth-year quarterback Andy Dalton has been much-maligned for untimely mistakes in his career, but he's done a very good job avoiding them so far this year. The Bengals have only turned the ball over once, an interception that bounced off Giovani Bernard's hands. They have not allowed a sack and rank 7th in fewest accepted penalties and fewest penalty yards. They are playing crisp, error-free football, resulting in three wins with a strong +47 point differential.
Cincinnati's offensive line is led by left tackle Andrew Whitworth, one of the league's most underrated players and a stone wall in pass protection. He'll have a challenge with the emerging Chandler Jones, but Whitworth rarely requires help and generally handles speed rushers and bull rushers equally well. On the other side of the line, right tackle Andre Smith has turned into an excellent pass protector after overcoming weight issues his first two years and looking like a bust. On the flanks of the front five, Clint Boling is a dependable left guard, while Mike Pollak has done an admirable job filling in for Kevin Zeitler at right guard. Zeitler is battling a calf injury and Geoff Hobson projects him to be inactive. Rookie center Russell Bodine is the line's potential weak link. After he led all players at the 2014 NFL Combine with 42 bench press reps, the Bengals traded up in the fourth round to get Bodine and he won the starting job in camp. However, he has struggled so far with inconsistent play typical of rookies. His most recent action – against Tennessee before the bye – was his best game as a professional. The Patriots' best chance to get pressure will be up the middle, but running backs Bernard and Jeremy Hill have been solid in blitz pickup.
Dalton figures to have plenty of time to throw should New England attempt to manufacture a pass rush, but completing passes will be the harder task. New England has the number two pass defense by DVOA, a stat that incorporates the variable, though the sample size of opponent adjustments is small this early in the season. It is unclear if this variance is responsible for the lofty ranking or if facing Ryan Tannehill, Matt Cassel, Derek Carr and Alex Smith – not exactly a murderer's row of quarterbacks – is the real reason. Regardless, Dalton isn't going to have as many open windows as he had the first three weeks. Darrelle Revis isn't yet back to his form of two seasons ago when he looked like a future Hall of Famer, but he's still played very well and the Patriots rank fourth in DVOA against opponents' "#1" receivers. Superstar A.J. Green has been Dalton's go-to guy since the two broke in together in 2011, and the wide receiver will likely have his hands full with Revis.
The Bengals have used Green in the slot at times to create mismatches but they may not have that option on Sunday as their other perimeter threat, Marvin Jones, suffered a setback in his recovery from a broken foot. Mohamed Sanu will step in at wideout, a role he has done a decent job with this year. However, he has struggled over his career to consistently beat press coverage which is Brandon Browner's bread and butter. With the Patriots cornerback returning this weekend from a four-game suspension, the Bengals must hope Browner is eased into action and that Sanu can instead use his superior size (6'2", 215 pounds) against New England's smaller defensive backs: Logan Ryan (5'11", 195), Devin McCourty (5'10", 195) and Duron Harmon (6'1", 205) ‒ all ex-teammates of Sanu at Rutgers.
The Bengals had high hopes for tight end Jermaine Gresham when they spent a first-round pick on him in 2010, but he's been unable to stretch the field (a disappointing career 10.3 yards per catch) or pose much of a red zone threat (19 touchdowns in 62 career games). He should find some openings against a Patriots defense that's allowed a 23.9% DVOA (19th in the league) and an average of 8.3 catches and 70.5 yards per game (YPG) to tight ends, and which was gashed by Travis Kelce last week. The Bengals' most reliable threat in the passing game will likely come from their backfield, as Bernard has averaged 49 receiving YPG to lead all NFL running backs while Hill is much more elusive in the open field than his 6'1", 235-pound frame would indicate.
When the Bengals promoted Hue Jackson over the offseason from running backs coach (a position for which he was ridiculously over-qualified) to offensive coordinator, fans envisioned a return to the power-running days of Ickey Woods, Corey Dillon, and Rudi Johnson. Jackson has a very successful track record calling plays – the Raiders more than doubled their point output when he took over as offensive coordinator in 2010 and he led them to another above-average finish as head coach (where he still called plays) in 2011. Even taking a 2011 Lisfranc injury into consideration, Darren McFadden's career yards per carry average is almost two yards higher with Jackson calling plays than without.
Unfortunately, the running game success hasn't exactly materialized so far as the Bengals have only managed 3.6 yards per carry. Boling is still recovering from ACL surgery while Bodine has been pushed around occasionally and Bernard's strong suit isn't as a between-the-tackles runner. Hill has excelled in that role, though, as he's tied for third in DYAR (a cumulative stat) despite having only having 26 carries. Those rushes have averaged 5.1 yards, with only one resulting in negative yardage. Hill's play and the coaches' desires to keep Bernard fresh over the long haul points to Hill getting a larger workload going forward. This is an opportune time for the Cincinnati running game to really get going, as New England has allowed 4.4 yards per carry, serving up big games in Miami (to Knowshon Moreno and Lamar Miller) and Kansas City (to Jamaal Charles and Knile Davis).
On the other side of the ball, Brady has played the worst football of his career and it seems the sky is falling in Foxboro. Deep breath, Patriots fans; it's only been four games. Still, this is mostly the same Bengals defense that snapped Brady's streak of 52 games with a touchdown pass last year while holding him to a paltry 5.2 yards per attempt and sacking him four times. One major loss for the Bengals could be Vontaze Burfict, one of the best linebackers in the league and their defensive signal caller, who is doubtful with a concussion. They were able to survive without him against Tennessee, but a diminished Brady is a far tougher challenge, especially on the road.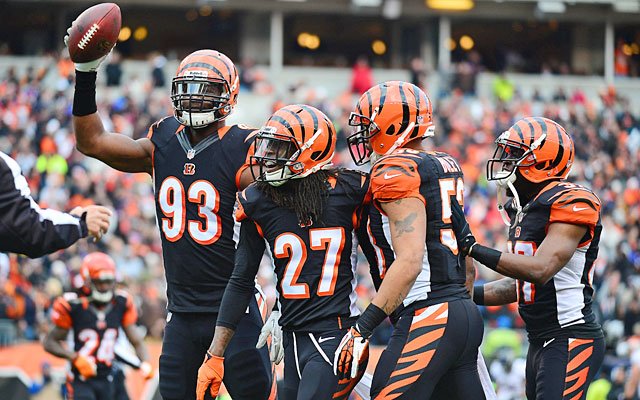 Obviously, the Bengals' best chance for defensive success is to get an early lead, control the clock and make the Patriots' offense one-dimensional. Right end Carlos Dunlap has annually been among the league leaders in quarterback pressures and he's finally started converting more of them to sacks this season with one in each game thus far. He should have his way with struggling left tackle Nate Solder if he can pin back his ears. Geno Atkins hasn't quite been the same player after tearing his ACL mid-2013, but he has shown improved agility and explosiveness as the season has progressed and should be well-rested coming off the bye. Unsung hero Wallace Gilberry and 2013 second-rounder Margus Hunt also bring pressure off the edge and sometimes move inside in sub packages.
Cincinnati's secondary might be the most underrated unit in football. Top corner Leon Hall has rebounded seamlessly from his second Achilles tendon rupture He moves inside in sub packages and is a sure tackler in run support. At the other corner, Terence Newman has revived his career since being cast away by Dallas three years ago. He can struggle with speedy receivers, as he's 36 and in his 12th year, but unless Aaron Dobson gets out of the doghouse by game time it doesn't appear the Patriots have anyone to exploit that weakness. Adam Jones has also resuscitated his career in Cincinnati, as he plays a solid right corner in sub-packages. He's not a particularly sure tackler though, and asInside The Pylon's Mark Schofield points out, it is one matchup New England can exploit. Continuing the trend, safety Reggie Nelson was a first-round bust in Jacksonville before coming to the Bengals and has provided them with very solid play, often coming up in the box and blitzing. George Iloka plays the traditional center field role and has always covered well. He has also resumed collecting interceptions (two this year) after getting over the hand injury he played through all of last year.
New England's best chance to attack the Bengals through the air will, of course, be with Rob Gronkowski, who did not play in the teams' meeting last year. The loss of Burfict looms large in this area, as he's excellent in coverage. He'll be replaced by Vincent Rey who has done a solid job when called upon, but he still isn't Burfict. Emmanuel Lamur will call the defensive signals in Burfict's absence and is probably the best option to cover Gronkowski. He's 6'4" and 240 pounds with great speed, but this will be by far his toughest challenge to date.
If the Bengals have been vulnerable in any one aspect of the game, it's in their run defense. Cincinnati has allowed over five yards per carry and are dead last in DVOA, although they faced a strong Baltimore rushing attack and much of Tennessee's production came when the Bengals already had a big lead. Nose tackle Domata Peko can be pushed around and Hunt is still a little raw. This is another area where Burfict's loss will be felt, as he does not allow runs to get to the third level. New England's best chance of offensive success will be to establish a solid ground game and stick to it even if the game conditions aren't favorable.
After being torched on special teams breaking in a bunch of new players in 2010, specifically covering kickoffs (remember now-Bengal Brandon Tate taking the second-half kickoff to the house in the opener that year?), Cincinnati has established continuity while fielding solid units, led by Rey and Cedric Peerman. Former first-rounder Dre Kirkpatrick hasn't developed at cornerback as projected, but he's turned into an excellent gunner as the Bengals have downed three punts inside the opponents' five-yard line this year. Although Tate isn't a huge threat as a kickoff or punt returner, he takes advantage of blocks and has generally avoided the dumb mistakes he used to make. Adam Jones is a real weapon as a punt returner – his 10.4 career yards per runback is ninth among active players and he already has a 45-yarder this year. Kicker Mike Nugent had a bad day against Atlanta where he missed three field goals but has been solid over his career, while punter Kevin Huber has put his coverage unit in position to be successful. The Patriots have also had traditionally strong special teams and they're solid again this year, so I don't see either team having much of an advantage.
Overall, the Bengals certainly have the better team on paper and in recent form; if you were to comprise a 53-man roster with both teams, definitely more than half would be from Cincinnati. The Bengals are also coming off a bye while New England is coming off a short week. However, teams in that situation haven't been very successful and it's still almost impossible for opponents to win in Foxboro until proven otherwise. Brady has also never opened 2-3 as the full-time starter, and, coupled with the Bengals' prime time woes and injuries, I'll take the home team in a nail biter.
Prediction: Patriots 23, Bengals 20
Follow us on Twitter @ITPylon.