Football is littered with specialized terminology. From personal protector to 21 package, commentators rarely get to explain everything you need to know before the next play. Inside The Pylon's glossary was developed to give fans a deeper understanding of the game through clear explanations, as well as image and video examples. Please contact us with any terms or phrases you'd like to know more about.
NASCAR Front
A NASCAR front is a specialized unit that is put into the game on obvious passing downs where traditional nose tackles and 1 technique defensive linemen are replaced with interior pass rush specialists, usually players who generally play defensive ends and/or linebacker. The interior players are pass rush specialists whose speed and explosiveness can apply more rapid pressure on the quarterback. Typically the interior players align in 3 technique, so they have a two-way go on the offensive guards.
The auto racing-inspired term was self-descriptively coined by the 2011 New York Giants' four defensive ends who confounded the New England Patriots in Super Bowl XLVI with the NASCAR front:
The 2014
Oakland Raiders
utilized a number of combinations along the defensive line, often using NASCAR front personnel groups. Here is an example of the Raiders using outside linebackers
Khalil Mack
and
LaMarr Woodley
as defensive ends, with defensive ends
Antonio Smith
and
Justin Tuck
inside at the defensive tackle spots: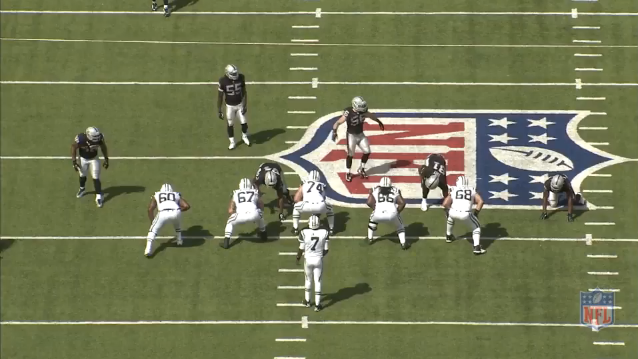 With two defensive ends and two linebackers in this front, the defense relies on speed and athleticism to put pressure on the quarterback.
While such deployments are useful in obvious passing situations, swapping out the stronger and heavier tackles on the interior of the line for lighter and more agile players can leave defenses vulnerable to running plays as the DEs and LBs cannot adequately fight off blocks by gigantic and powerful offensive linemen. If the offense is prepared for this sub package, they can leverage trap or wham running plays that take advantage of aggressive upfield moves by the interior defensive line between the A Gaps. Thus, the main vulnerability of this tactic is that the quarterback can also handoff, and this smaller, more athletic package can get steamrolled at the point of attack.