---
The University of New Hampshire Wildcats secured a place in the FCS semifinals with a hard-fought 35-30 victory over the University of Tennessee-Chattanooga Mocs on Friday night. The top-seeded Wildcats trailed late in the third quarter, but two quick touchdowns propelled the hosts into the lead and they never looked back. The latter score ‒ on a 61-yard pass from quarterback Sean Goldrich to wide receiver R.J. Harris ‒ involved a bit of trickery that merits a breakdown.
After a Mocs punt, Goldrich and the UNH offense takes over possession on their own 39-yard line. The quarterback sets up in the shotgun with 11 personnel on the field. Chattanooga's base 4-3 defense is showing Cover 4:
Harris lines up in the slot and just prior to the snap he motions towards the QB where he takes the handoff from Goldrich: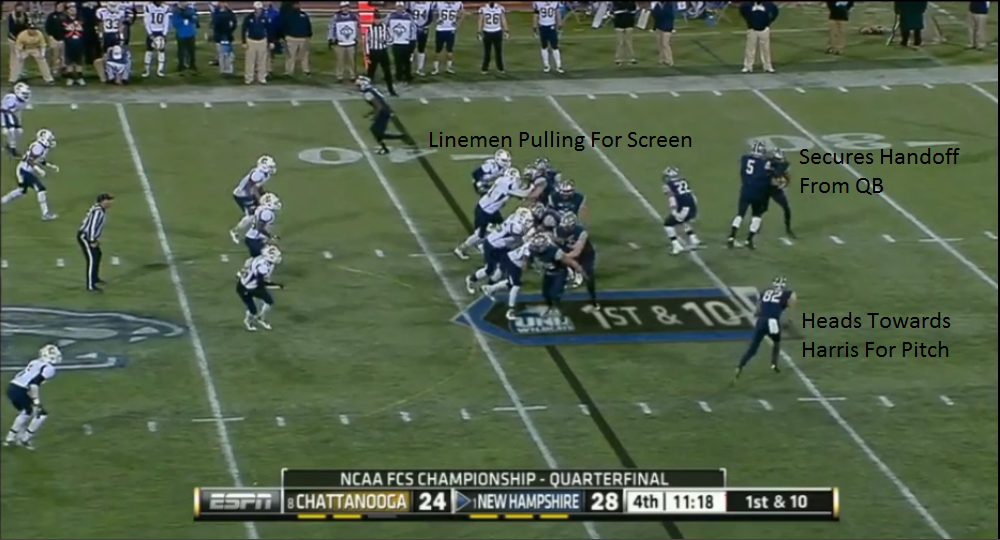 Harris flips the ball to wide receiver Jimmy Giansante (#82) who crosses into the backfield from his wide-left alignment: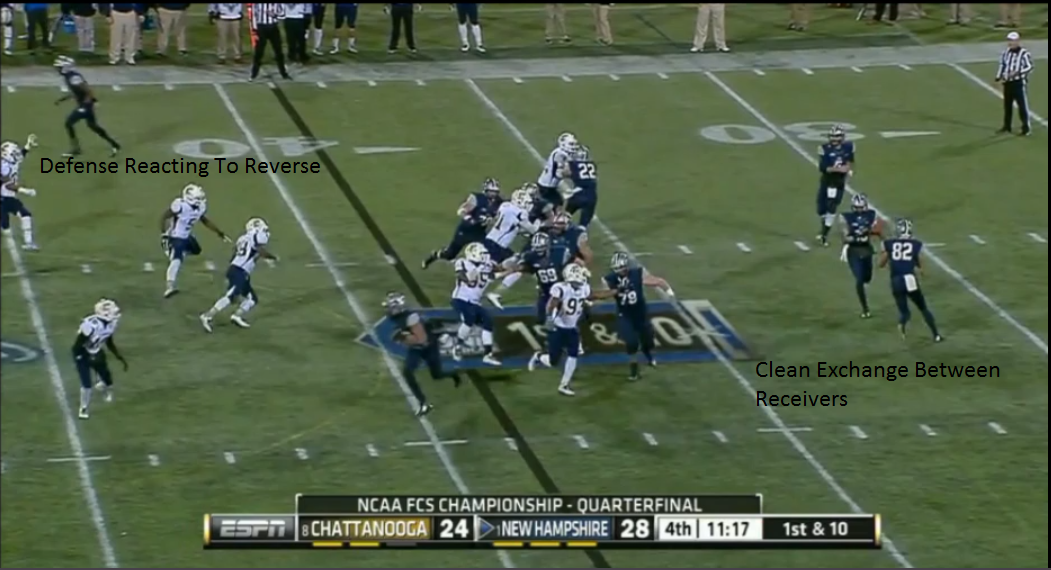 You can see the defense flowing to the reverse, but Giansante then flips the ball back to Goldrich set up deep in the pocket. Outside, Harris is in position for the screen pass with a convoy of blockers at the ready:
The fake reverse to Giansante draws the defense away from Harris. Notice how the defense is keying on Giansante/Goldrich in the backfield, with each helmet staring in that direction. None of the defenders visible in this frame has any idea where Harris or the entire offensive line is ‒ in space, clearing the road for the slot receiver:
Harris gets a great initial block from Rob Bowman (#78) and begins his scamper downfield. However, one Chattanooga defender might have an angle on him: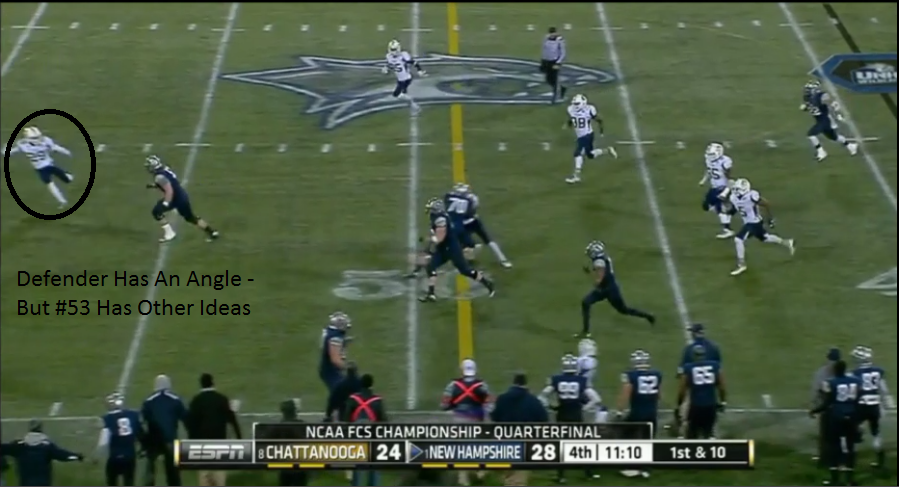 Leading the way is Tad McNeely (#53). The offensive lineman is not out for a simple Friday night jog ‒ he's about to go to work: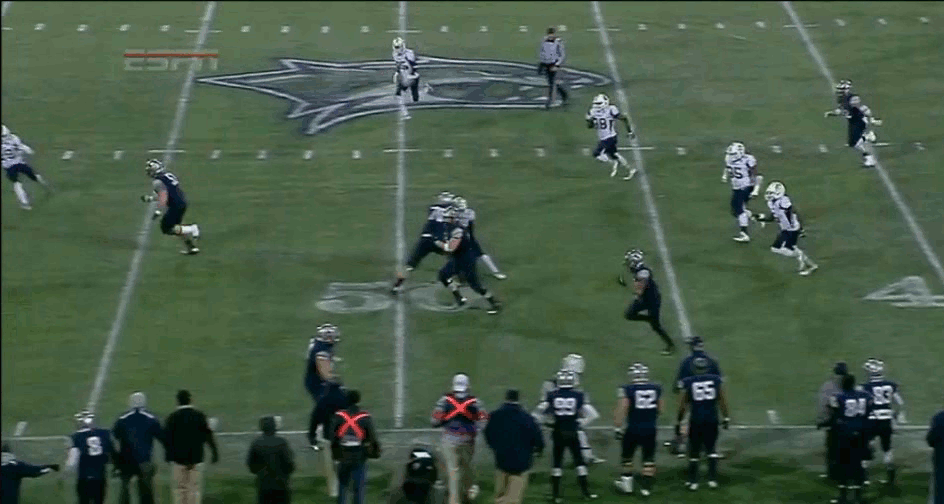 With McNeely erasing the last threat, Harris has nothing but green in front of him:
[wpvideo R5Y3tsYW]
The perfectly executed trick screen goes the distance and UNH extends their lead to 11.
The Mocs scored with a 1:32 remaining in the game to cut the deficit to five, but were unable to recover the ensuing onside kick. Goldrich finished the night completing 12 of 24 passes for 228 yards and three touchdowns, perhaps none bigger than this well-executed screen pass.
For Harris, the 61-yard catch-and-run is one of many highlights in the senior's illustrious career. The receiver has 94 catches on the season for 1483 yards and 15 touchdowns, and a whopping 114.1 receiving yards per game. More than a few NFL scouts might take in some New Hampshire football in Durham to check out Harris next weekend, when the Wildcats host Illinois State in the semifinals.
All video and images courtesy ESPN.
Follow Mark on Twitter @MarkSchofield.