Pylon University enjoyed the conference championships just as much as the next CFB fan but we didn't forget about the FCS Playoffs on Saturday. For some it was their last collegiate and competitive game and no one on the field wanted their career to be over. The FCS playoffs don't feature big names or big programs but great plays don't need a pedigree – they just need to be perfectly executed.
---
The NCAA Football Championship Subdivision Playoffs rolled on this weekend with the Round of 16. The most thrilling contest occurred in the confines of the Fargo Dome as the North Dakota State Bison hosted border rival, the South Dakota State Jackrabbits.
In a back-and-forth affair, the visiting underdog Jackrabbits claimed a 24-20 lead with 3:18 remaining. That left enough time for junior quarterback Carson Wentz to respond.
The Bison drove 64 yards in 7 plays setting up this 2nd down play at the 12-yard line with their QB in the shotgun using 11 personnel. The offense has trips to the left with freshman wideout R.J. Urzendowski as the middle receiver. The Jackrabbits counter with a nickel defense showing Red 2 coverage, a compressed version of Cover 2 where the defensive backs use the shorter field to their advantage: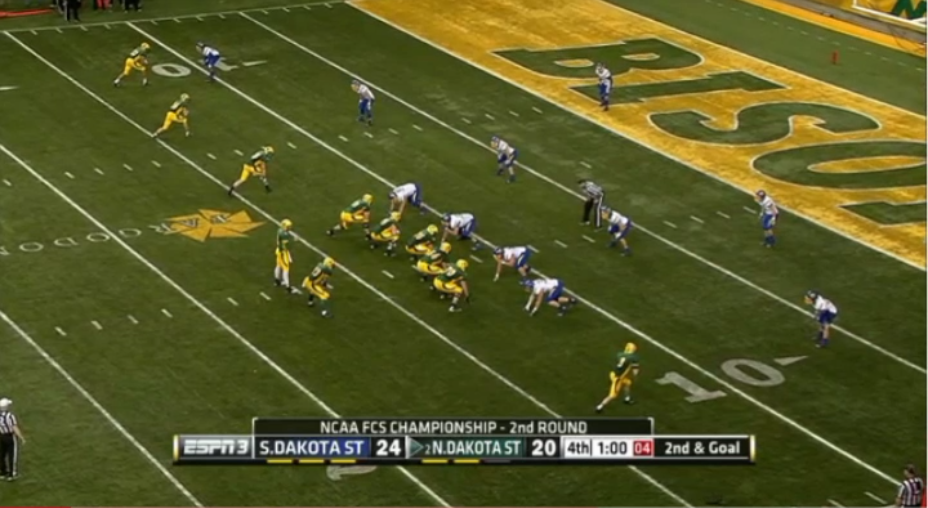 From the trips, the outside and inside receivers run curl routes, while Urzendowski executes a corner route from the middle alignment. Safety Melvin Taveras (circled in white) draws the tough assignment of deep outside responsibility against the trips formation: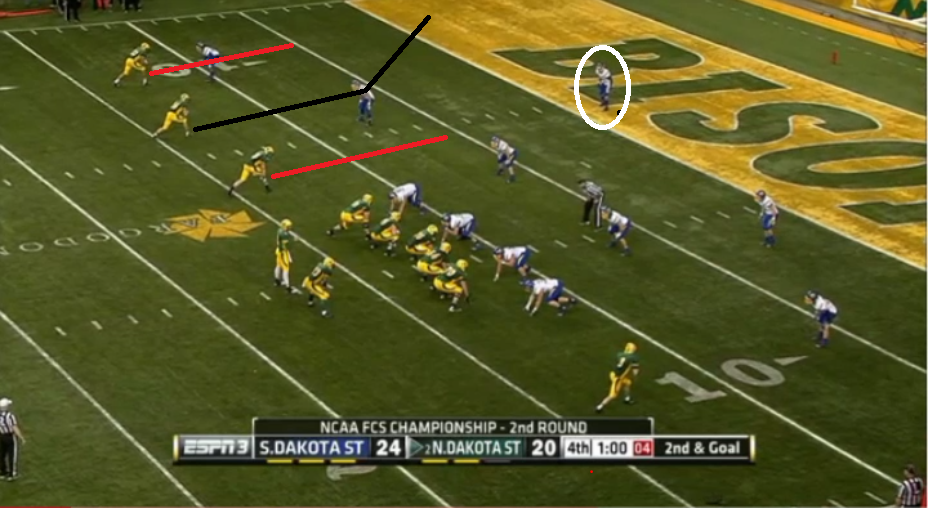 As the play develops, the inside curl route holds Taveras in place just long enough for Urzendowski to gain separation toward the left rear corner of the end zone: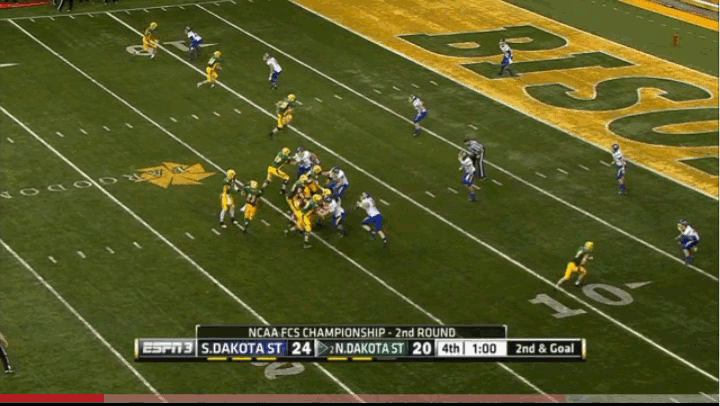 The safety cannot help on the corner route as Wentz lofts the ball to the perfect location and height for his freshman receiver:
[wpvideo UwY1P2TB]
From this angle you can see the ball drop in precisely, while Urzendowski does a great job of securing the football and getting a foot down in bounds for the game-winning touchdown: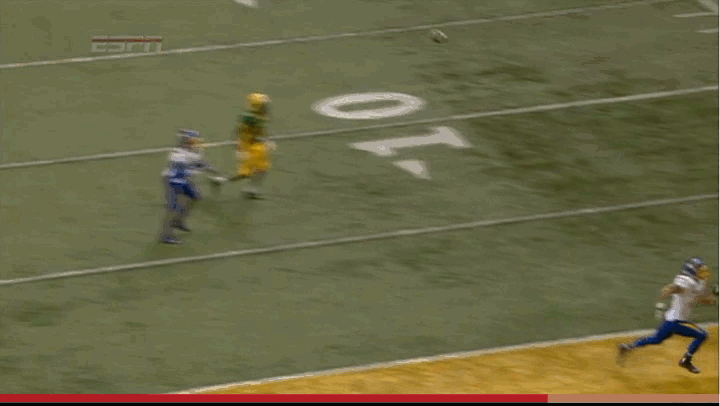 The defense sealed the victory by intercepting SDSU senior quarterback Austin Sumner with only 43 seconds left. With the victory the Bison keep their hopes alive for an unprecedented fourth straight FCS National Championship. North Dakota State hosts #7 seed Coastal Carolina next weekend in the quarterfinals.
All video and images courtesy ESPN3/WatchESPN.
Follow Mark on Twitter @MarkSchofield.