---
On Saturday, the Fordham Rams hosted the Sacred Heart Pioneers in an opening round contest of the FCS Playoffs. The Patriot League Champions held an eight-point lead early in the 3rd quarter, but Sacred Heart punter Jamie Ross managed to pin the Rams deep with a punt downed at the 3-yard line. With the Rams backed up almost to their own end zone, the Pioneers seemed poised to clamp down defensively, force a three-and-out, and give their own offense a short field.
Quarterback Mike Nebrich and wide receiver Tebucky Jones Jr. had something else in mind:
[wpvideo Wn4loRUr]
This 97-yard touchdown strike needs a little bit of unpacking.
The Rams come out in the shotgun using 11 personnel. The offense lines up with standard slot formation to the left with a tight slot formation to the right. The Pioneers counter with their nickel defense and run Cover 3 for this play: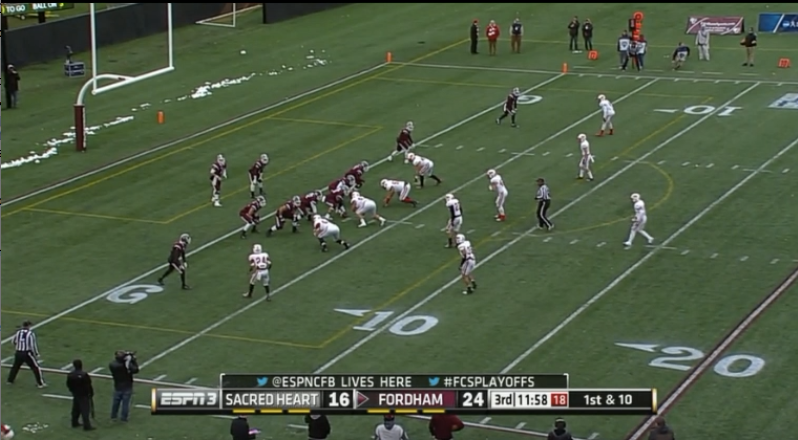 Given the situation, one might expect the offense to run the ball and put some distance between themselves and the goal line. This conventional wisdom, though, explains exactly why the play-action fake is so successful: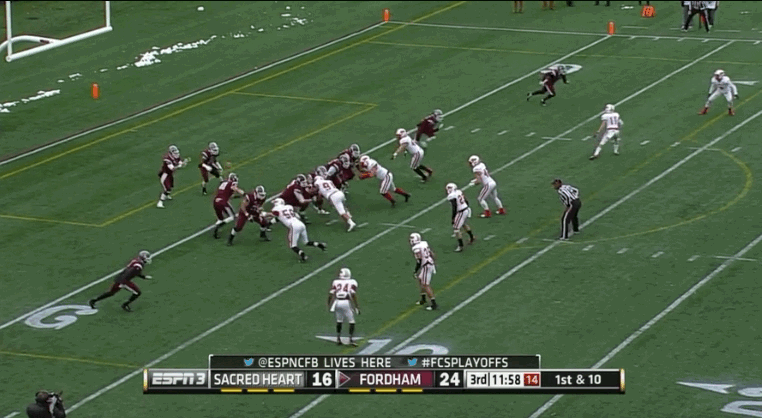 Notice how safety Gordon Hill (#28) and linebacker Connor Candito (#35) come forward on the fake before belatedly retreating into coverage.
Downfield, the Rams run a high-low pattern at the secondary. Jones, the outside receiver in the slot formation to the left, will run a deep post pattern – the "high" half of the play. The inside receiver will run an intermediate crossing route as the "low" guy. Their target is the free safety, Dennis Regan (#10). Nebrich's throw is dependent on Regan's decisions: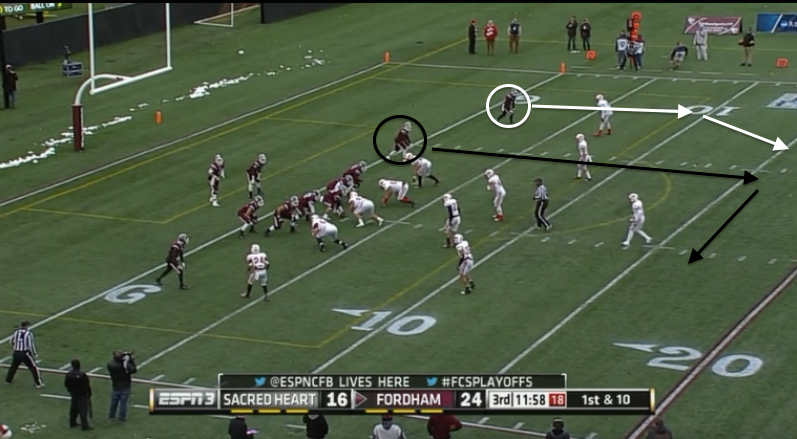 Regan first gets caught staring at the run fake:
Then, the safety bites on the underneath route. Jones gets a step on the cornerback and Nebrich unloads: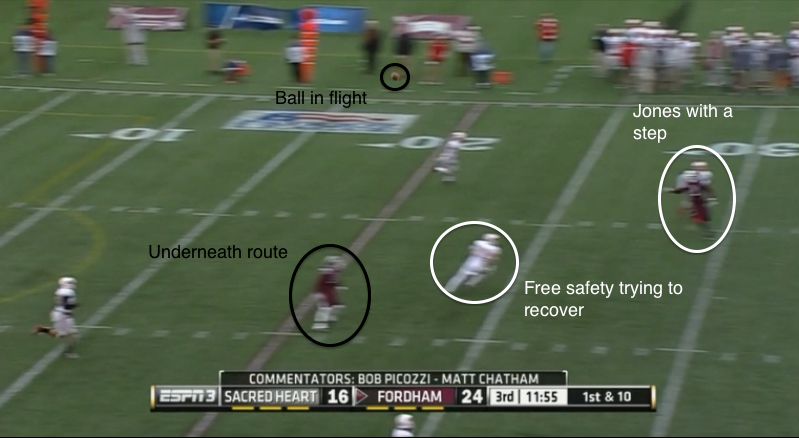 From the end zone camera you can see how the QB hits the WR with nothing but green in front of him. Jones slips the would-be tackler and Regan cannot recover in time:
It was off to the races for the touchdown and for the game. Fordham extended their lead to 15 points on this play and did not look back, winning by a final score of 44-22. The namesake of the former Patriot finished the day with 8 receptions for 134 yards and 2 touchdowns (the other coming on a 1-yard reception early in the contest). Tebucky Jones Jr. and his teammates continue their playoff run next week when they travel to Durham to take on the #1 overall seed Wildcats from the University of New Hampshire.
All video and images courtesy ESPN3/WatchESPN.
Follow Mark on Twitter @MarkSchofield.