---
Following his 7-touchdown performance against Texas Tech, TCU quarterback Trevone Boykin entered Saturday's tilt against West Virginia as a dark horse Heisman Trophy candidate. The junior signal-caller struggled (12-30, 166 yards, 1 TD, 1 INT, QBR of 23.6) in Morgantown, and there weren't any "Boykin TCU #1" signs to be found among the partisan Mountaineer crowd, but when the Horned Frogs needed a big play the QB delivered, keeping their NCAA playoff hopes alive.
Boykin and his offense took over possession at their own 24-yard line trailing by 3 with 2:07 remaining in the contest. Following a 3-yard run on 1st-down, TCU put their QB in the shotgun using 20 personnel. Wide receiver Kolby Listenbee splits wide to the left, and TCU has a slot formation to the right. West Virginia shows three defensive linemen in their sub package:
The Mountaineers rush only three linemen and drop eight defenders into their Prevent-style Cover 2 deep shell. This gives Boykin a clean pocket to work with:
On the outside Listenbee runs a simple go route, and bursts into the open area along the sideline in the Cover 2 scheme:
Boykin's throw is on target and the WR pulls in the 40-yard pass on the West Virginia 39-yard line, just outside field goal range (according to ESPN graphics):
Ball secured, Listenbee makes a hard cut to the inside against West Virginia freshman safety Dravon Henry:
This slight move earns the WR a few more yards before Henry finally trips him up at the Mountaineer 33-yard line: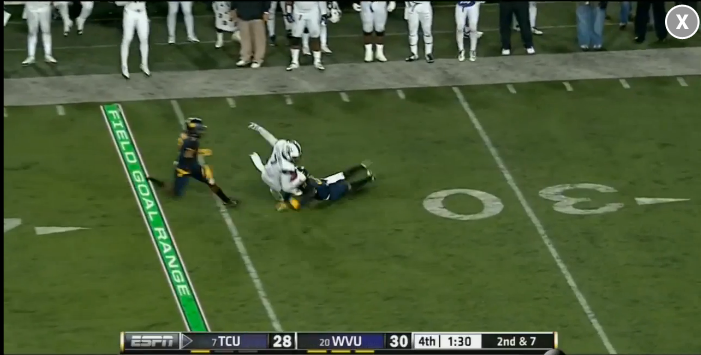 The video of the play illustrates how wide-open the receiver was and how perfect the throw was from Boykin:
[wpvideo bqwkQcR1]
The Horned Frogs earned one more first down before Jaden Oberkrom's 37-yard field goal at the final whistle split the uprights. Couch retailers in Morgantown wait another week for huge Sunday sales.
TCU's toughest remaining test is this Saturday against overachieving Kansas State in a game that likely determines the Big 12 Winner. Should the Horned Frogs earn a playoff selection, Boykin's clutch throw will live on in TCU lore for years to come.
(Video and images via Big12Sports.com)
Follow Mark on Twitter @MarkSchofield.