---
One play in particular demonstrated the elusiveness of quarterback Russell Wilson: a 63-yard pass play to Tony Moeaki. For 49ers defensive back Dontae Johnson, this play probably made the turkey taste a little dry.
Seattle faces 3rd and 9 on their own 36-yard line with 13:00 remaining in the 2nd quarter. Wilson is in the shotgun with Marshawn Lynch to his right. The 49ers have a 3-3-5 nickel defense on the field; Dontae Johnson is just off the screen to the right: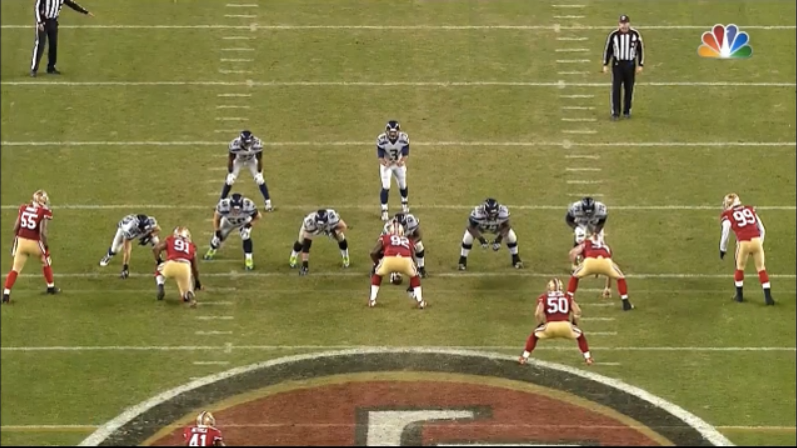 He becomes visible moment later as blitzes straight through the B Gap:
The left guard and left tackle are preoccupied with Aldon Smith (#99) and Justin Smith (#94). Johnson is untouched with a free shot at Wilson, but the QB quickly spins and leaves him grasping at air:
Wilson is now face-to-face with the Smiths, while Johnson recovers and begins pursuit, ready to finish off the sack that was within his grasp seconds earlier: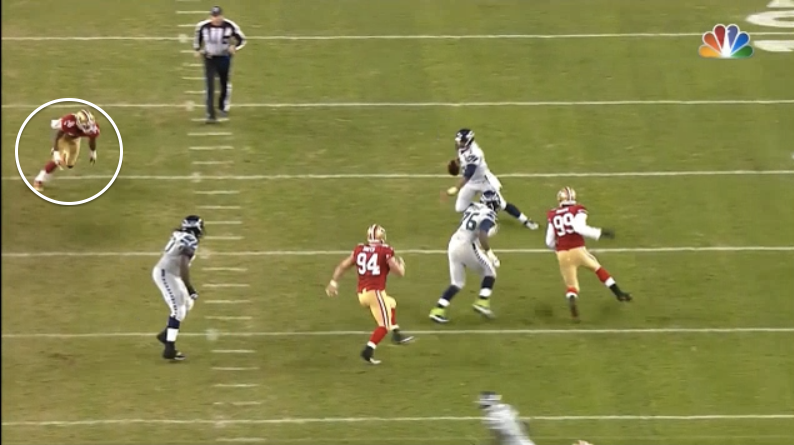 The quarterback turns on the jets to avoid the Smiths, but has no idea that Johnson is trailing. Just before the defensive back can atone for his earlier whiff, center Lemuel Jeanpierre (#61) delivers a crushing block, ending Johnson's play. Wilson then lofts a soft touch pass to his tight end just before Chris Borland (#50) can bring him to the turf:
Moeaki pulls in the pass, gets both feet down, and races down the sideline.
One final element to highlight is Doug Baldwin's "block." He is in position to destroy cornerback Perrish Cox (#20), but rather than risk a penalty he simply stands still, forcing the CB to go around him. This gives the TE more time to sprint to the goal line:
Moeaki rumbles all the way to the one-foot line, setting up the Seahawks for a 1st and goal:
[wpvideo 7W5raQhR]
While the offense was held to a field goal on the drive, Russell Wilson escapes are a key component to their success. Seattle finished the night with a convincing 19-3 victory over their NFC West rivals. The Seahawks are now in sole possession of second place in the division, just one game back of Arizona. With three divisional games remaining, including a trip to Phoenix in three weeks, the Seahawks have another NFC West title in sight. For the 49ers, this loss puts their playoff hopes in jeopardy.
All video and images courtesy the NFL and NFL Game Rewind.