Winning in the NFL is difficult. Just ask the Oakland Raiders, who entered Thursday night's game against division rival Kansas City with an 0-10 record and on a 16-game losing streak overall, dating to last season. But the Raiders won their first game of this season – and their first in 368 calendar days – against the Chiefs thanks to some patience from their rookie quarterback.
---
Oakland trailed 20-17 when they took over possession at their own 20-yard line following a Cairo Santos field goal. With over nine minutes remaining, Derek Carr orchestrated a lengthy drive that mixed the run and the pass. With 1:46 remaining in the contest, the Raiders faced a 1st and Goal at the Kansas City 9-yard line. Carr lined up in the shotgun with 11 personnel on the field against the Chiefs' base 3-4 defense:
Oakland has trips to the left with James Jones the inside receiver. He will run a post route on this play:
Off the snap Kansas City drops into Cover 3, settling for only three rushers on the play. Watch the move that Jones puts on safety Ron Parker: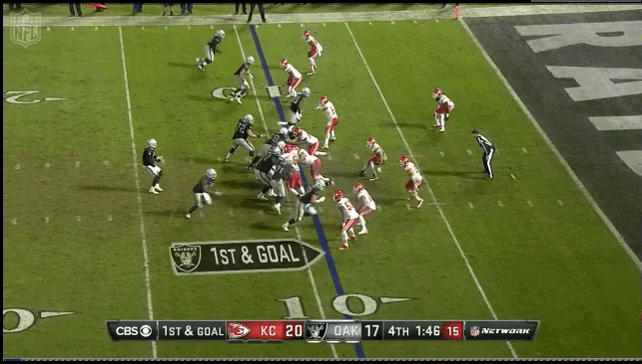 Jones utilizes a hard first step to the outside, selling Parker on the corner route. The WR breaks inside on the post, and Carr shows great patience in waiting for Jones to break free:
The touchdown strike caps off a 17 play, 80-yard drive. The offense not only drained 7:21 off the clock but forced time management expert Andy Reid to burn all three timeouts. Alex Smith and the Chiefs advanced to midfield on the ensuing possession, but a fourth down throw fell incomplete and the Raiders were finally able to taste victory. Winning in the NFL is tough ‒ just ask Kansas City.
All video and images courtesy NFL.com and NFL Game Rewind.
Follow Mark on Twitter @MarkSchofield.