When the New England Patriots play action fake, the intent is to open up passing lanes while coaxing the defense to read run, react to it, and be fooled by the pass. When the running game is rolling off 5.5 yards per carry, play action should leave mismatches in the secondary. So it was shocking that Tom Brady started 0-for-7 with two interceptions against the Indianapolis Colts. Mark Schofield reviewed the ugly film.
---
The interception that sent most of Patriots Nation into fits of rage occurred with 1:25 remaining in the first half. With an 11-point lead New England faces 3rd and 1 on their own 17-yard line. With visions of a touchdown before the half dancing in their heads, Patriots fans watch their QB line up under center and start to gesticulate. Tom Brady is changing the play.
Over the nose of the football looms big defensive tackle Montori Hughes (#95):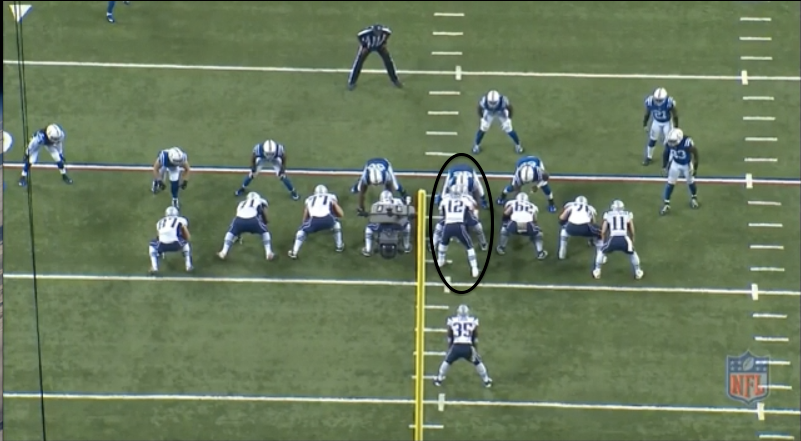 Off the snap Hughes splits the A gap right between center Bryan Stork and right guard Dan Connolly:
The center scrambles to recover and redirect the DT, but it is too late. At this point Brady needs to consider eating the football. But he channels his inner Derek Jeter, attempting a jump throw off his back foot:
From that angle you can see Hughes split between center and guard, and the QB attempt the throw while avoiding contact. The result is a highly-lofted off-balance throw in the direction of Rob Gronkowski and an easy Colts interception:
[wpvideo uUSAeFFH]
From his deep alignment in Cover 1, safety Mike Adams gets himself under the wounded duck to secure the huge pick right before halftime. The turnover puts the Colts in great position to cut into New England's lead right before halftime and swing the momentum.
Brady threw the ball off his back foot due to incoming heat but he needs to be smarter with the football. Given the state of the game, Brady has to display better situational awareness. The decision to change the play to a pass is reasonable, but the QB needs to take the sack and hope that his defense can close out the half with an 11-point lead intact.
When the Patriots got the ball back after a quick Indianapolis score, Bill Belichick ordered three kneel downs ‒ despite having over a minute left on the clock and all three time outs.
The message to his future Hall of Fame QB was clear: Stop playing like a rookie.
All video and images courtesy of NFL.com and NFL Game Rewind.
Follow Mark on Twitter @MarkSchofield.