Mark Schofield told Jack Del Rio and the Denver defense how to be successful against the New England passing game ‒ deny Rob Gronkowski a free release, play tight coverage, and harass Tom Brady. Denver rarely did any of these things and the Patriots romped to a 43-21 victory. Here's Part 1 of how Gronkowski beat Denver.
---
Rob Gronkowski put on a spectacular performance in New England's victory over the Denver Broncos, hauling in nine passes for 105 yards and a touchdown. In our four–part passing preview we highlighted how Denver in the past used a jam on Gronkowski to deny him a free release off the line of scrimmage. Their reluctance to employ that concept on Sunday, coupled with creative design and his tremendous athletic ability, led to Gronk's Big Night ‒ which we'll celebrate with a two-part recap.
Gronkowski's festivities begin with 3:49 remaining in the 1st quarter. Following a Denver touchdown, New England takes over possession at their own 22-yard line and begin their drive with Tom Brady under center using 11 personnel. The Broncos' nickel defense shows Cover 2 Man Under. The tight end is on the line to the right of the offense circled in red. Two Broncos to focus on are Von Miller (circled in white) and Corey Nelson (circled in black):
Gronkowski is wide open on this play due to two factors: Play-action and a free release. Off the snap Miller's haphazard attempt at a jam barely touches the tight end: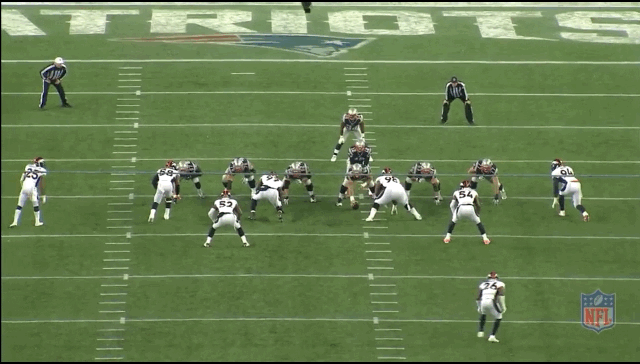 New England uses play-action to fool rookie linebacker Nelson. In this alignment the LB is responsible for covering the TE but he is badly fooled by the fake to Shane Vereen: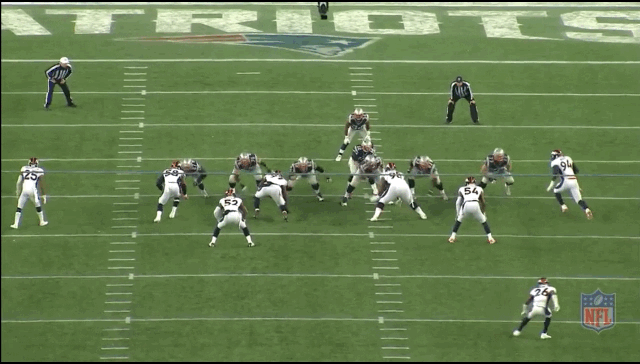 Given a free release, Gronkowski quickly gets into his route and separates from the flustered rookie. Nelson cannot recover because the TE is at full speed, thanks to his easy route off the line and Gronkowski picks up a big gain:
[wpvideo eNlAx38J]
Just three plays later the same combination (against a slightly different cast of characters) leads to another Gronkowski reception. New England faces 1st and 10 and the TE is now in a wing position. Miller remains on the field for Denver (circled in white) but in their nickel. Brandon Marshall (#54) is now in the game (circled in black):
Miller ignores Gronkowski again as the ball is snapped, likely focused on the play-action: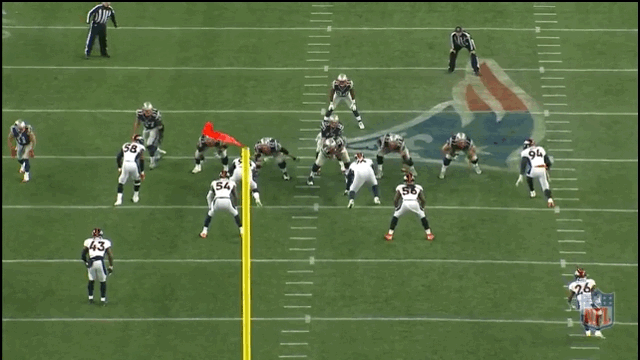 And Marshall certainly is:
With a throwing lane cleared, Gronkowski is into the secondary and up to speed. T.J. Ward cannot close down on the route quickly enough and the completion is made:
[wpvideo HliyKgvj]
Conclusion
Whether by design, or because he is influenced by the play-action, Miller allows the TE a free release on each of these plays. And on both plays, the defense surrenders a completion and big yardage. Designing plays to get Gronkowski opposite Miller outside led to a consistent free release, open throwing lanes, big gains, spectacular plays and a touchdown. Denver chose not to physically disrupt Rob Gronkowski off the line and it proved their undoing. Click for Part 2.
All video and images courtesy NFL.com and NFL Game Rewind.
Follow Mark on Twitter @MarkSchofield.