Spectacular plays, like "greatest route ever", are recognized as they happen. However, many of the most important plays in NFL games are not spectacular; they appear routine, the result of practice, technique, and teamwork. Brandon LaFell's touchdown catch against the Denver Broncos doesn't look spectacular ‒ until you review the film.
---
Following Brandon Browner's interception and 30-yard return to the Denver 10-yard line, the New England Patriots offense took the field with a 16-point lead halfway through the 3rd quarter. Josh McDaniels, Tom Brady and company went straight for the jugular. The quarterback connected with wide receiver Brandon LaFell on a beautifully designed play for a touchdown, extending New England's lead to 23 and erasing any notion of a Broncos' comeback.
On 1st and goal Brady is in the shotgun and New England has 12 personnel on the field. To his left the QB has a trips formation with Tim Wright inside, Julian Edelman in the middle and LaFell split wide. Denver's nickel defense is on the field showing Cover 1 in the secondary. T.J. Ward is the free safety on this occasion: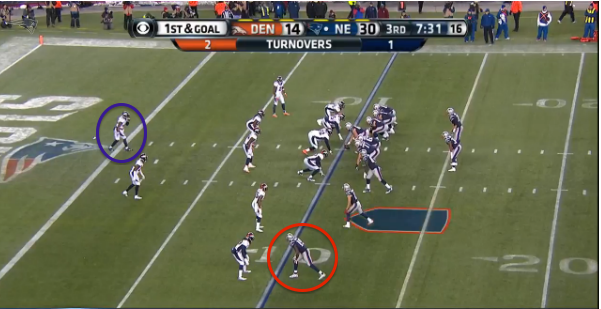 Off the snap all three receivers begin vertical routes. LaFell fights off the jam from rookie cornerback Bradley Roby and establishes crucial inside leverage: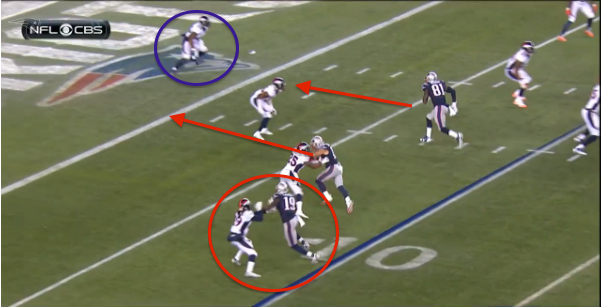 Wright and Edelman continue vertically while LaFell cuts toward the middle on a slant route. The WR gains separation and maintains the throwing lane, keeping Roby behind him: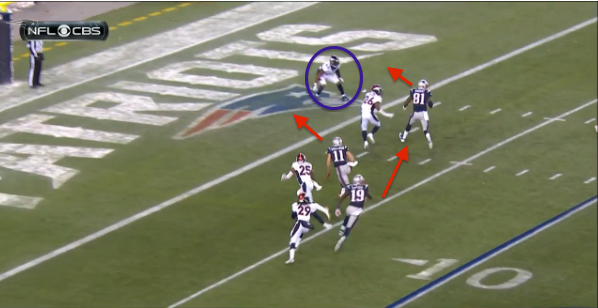 Wright is swallowed up by the zone coverage. However, both Edelman and LaFell are open. Ward faces a difficult decision: Which route to jump? The frequently-targeted Edelman or LaFell? He makes his choice:
Ward closes on Edelman. Brady targets LaFell:
The above still shows the moment the WR secures the throw from his QB. Roby was beaten several steps ago when he allowed LaFell to get inside position. Ward is out of position, having committed to Edelman's route. LaFell glides into the end zone for the touchdown:
[wpvideo aHgeQumb]
[wpvideo wEhZEOwm]
This play is yet another example of how routes influence defenders. The vertical patterns from Edelman and Wright freeze Ward in the middle of the field. LaFell gains inside leverage on Roby without a fight. All that is left to execute a good throw, which Brady delivers.
For LaFell, it was sweet redemption on a day that saw him drop a number of early passes, including one in the end zone in the first quarter. A huge assist on this play comes from Edelman. His ability to find dangerous space influences Ward, who looks to the middle of the field for an extra few seconds. The resulting window is wide open for Brady and LaFell to complete the Patriots Offensive Play of the Week.
Follow Mark on Twitter @MarkSchofield.