The Minnesota Vikings offense will be a difficult matchup for the New England Patriots defense in NFL Week 2. Inside The Pylon's staff gets to know the enemy.
Norv Turner Overdrive
In 1991 Norv Turner got his first coordinator job, taking over the offensive reins for a Dallas team that had finished 7-9 a season earlier while ranking 26th among the NFL's 28 teams in points scored. The Cowboys jumped to seventh in points in Turner's first year, then won Super Bowls the following two seasons behind offenses that ranked second in scoring in both 1992 and 1993. This success led Turner to his first head-coaching job, one that ended after nearly seven years in Washington with a 49-59-1 record and just one playoff appearance. Subsequent head coaching gigs in Oakland and San Diego were a mixed bag at best, but throughout his 24-year career as a coordinator or head coach Turner's offenses have shown consistent improvement over those of his predecessors.
Turner is probably the most famous current proponent of the Don Coryell system. "Air" Coryell earned widespread fame four decades ago for his high-flying passing attacks. From 1977 to 1985 his Chargers teams ranked first or second in passing yards every year, leading the league in yardage five times and in points three times during that span. Coryell's dominant offense emphasized deep routes, with quarterback Dan Fouts targeting wideouts Charlie Joiner and John Jefferson along with Kellen Winslow, Sr., a forerunner of the modern tight end. Turner has tended to use the running game more than Coryell, helping Emmitt Smith and LaDainian Tomlinson become Hall-of-Fame-caliber backs, but a deep passing attack has remained a staple of his offense. Think Troy Aikman to Michael Irvin on a skinny post, or Philip Rivers to Vincent Jackson on a fly route up the sideline.
Sand Cassel
However, there is no Aikman or Rivers for the Minnesota Vikings offense. Turner's quarterback is Matt Cassel, who Patriots fans may remember as being rather ineffective at throwing the deep ball (more on that below). The Vikings' running back is (or was, until Friday) all-world Adrian Peterson, the 2012 NFL MVP. They also have a dynamic run-after-catch talent in wide receiver and 2013 first-round pick wide receiver Cordarelle Patterson in addition to capable possession receivers in wideout Greg Jennings and tight end Kyle Rudolph. In short, this team's construction is the opposite of those Coryell Chargers and their deep passing weapons; it's built to be a run-heavy, ground-and-pound, move-the-chains offense, usually passing only to pick up 3rd downs or to keep the defense honest.
If Week 1 is any indication, Norv has decided to build his offense around his team's strengths, not his mentor's system. The Vikings employed a run-focused attack in Sunday's win over St. Louis. Of their 25 first-down plays, just 5 were passes. Cassel dropped back to throw 26 times, but most of those plays were dictated by situation – 8 passes came with less than 3:00 left in the half and 6 others occurred on 3rd down. Basically, Minnesota passed as infrequently as they possibly could. Even the pass attempts themselves often featured rollouts, screens, and play-action rather than conventional dropbacks. According to ProFootballFocus.com, Cassel didn't attempt a pass of over 20 yards, and just five of his throws exceeded 10 yards. It was hardly Fouts-to-Jefferson or Rivers-to-Jackson. The run/pass ratio of 30/25 was more akin to the 1970's Steelers ground assault than an Air Coryell passing attack.
Peterson Absent
With the breaking news that Peterson will not play Sunday, Turner will likely have to change direction again. The All-Pro back touched the ball 25 times in 61 offensive snaps on Sunday and those touches will not be easy to replace. Peterson's veteran backup Toby Gerhart left via free agency before the season, so the position appears unsettled. Minnesota will likely continue to run the ball behind an offensive line that finished tenth in Football Outsiders' Adjusted Line Yards last year and the Patriots' struggles in stopping the run – allowing 191 rushing yards to Miami last week – should further entice a ground game. The Vikings will need to find a way to manufacture big plays, but now with Patterson likely to be their best weapon (see below). Rewriting the offensive playbook will be a major challenge for the man known as Norv.
Backfield
In lieu of Peterson, the Vikings will likely hand the running duties to veteran Matt Asiata and rookie Jerick McKinnon. Quarterback Matt Cassel is certainly familiar to New Englanders. Finally, the Vikings frequently use a traditional fullback, employing Jerome Felton, Asiata, and Rhett Ellison in that role.
Quarterback – Matt Cassel #16
As noted above, Cassel struggles with the deep ball, a deficiency many Pats fans well recall. According to PFF, in 2008 with the Patriots he was just 12-of-45 on throws of 20 or more yards, and that was with some guy named Randy Moss. Cassel had better results last year (17 of 38) but his limited arm strength hinders efforts to go long. The 32-year-old from USC has average accuracy but moves well, and the Vikings rolled him out off play-action a few times last Sunday to take advantage of his athletic ability. Early in his career he took too many sacks, but he's now closer to the league norm at dodging pass pressure. While Cassel lacks above-average skills in any one area, he isn't egregiously deficient anywhere, either. He's an ideal backup quarterback but his capabilities are stretched as a starter.
Halfback – Jerick McKinnon #31
Running back – Matt Asiata #44
As word of Peterson's deactivation spread late Friday, our Inside The Pylon colleagues Mark Schofield and Jeff Johnson jumped in to break down what to expect from Minnesota's top two alternatives.
Fullback – Jerome Felton #42
Felton is a throwback, a traditional fullback in a league where that position is dying out. He's an excellent lead blocker in the running game but rarely is asked to do anything else – in 30 career games with the Vikings he's made just 9 catches, and he has yet to carry the ball for even a single rushing attempt.
Receivers and Tight Ends
Last offseason the Vikings lost one of the game's elite talents in Percy Harvin, but they seem to have replaced him with Patterson. Jennings is no longer as explosive as he was in Green Bay, though he remains a savvy possession receiver. Jerome Simpson, who finished second on the team in catches and receiving yards last season, is currently suspended. In three-receiver sets, Jarius Wright will play wideout with Jennings shifting to the slot. Tight end Kyle Rudolph almost never leaves the field, though he is sometimes joined by Rhett Ellison who can play tight end, fullback, or H-back.
Wide Receiver – Cordarelle Patterson #84
The 6'2" 216-pound Patterson is another of the exciting wideouts to come out of the University of Tennessee in the past few years (along with the Titans' Justin Hunter and Oakland's Denarius Moore). A rare physical specimen, his weight, 40-time, and vertical jump compare favorably to one of the most athletic WRs in the league in Julio Jones. As dynamic as he is, Patterson is still raw and unpolished as a receiver. Like ex-Viking Percy Harvin, he relies on his run-after-catch ability, although Harvin was more refined and versatile as a young receiver. Despite all the hype surrounding him, he's averaging only 29.1 receiving yards per game, surpassing 65 receiving yards in a day just once – and that was when he took a screen pass 79 yards for a TD in the final minutes of a win over Baltimore.
It's a very impressive play, though as a receiver he doesn't do much. He catches the ball well behind the line of scrimmage, but all the work is done after the ball is in his hands. It's his speed and vision that make that play possible. He'll be a challenge for the Patriots' coaching staff as well as New England's defenders who will have to stay disciplined and gang tackle.
At this point in Patterson's career the Minnesota play-callers have to find creative ways to get him the ball so he can use his athletic gifts. This 67-yard touchdown run against St. Louis last week was a very simple play, but also a brilliant way to use his offensive talents in an unexpected way.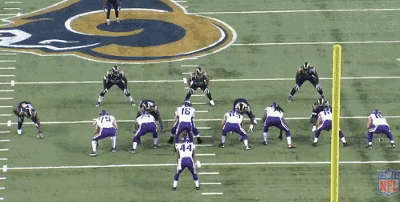 Patterson started the play out at his normal wide receiver spot before shifting to a tailback position just before the snap. This pulled the corner covering him into the middle of the field, opening up the right side for the run to go there. There were two tight ends on that side and the right guard pulled as well. That's three lead blockers and fullback Matt Asiata became the fourth, kicking out the corner as he pursued. Patterson's run-after-catch abilities are what made this a long touchdown run, but overall design and execution would have made it a big gainer regardless. When the path was cleared into the open field for Patterson he was already running at full tilt. At its core it was a simple play – just a basic I-formation off-tackle run right – but the wrinkle of using Patterson rather than a running back created confusion for the defense.
Even if the Patriots' defense can contain Patterson when Minnesota's offense is on the field, he is still a threat on special teams. In 2013 he finished behind only Devin Hester (you may have heard of him) in kick return yards while scoring two touchdowns to Hester's none. Moreover, Patterson is on a historic pace, as his 32.02 yards per return ranks as the NFL's all-time career best among players with at least 45 runbacks.
Wide Receiver – Greg Jennings #15
Patterson's the big-time playmaker, but this veteran (who turns 31 next weekend) is the receiver Cassel trusts most. On third downs the quarterback targeted Patterson only once Sunday while opting for Jennings on three occasions, including an 18-yard catch on 3rd and 10 that was probably the Vikings' most important passing success of the day. It wasn't a one-game fluke, either; Jennings led all Minnesota receivers on third-down plays last year with 38 targets, 23 catches, 334 yards, and 2 touchdowns. Jennings is only 5'11" and 195 pounds but plays bigger than that. He's not hauling in passes from Aaron Rodgers anymore, but in 8 games with Cassel last season Jennings averaged 5.5 catches, 0.5 TDs, and 63.6 yards per contest. Extrapolated over a full 16-game schedule, that's 88 catches, 8 TDs, and 1,018 yards. After his Week 1 performance (6 catches for 58 yards and a touchdown), expect more of the same in 2014. Jennings is nothing if not consistent.
Wide Receiver – Jarius Wright #23
At 5'10" and 180 pounds Wright is built like a slot receiver, but with Jennings getting most of the slot work in three-receiver sets Wright has mostly lined up wide. Last season 44% of his targets were on deep routes, yet on Sunday he caught just two bubble screens and dropped a quick out. The 24-year-old from Arkansas ran a 4.42-second 40-yard dash at the NFL Combine, so he has the speed to threaten deep.
Tight End – Kyle Rudolph #82
A second-round pick out of Notre Dame in 2011, this 24-year-old hasn't quite put things together at the NFL level. Rudolph made the Pro Bowl in 2012 on the strength of nine touchdowns, but he still hasn't tallied 500 receiving yards in any of his three seasons. Despite Rudolph's immense stature, Vikings writer Darren Page unflatteringly describes the 6'6", 260-pounder as "a gross run blocker." He ended 2013 on injured reserve after breaking his foot, but the Vikings remain high on him, committing to a 5-year, $36.5M contract in the offseason.
The Coryell offense often features the tight end, from Kellen Winslow in the early 1980's to Antonio Gates with this decade's Bolts to Jordan Cameron on last year's Browns. Rudolph isn't the athlete those players are, but he has decent hands and enough route-running ability to beat linebackers in coverage. Rudolph dropped 15 pounds in the offseason in an effort to be smoother and more explosive. He had just two catches on four targets against St. Louis last weekend, but one was for a touchdown.
H-Back – Rhett Ellison #85
During the offseason Ellison traded in his running back number (#40) for a tight end number (#85) and he frequently lines up as a second tight end next to Rudolph. He still sometimes lines up as a fullback or H-Back. Like Felton he does not carry the football and rarely catches passes, though he did have a 22-yard reception on a swing pass last Sunday.
Offensive Line
The Vikings are starting the same five up front for the third year in a row. They are a solid and durable group that is stronger at run blocking than pass blocking. This line tends to employ man/power blocking schemes rather than zone blocking. Over the past two seasons the Vikings have favored running right over running left, and last Sunday they continued that trend with eight rushes to the right and just two toward the left.
The #4 overall pick in the 2012 draft, Kalil made the Pro Bowl his rookie season, but his performance dipped last year, partially due to knee issues. He had his hands full Sunday with 2013 NFL sack leader Robert Quinn of the Rams, struggling at times with Quinn's speed and leverage coming from a wide-9 spacing. He also committed two false start penalties. In obvious passing situations the Vikings often gave him some blocking help from a back or rolled Cassel out right away from the pressure. As noted above, Minnesota doesn't run in Kalil's direction much.
Johnson was the team's left tackle in 2011, but that doesn't mean he can block Quinn.
The 30-year-old from Oklahoma State is probably the weakest link on the offensive line (and also the lowest-paid), but he's a serviceable veteran who provides the team some flexibility.
The folks at PFF.com are big fans of Sullivan, ranking the Notre Dame product #3, #1, and #3 among centers in their overall ratings each of the past three years. The 6'4" 300-pounder has been a mainstay on the line since 2009, missing just three games in that time period. Sullivan is also quick off the snap both in run blocking and pass blocking.
Just this past week Fusco, who played college ball at Division II Slippery Rock, signed a 5-year, $25M deal. As Bleacher Report points out, Fusco's on the smaller side for a right guard at 6'4" and 306 pounds. At the point of attack he often gets help from the bulkier Phil Loadholt and then moves on to the second level. He pulls often on runs both to the left and right (he's pulling on Patterson's big run shown above, and also on the rushing play shown below).
Right Tackle – Phil Loadholt #71
On Sunday the Vikings ran 9 times for 110 yards and a TD off right end. A lot of that was Patterson's sensational run, but success running to the right is nothing new for Minnesota. Last year according to FootballOutsiders.com they averaged 4.09 yards per carry off right end, 10th best in the league. Part of the reason for that directional emphasis is Loadholt, a massive human being at 6'8" and 343 pounds. Since Minnesota drafted him in the second round out of Oklahoma in 2009, he's started at right tackle in all but two of the Vikings' games..
You may be able to impress your friends by keying off Loadholt when the play begins. Based on Sunday's game, if he's in a three-point stance, it will be a run play nine times out of ten. The only time they run when he is upright is with a shotgun formation. Make sure to watch his distance (or "split") from the right guard. If it seems wider than normal, they are running between RG and RT. If they are tighter than normal, they are running between RT and TE. Here's a great example: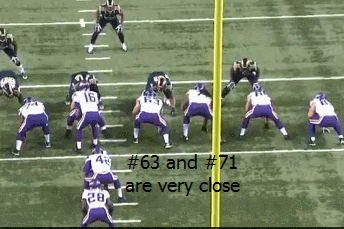 Jeff Johnson and Mark Schofield contributed to this piece.
Follow Dave on Twitter @davearchie.